Magnolia
×
alba
(DC.) Figlar, Proc. internat. symp. fam. Magnoliac. 21. 2000 ("1998") (Syn: (≡)
Michelia ×alba
DC. (basionym));
.
---
---
Please solve the puzzle lest I may be tempted to shoot out a name of plant I had photographed in SFO Botanical Garden
Any way it is there in our forum.
---
Didn't imagine this simple very fragrant flower can invite so much puzzle! … informs that it might be M. alba.
Michelia alba
 DC. –
TPL
recognizes but
GRIN
or
FoC
doesn't, while another document from China does accept – 
http://www.jse.ac.cn/wenzhang/aps06137.pdf
. According to this particular pdf file – 1)
stipular scar nearly to half of petiole = alba
 2)
stipular scar longer than half of petiole = champaca
 . Unfortunately none of my photographs shows clear stipular scars (I was outside the boundary wall!).
Michelia
 x
 alba
 (DC.) Figlar –
GRIN
&
FoC
accept but
TPL
doesn't. TopTropicals features
it
and at the same time it features one
M. champaca var. alba
 (please scroll down the page)!
M.
x
alba
 – 10 in
FoC
, but variable in
TopTropicles
. Again my photographs are not decisive about the number of tepals, one perhaps shows 12 tepals.
So, finally I think this plant is not M. champaca L. and would like to follow GRIN or FoC naming convention.
Thank you very much.
1 image.
---
I think yes, and not really developing carpel region.
---
Thank you Sir. I will try to visit the plant after a month or two, to see if fruit develops. Also would try to get close photographs of leaf for stipular scar.
---
I am very sorry that I am too late to revisit this tree. This tree has again started flowering, only a few though, hiding behind leaves (couldn't photograph). However, I met the owner and she says this tree doesn't produce fruits. Will try to recheck again. Meanwhile attached here a few photographs of leaves and petioles. To me leaves also seemed to be fragrant!
5 images.
---
---
---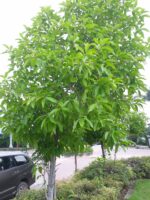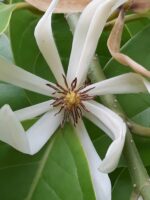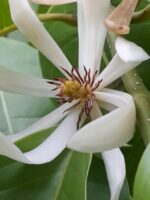 Magnolia for id: 3 high res. images.
Request for I'd of a Magnolia cultivated in Bilaspur. Photographed in August, 2022.
---
Magnolia ×alba (DC.) Figlar
---
---
.
References:
GRIN  The Plant List Ver.1.1  Tropicos  Wikipedia