---
Erect herbs; stem hispid. Leaves to 7 x 5 cm, ovate, acute, crenate, base cordate, hispid; petiole 4-5 cm long. Racemes 15 cm long, glandular hispid; bracts ovate, 3 mm long. Flowers paired, long-pedicelled; calyx glabrous, upper lobe 7 x 5 mm, saccate, lower lip 4 x 3 mm; corolla pale blue, 15 mm long, lateral lobes of lower lip shorter, glabrous; filaments fimbriate at base; anthers bearded, confluent. Nutlets spherical, tuberculate
Flowering and fruiting: February-May
Margins of evergreen forests with grasslands
South India and Sri Lanka
(From
India Biodiversity Portal
Attributions- Dr. N Sasidharan (Dr. B P Pal Fellow), Kerala Forest Research Institute, Peechi)


.
---
Dear friends, please help with ID.
… at facebook helped with suggesting the genus Scutellaria
This plant is a small herb found growing under cover of cardamom plants; just about a foot high, sometimes growing a tall panicle as shown in pictures below.
The flowers measure about max 10mm across.
This place is Gudampara near Chinnakanal, Munnar, elevation about 1500m asl. … the towering panicle, seen in some of the plants       Habitat … hoping to show the plant in scale to other plants around it 
---
Scutellaria violacea
---
Thank you very very much … for the ID.
I had thought of S. violacea, but was not at all confident – too many different photos are floating on the internet!
---
---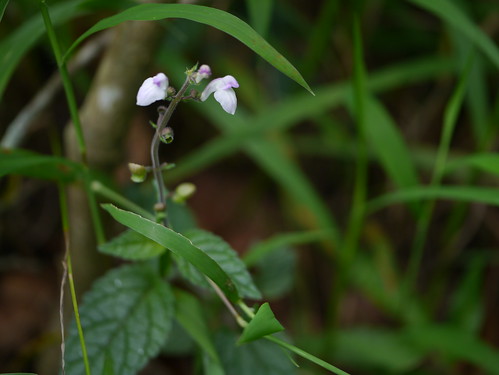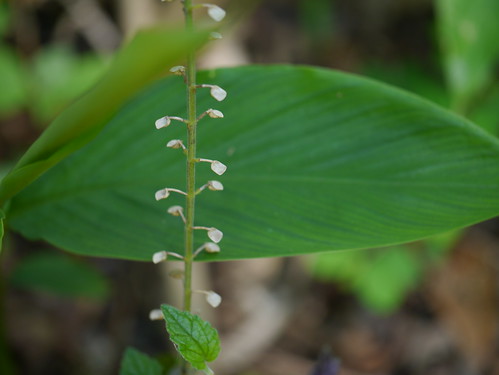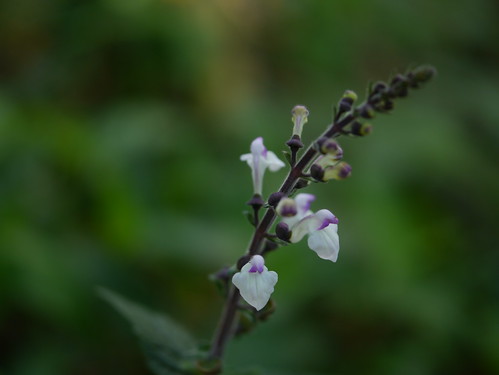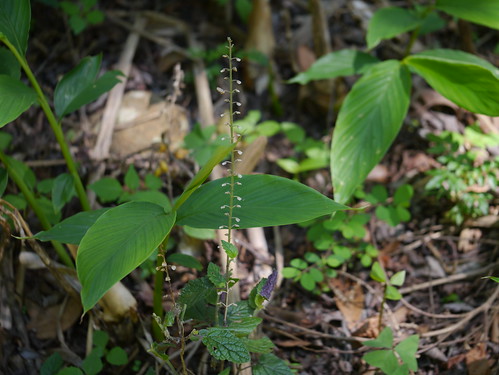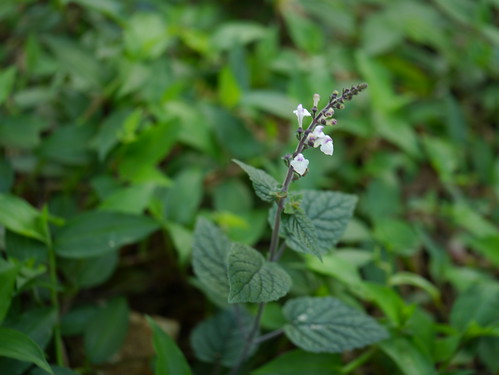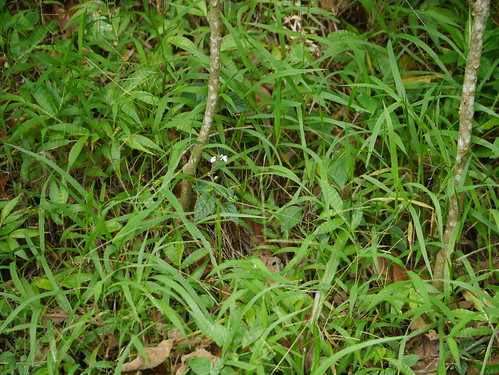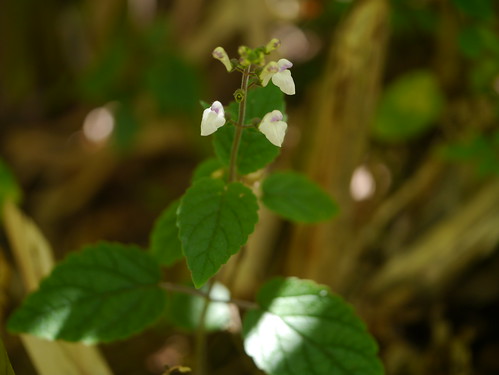 Lamiaceae (incl. Verbenaceae) Fortnight :: Scutellaria violacea :: Munnar :: DVMAY63/63
: 1 post by 1 author. 7 images.
Scutellaria violacea
B.Heyne ex Benth.

at Munnar on June 5, 2014
Scutellaria violacea B.Heyne ex Benth. … family: Lamiaceae




skew-teh-LARE-ee — saucer OR shield-shaped
… 
Dave's Botanary
vy-oh-LAH-see-uh or vy-oh-LAH-say-uh — violet-colored
… 
Dave's Botanary
commonly known as
: 
violet skullcap
 • 
Malayalam
: 
കാട്ടുതുളസി kattuthulasi
 • 
Tamil
: 
நோவு பச்சிலை novu pacchilai
botanical names
: 
Scutellaria violacea
 B.Heyne ex Benth. … 
synonyms
: 
Scutellaria floribunda
 Benth. • 
Scutellaria nodulosa
 A.Ham. …
The Plant List (2013). Version 1.1.
---
---
Lamiaceae?? :  Attachments (1). 12 posts by 8 authors.
Request for ID. This herb photographed at Munnar..
---
This one seems to be Ocimum gratissimum or O. basilicum
---
The plant rather reminds me of some species of Impatiens
---
it is certainly not Ocimum gratissimum nor O. basilicum. but cant say which plant it is.
---
There is a match of Scutellaria sp?
---
Looks like Scutellaria sp.
---
---
.
---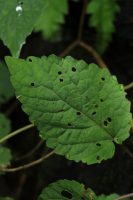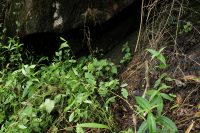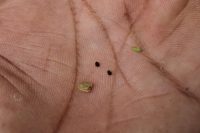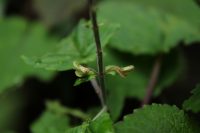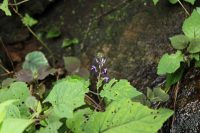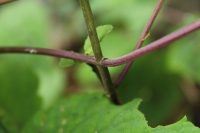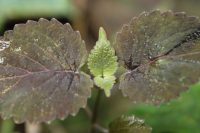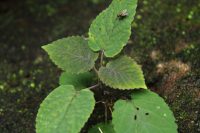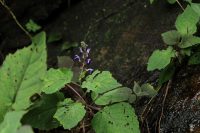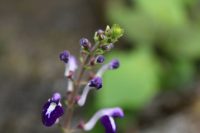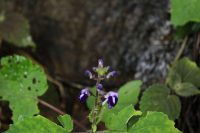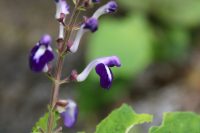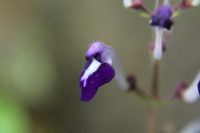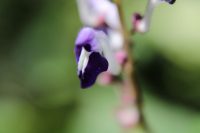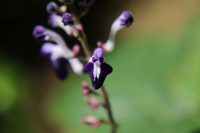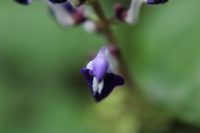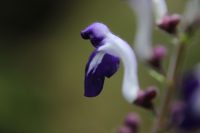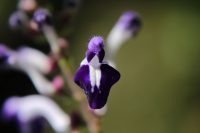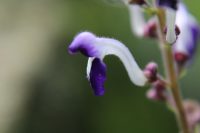 325 ID wild shrub Coleus/Plectranthus: 19 high res. images.
Please ID wild plant,
Location: near Vannappuram, Thodupuzha, Idukki Dist., Kerala PIN:685607
Altitude: 1500fsl
Flower date: 04.06.2022, 03.05pm
Habitat: wild wet/moisture, rocky misty hill
Plant habit: small shrub, erect/obliquely, branches, weak stem 06mm base diameter, hairy, lite aromatic, annual
Height: 01.5 feet
Leaves: opposite, heart-shaped, apex, hairy, purplish petioles, serrated margins, simple, size up to:07×5cm
Flower: terminal racemose, clustered, size:01×01.2×0.5cm, violet, non fragrant
Fruit: cone shaped green into brown, size:04×03mm
Seed: black 4 nos., micro granular
Camera: CANON EOS1500D +filter lens ×10
---
Scutellaria violacea B.Heyne ex Benth. !
Too many images of flowers. Only a couple of clear images from different 
position is sufficient. 
---
Yes, it is Scutellaria violacea, dear …, thank you very much for ID my plant,
---