---
Shrubs. Leaves to 15 x 6 cm, elliptic, apex obtusely acuminate, base cuneate, nerves distant, membranous; petiole to 3 cm, stipule broadly oblong, 8 mm. Panicles terminal, ultimate branches corymbose, to 10 cm, branches opposite; calyx 0.5 mm, cup shaped, tooth 5, minute; corolla tube 3 mm, densely hairy inside, lobes 5, 2 mm, triangular; ovary 1 mm, style 4 mm, stigma 5-fid. Fruit ellipsoid.
Flowering and fruiting: March-October
Southern Western Ghats (Endemic)
(Attributions- Dr. N Sasidharan (Dr. B P Pal Fellow), Kerala Forest Research Institute, Peechi
from
India Biodiversity Portal
)
.
---
…, it looks more like Psychotria dalzellii Hook.f.
Coriaceous leaves and white infruitescence – both are clear in your pic.
---
efi page on Psychotria dalzellii
---
In P. dalzellii the peduncle bright white and elongated, sub succulent, leaves are with more number of thin nerves. that is the reason for my decision, I have uploaded Psychotria dalzellii also.
---
.
---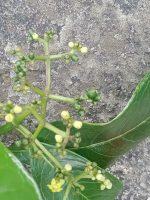 ID Chinnar 03: 1 high res. image
Please identify this small tree from Chinnar WLS in Kerala. 5/5/22
---
Please post more images. Flower close up, full leaf, stem, habitat.
Is it a climber?
---
Psychotria, resemble P dalzellii
---
But it is a tree…
---
Tried in Myrtaceae, but failed.
Yellow flower is confusing.
May be from
Rubiaceae,
as suggested by …
Pl. post other images.
---
Its a species of Psychotria
---
Do we have small trees in Psychotria?
---
Yes, P. anamalayana is a small tree. There may be other species growing to the size of a small tree.
---
May I request you to post habitat images etc. for further determination.
---
Not a climber sir. A small tree only. Only similar shots are available.
---