---
Berberis thunbergii (Japanese barberry, Thunberg's barberry, or Red barberry[1]) is a species of Berberis, native to Japan and eastern Asia, though widely naturalized in China and in North America.[2][3][4]
It is a dense,
deciduous
, spiny
shrub
which grows 0.6 to 2.5 m (2 to 8 ft) high. It has deeply grooved, brown, spiny branches with a single (occasionally tridentine) spine (actually a highly modified leaf) at each shoot node. The
leaves
are green to blue-green (reddish or purple in some horticultural variants), very small, spatula to
oval shaped
, 12–24 mm long and 3–15 mm broad; they are produced in clusters of 2-6 on a dwarf shoot in the axil of each spine. The
flowers
are pale yellow, 5–8 mm diameter, produced in drooping 1-1.5 cm long umbrella-shaped clusters of 2–5; flowering is from mid spring to early summer. The edible fruit is a glossy bright red to orange-red, ovoid
berry
7–10 mm long and 4–7 mm broad, containing a single
seed
. They mature during late summer and fall and persist through the winter.

[4]
This species is sometimes confused with Berberis canadensis (American barberry), Berberis vulgaris (European barberry), and other deciduous Berberis species; it is most readily distinguished by the flowers being produced in
umbels
,
not
racemes
.
Berberis thunbergii is widely grown as an
ornamental plant
,

[5]

both in Japan and elsewhere in the
temperate
Northern Hemisphere. Numerous
cultivars
have been selected, including plants selected for yellow, dark red to violet, or
variegated
foliage, erect growth (for
hedge
use), and dwarf size.
In recent years, Berberis thunbergii has been recognized as an
invasive species
in many parts of the eastern United States.

[4]
---
Berberis thunbergii 'Orange Rocket',
A cultivated shrub with orange red to almost blackish red leaves and long spines, photographed from Iqbal Garden (Hazuribagh), Srinagar Kashmir.
---
very nice
the red orange is it new leaves or starting cold season???/
when was the photos taken?
---
…, first two on 16 June, the third with new shoots with orange leaves emerging on 7 May.
---
---
Berberis thunbergii 'Orange Rocket' , photographed from Sunnyvale, California.
---
this is inside someone's garden, so its only use is its colorful foliage and a filler of space,
but out in the open field often used as a thorny showy hedge against intrusion
the thorns are punishing
---
yes …
---
orange rocket.. i forgot to ask… what time of the year was this pic taken…
the color in summer should be bright reddish orange…
---
---
Berberis Species seen in New Jersey in June,2017.
Could be Berberis vulgaris?
---
Or could be Berberis thunbergii?
---
Berberis thunbergii f. atropurpurea ??
---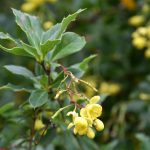 Berberis thunbergii from SFO Botanical Garden-GS05072021-1
: 1 image.
Berberis thunbergii
DC
Photographed
from SFO Botanical Garden,
California, 2-6-2019
---