Hydrangea quercifolia W. Bartram, Travels Carolina 382–383, pl. 7 1791. ;
---
Hydrangea quercifolia, commonly known by its translation oakleaf hydrangea or oak-leaved hydrangea, is a species of flowering plant native to the Southeastern United States, in woodland habitats from North Carolina west to Tennessee, and south to Florida and Louisiana. A deciduous shrub with white showy flower heads, it is a commonly grown garden plant. Numerous cultivars are available commercially.
Hydrangea quercifolia is a coarse-textured
deciduous
shrub
growing to 8 metres (26 ft) tall with an open crown. The plant sprouts shoots from underground
stolons
and often grows in colonies. Young stems are covered in a felt-like light brown
bark
, and the larger stems have attractive cinnamon-tan-orange bark that shreds and peels in thin flakes.
The leaves are yellowish green to dark green on top and silvery-white underneath. They have three, five or seven pointed
lobes
and are 4–12 in (10.2–30.5 cm) long and almost as wide. They are larger versions some oak leaves, resembling Quercus species with lobed foliage. Plants in shade have larger leaves than those grown in sun. Hydrangea quercifolia leaves turn rich shades of red, bronze and purple in autumn that persist in winter accompanying the persistent dried flower-heads.
Hydrangea quercifolia flowers are borne in erect
panicles
6–12 in (15.2–30.5 cm) tall and 3–5 in (7.6–12.7 cm) wide at branch tips.
Flowers
age in colour from creamy white, aging to pink and by autumn and winter are a dry, papery rusty-brown.
Oakleaf hydrangea and the popular peegee hydrangea (H. paniculata) are the only hydrangeas with cone-shaped flower clusters; all the others have their flowers in ball-shaped or flat-topped clusters, called umbels.

[1]
Native to continental southeastern North America it grows in mixed hardwood
forests
, along streams and on forested hillsides, usually on
calcareous
soils, and often where
limestone
is at the ground surface. Hydrangea quercifolia is an
understory
shrub, often in the shade of large oaks, hickories, magnolias, American beech, etc.
Hydrangea quercifolia is cultivated as an
ornamental plant
, and is used as a flowering
shrub
in
gardens
and parks. It grows best in a natural or landscaped woodland habitat, preferring partial to almost full shade, with morning sun and afternoon shade as optimal. It will tolerate
drought
, but may not flower. The plant prefers slightly acidic soils with a
pH
of 5.0–6.5.
Images by Aarti Khale (Identified by Usha Desai), (Inserted by Bhagyashri Ranade)
Bush For ID : California : 28OCT14 : AK-36 : 5 posts by 4 authors. Attachments (3)
Bush or climbing shrub seen at the Golden Gate Park in San Francisco on 30th Sept,14.
Lots of small white flowers.
Kindly help in id.
---
Hydrangea!
---
Thanks a lot. Hydrangea?
These flowers were known to me, yet I could not guess as this species is new to me, not seen before.
Could be Hydrangea quercifolia, Oakleaf Hydrangea?
---
Oak leaf hydrangea…H. quercifolia "cultivar Silver queen"…
---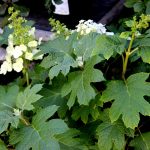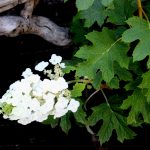 Hydrangea quercifolia from California-GS06102021-1
: 2 images.
Hydrangea quercifolia Bartram
Oak leaf Hydrangea
A very distinctive deciduous shrub with lobed leaves looking like an oak.
Photographed
from Filoli Gardens,

California, 22-6-2019.
---