SW. India, Sri Lanka, Assam to S. China and Indo-China as per
POWO
;
China (Guangdong, Guangxi, Guizhou, Hainan, Yunnan), Cambodia,

India (Assam, Meghalaya, Arunachal Pradesh, Maharashtra, Karnataka, Kerala, Tamil Nadu),

Laos,

Myanmar [Burma], Sri Lanka,

Thailand, Vietnam, Myanmar [Burma] (Chin)
as per
Catalogue of Life
;
---
Habit- Trees up to 5 m tall.
Branches and Branchlets- Young branchlets terete, puberulous.
Leaves- Leaves simple, alternate, distichous; petiole 0.7-1.2 cm long, glabrous, canaliculate; lamina 8-15.5 x 1.5-6 cm, variable in shape oblong to elliptic-oblong, bluntly narrow acuminate to caudate-acuminate, base acute to slightly rounded, margin entire, membranous to chartaceous, glabrous; midrib canaliculate above; secondary nerves 5-6 pairs, looped; tertiary nerves obscure.
Inflorescence / Flower- Flowers white, in axillary short cymes.
Fruit and Seed- Drupe, cylindric-oblong; seeds 1.
Understorey trees in low elevation wet evergreen forests up to 600 m.
Indomalaysia and Indochina; in the Western Ghats- South and Central Sahyadris.
(Attributions- B. R. Ramesh, N. Ayyappan, Pierre Grard, Juliana Prosperi, S. Aravajy, Jean Pierre Pascal, The Biotik Team, French Institute of Pondicherry.
Family: Icacinaceae
Date: 13th September 2015
Place: Thattekadu Bird Sanctuary, Ernakulam District, Kerala
Habit: Short tree (2 metres tall)
Habitat: Semi-evergreen forest
---
.
---
ID KANNUR 20 : 6 posts by 2 authors. 1 correct image as above.
Please identify this shrub from Kannur district of Kerala. Only fruits are available.
---
First one Thottea siliquosa  and the second one Gomphandra tetrandra 
---
kindly help identifying plants photos of which are attached. They are from tropical forests in high rainfall region in Western ghats. Are they used for medicinal purpose?
---
Pyrenacantha volubilis Wight of Icacinaceae, the ginger like plant may be Hedychium coronarium Koen
---
The first image should be some Zingiber sp.
---
The second image is not Pyrenacantha volubilis, it is Gomphandra tetrandra of the same family (Icacinaceae). Pyrenacantha is a twiner and Gomphandra is a small tree
---
.
---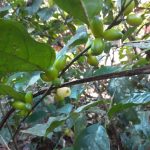 1 image.
Please identify this large tree from Kannur district of Kerala 22/12/20
---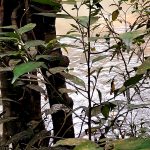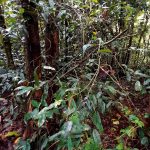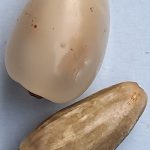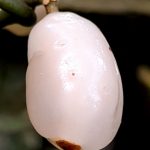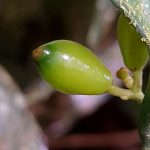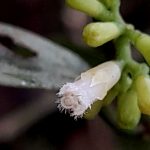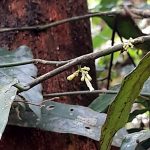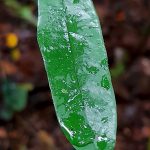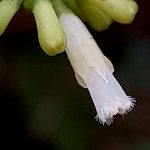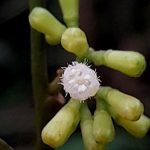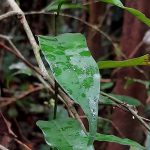 139 ID wild plant
: 13 images.
Please ID wild plant,
Location: near Reserve Forest, Chathamattom, Ernakulam District, (Kochi) Kerala PIN:686671

Altitude: 1400fsl

Flower date: 22.07.2021, 03.22pm
Habitat: wild moisture

Plant habit: under shrub, erect, branches, hard stem upto 09mm diameter, perennial

Height: 06 feet
Leaves: alternate, wavy margins, oblong, apex, size:8×3.5cm or less

Flower: racemose, lengthy, size:06×02mm, white, non fragrant

Fruit: ovate, green into white, size:16×9mm, edible, sweet fleshy

Seed: pale white, single, rigid ovate, size:9×3.5mm
Camera: mobile Samsung Galaxy A21s
---
I guess you should use a good quality DSLR. Though close-ups, images are not clear !
---
May be Gomphandra sp.
---
Great dear …, yes it is Gomphandra tetrandra, thank you very much for ID my plant,
---
G. coriacea also close to my plant, please check the screen shot,
---
No this plant is Gomphandra tetrandra. It is one of most variable species in SE Asia
---