Berberis aristata ?;
---
thanks for the flower pictures
may I use them in an editorial?
I'll send you a link when I finish writing, I will not put it up until you ok it and give me permission to use the flower picture.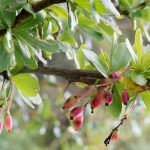 SK 3282 01 January 2022
: 1 very high res. image.
Location: Jumla, West Nepal
Altitude: 3400 m.
Date: 24 August 2021
Habit : Wild
Berberis
.. ??
---
A suggestion, though not sure. Fruits resemble those of Berberis vulgaris, a medicinal plant.
---
Kindly check once with Berberis asiatica. Leaves ovate, Slightly serrated leaf margins.
---
Not sure, look like hybrid of Berberis aristata.
---