---
Aeonium haworthii (Haworth's aeonium, pinwheel) is a species of succulent plant in the genus Aeonium of the family Crassulaceae. It is native to the Canary Islands, but it has been introduced to other areas of similar climate, such as Southern California.
It is a sand-dwelling beach plant, a subshrub with rough, woody stems and rosettes of thick, red-edged green leaves which are triangular or diamond- or spade-shaped. It grows to 60 cm, with panicles of cream-colored pointed flowers produced in spring.

[1]
A. haworthii is grown as a houseplant in
temperate
regions.
Aeonium haworthii
'Kiwi', cultivar with light green leaves with narrow purple margin
photographed
from SFO Zoo,
California
---
---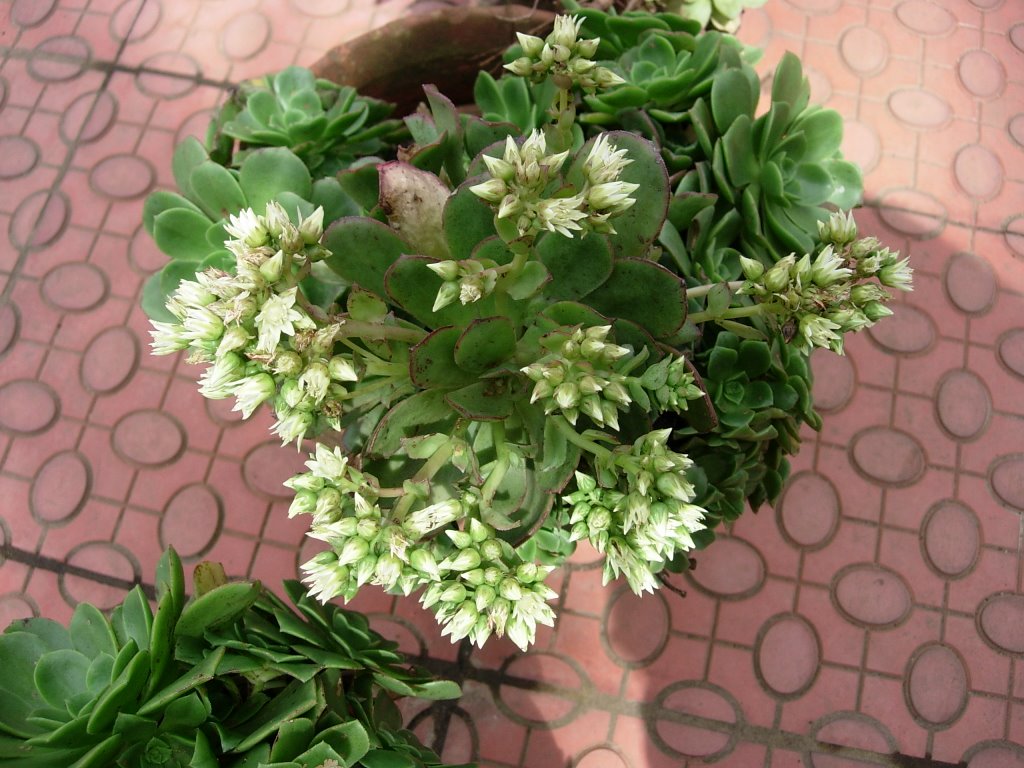 Crassulaceae, Combretaceae and Myrtaceae Fortnight : Crassulaceae For ID : Kodaikanal : 16DEC14 : AK-9 : 3 posts by 2 authors. Attachments (2).
At the Bryant's Park in Kodaikanal on 24/10/2008.
Earlier feedback on our group was Echeveria or Aeonium
---
aeonium haworthii
---
Thanks for the id.
---
---
A third picture of the same. Echiveria type,Bryant's Park-DSCN6814.JPG
---
please attach all three photographs to same post and not different posts.
---
Other pictures of the same availabe in other threads:
http://groups.google.co.in/indiantreepix/thread/5c842#
http://groups.google.co.in/indiantreepix/thread/98d5#
---
I'm not certain if it's an Echeveria or possibly an Aeonium species. There are many cultivars of both genera, and I'm not much of an expert on their differences.
---
This should be Aeonium I assume!
---
i hope the plant is Aeonium arboreum.
---
I tend to doubt A. arboreum per se, though possibly a hybrid including it. True A. arboreum makes a shrub approx. 1m tall, has yellow flowers.
---
I think this plant is hybrid one because many online nurseries are selling this plant and claiming it to a hybrid.
---