---
Pittosporum eugenioides, common names lemonwood or tarata, is a species of New Zealand native tree.
Growing to 12 m (39 ft) tall by 5 m (16 ft) broad, it is conical when young but more rounded in shape when mature.[1] Its leaves are mottled yellow-green with curly edges and a salient bright midrib, and have a strong lemony smell when crushed.[2] It has highly fragrant clusters of attractive yellow-cream flowers in spring, followed by distinctive black seed capsules.[3]
It is found throughout New Zealand's North and South Islands along forest margins and stream banks from sea level to 600 m (1,969 ft).[4] It is New Zealand's largest pittosporum.[5]
The binomial qualifier eugenioides means "resembling Eugenia", a different genus of plants.[6]
The variegated cultivar 'Variegatum' has gained the Royal Horticultural Society's Award of Garden Merit.[7]
(From Wikipedia on 26.12.14)
.
---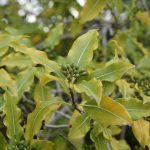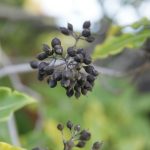 Pittosporum eugenioides from California-GS25022021-6
2 images.
Pittosporum eugenioides Tenn.
A small tree with leaves similar in appearance to P. undulatum and P. tenuifolium but with greenish yellow flowers, numerous in a compound umbel and smaller pointed fruits.
Photographed from Sunnyvale, California, 14-12-2012.
---
---
.
References: Catalogue of Life  POWO  The Plant List Ver.1.1  Tropicos  GRIN  India Biodiversity Portal  Wikipedia  davisla