Aristida redacta Stapf, Bull. Misc. Inform. Kew 1892: 85 (1892) (syn: Stipa aristoides Stapf ex Lisboa);
.
India to Bangladesh as per POWO;
.
---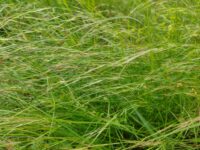 Grass identification request: 2 high res. images.
Habitat: Rocky area
गुजराती नाम डाभसुळीयु
---
Heteropogon sp.
---
This is closest to Stipa jacquemontii. It is found in dry rocky slopes of lesser Himalayas, but never recorded outside Himalayas. So, it could be a new record for Aravallis. Closer pictures of dissected flower parts (especially glumes, lemma and awn with dimensions) would help in confirming identity.
---
I am sorry for the earlier wrong identification. This species is Aristida redacta (looks like Stipa as the lateral awns are reduced and only median awn is prominent. It was also described under the name Stipa aristoides in JBNHS.
---
1 specimen attached
---
---
.
References:
POWO  Catalogue of Life  Flora of peninsular India  Pan India Bouquets  India Biodiversity Portal