Common name: Grape-Leaved Monkshood
---
syn: A. lycoctonum auct. (non Linn.)
Perennial herb very distinct from other species by its helmet which is longer than broad; sparingly branched, viscid hairy especially in upper part; basal leaves with long petioles, upper gradually smaller, palmatisect into 5 to 9 lobes; flowers in branched racemes, purple to nnearly white, bracts filiform; flowers with helmet wide base, suddenly tapered into cylindrical hood; follicles 3, 10-14 mm long, spreading, hairy.

Photographed
from Forest

below Chopta in Uttarakhand
---
Beautiful upload
It seems your identification my be correct however the petals of the plant are densely hairy which is peculair feature of Aconitum pseudolaeva kindly check it
I will check when full description of A. pseudolaeve is available, but as I understand
1. Species is not reported from India in Flora of India vol. 1
2. The species is reported from Korea only.
---
Yes Sir it is A.laeve, an Aconite found at lowest altitude in Uttarakhand.
Surprisingly, Flora of India vol-1 (pp 17-18) have not mentioned it occurrence in Uttarakhand, though it is well known here.
Very different from other Aconitum spp of Uttarakhand in floral structure.
---
Yes Sir, Aconitum laeve. I have seen its pure creamy-white flowered variants as well in kashmir.
---
FOH mentions a sentence about Aconitum as Hood 3 times taller than broad..
---
---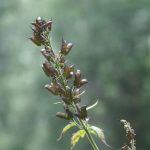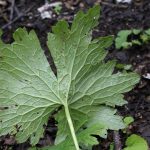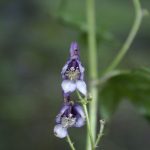 Delphinium ID:
Plz help in ID of Delphinium sp.
Taken near NICHNAI, Sonamarg (alt: 3700 m). Under Betula utilis forest understory.
---
This may be Aconitum leave. If you have good image please post high resolution photo.
---
Thanks … But the flower has a clearly single spur and not the hood as in
Aconitum.
I'll post few more pics of the same
---
Side view of the flower dear … if you have.
---
Aconitum laeve Royle as per images and details herein.
---
yes, it is Aconitum laeve
---
---
Id plzz
: Attachments (2).  3 posts by 2 authors.
Id this plant plz
pic taken
at Chopta

May 2013
---
Should be some Delphinium species.
---
Aconitum laeve Royle as per images and details herein.
---
---
.
References:
The Plant List Ver.1.1  Flora of Pakistan  FOP illustration  Annotated checklist of Flowering plants of Nepal  Flowers of India  India Biodiversity Portal  IBIS Flora