N- & C-European Russia, Estonia (I), Lithuania (I), Latvia, Belarus, Ukraine, Siberia (W-Siberia, C-Siberia), Kazakhstan, Austria, Czech Republic, Slovakia, France, Switzerland, Croatia, Serbia & Kosovo, Poland, Romania, Java (I),

Bhutan (I),

Alaska (I), USA (I) (Michigan (I), Wisconsin (I)), Canada (I) (British Columbia (I), Manitoba (I), New Brunswick (I), Saskatchewan (I)), Colombia (I)
as per
Catalogue of Life
;
---
Delphinium elatum
from IARI

-Delhi
Common Garden Ornamental
---
Beautiful!
Delphinium:
Distinguished by its irregular flowers. Symmetry in 1 plane only.
uppermost with a backward projecting spur, and 4 shorter inner petals. upper two forming nectar secreting spurs which are inserted in the outer spur.
---
Is this the hybrid form of Delphinium elatum often referred to as Purple Passion ? (Romence Gardens)
---
---
Location: Nagarkot, Nepal
Habit : Cultivated
Aconitum.. ??? Delphinium …???
---
Delphinium elatum Purple Passion ??
---
Yes to me also appear close to images of Delphinium elatum Purple Passion as per
---
Delphinium elatum 'Morning Sunrise' from California-GS30012021-3
2 images.
Delphinium elatum
Cultivar  'Morning Sunrise'
A cultivar from Highlander group often labelled as 'Highlander Morning Sunrise' with large double white flowers with green centre, grown at Tahoe, photographed from Tahoe, 5-8-2017
---
References:
https://www.ballseed.com/PlantInfo/?phid=022105786025459
https://www.ballyrobertgardens.com/products/delphinium-highlander-morning-sunrise
https://www.perennials.com/plants/delphinium-morning-sunrise.html
---
---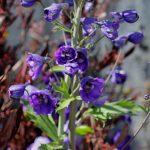 Delphinium elatum from California-GS30012021-1
2 images.
Delphinium elatum
Photographed from Regan Nursery, Fremont California, 14-4-2019
---
---
.
References: The Plant List Ver.1.1 India Biodiversity Portal  IBIS Flora  Wikipedia  Dave's Garden  Fine gardening