Saxifraga microphylla Royle ex Hook.f. & Thomson, J. Proc. Linn. Soc., Bot. 2: 72 1858. ;
---
Royle in Herb. Bth. ex H. f. & T. in Journ. Linn. Soc. ii. 72 ; peduncles puberulous about 1/4 in., leaves oblong glabrous, sepals much adnate below erect in fruit, petals 0 or oblong coriaceous equal to the sepals (green-white ?). Engler Monog. Saxifrag. 210. WESTERN HIMALAYA, Royle. KUMAON, alt. 14,700 ft. ; Barji Kang Pass, Strachey and Winterbottom. Still smaller than S. perpusilla, with inconspicuous flowers. Ripe carpels acumi¬nated upwards, sometimes united conically to the top.
(From The Flora of British India (1878) from IBIS Flora)
---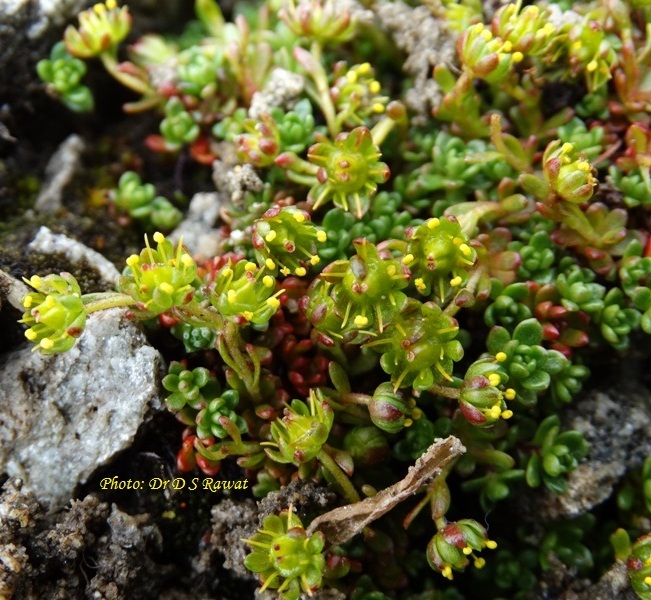 First ever photo of Saxifraga microphylla from Uttarakhand: Jan.2015_DSR_6 : 8 posts by 7 authors. Attachments (1)
This tiny Saxifraga microphylla Royle ex Hook.f. et Thomson (Saxifragaceae) is known to be distributed from Kashmir to Nepal. The species is found growing above 4200m altitude with mosses in Uttarakhand and I have seen it in very few places during last two decades. The plants are hardly 2-3cm tall and makes loose cushions.
This time I managed to photograph it in flowering stage.
Interestingly, the web search fails to find any authentic photograph of this species which suggests that the attached pic is first.
This species is interesting as it is one of the Saxifraga which lacks normal petals (white/ yellow/red, thin and membranous) and have all perianth sepaloid.
'Nanda Devi Raj Jat Yatra 2014' provided me this opportunity in the vicinity of Roopkund.
---
Very interesting find. Thanks … for sharing this wonderful find with us..
---
WOW … Great joy and matter of immense pride. Salutes !
---
Very happy to see this… picture, and the story. A rare treat and a privilege all the way around
---
Really appreciate your field efforts adding to your knowledge.
Both things combined is uncommon.
---