---
Loropetalum chinense is commonly known as the Chinese fringe flower.
Two forms of L. chinense exist; a white- (to pale-yellow-) flowering green-leafed variety and a pink-flowering variety with leaves varying from bronze-red when new to olive-green or burgundy when mature, depending on selection and growing conditions.
They are
evergreen
with branches forming horizontal layers. The
leaves
are alternately arranged, ovate up to 5 cm long by 3.5 cm wide, and have a slightly abrasive feel.
L. chinense grows best in fertile, slightly acidic soil in full sun for deepest foliage colour and is hardy down to -3 deg.  
It is a popular
ornamental plant
, grown for its prolific clusters of flowers and (in the case of the pink flowering variety) deeply coloured foliage that may contain various green, copper, purple and red tones. 
---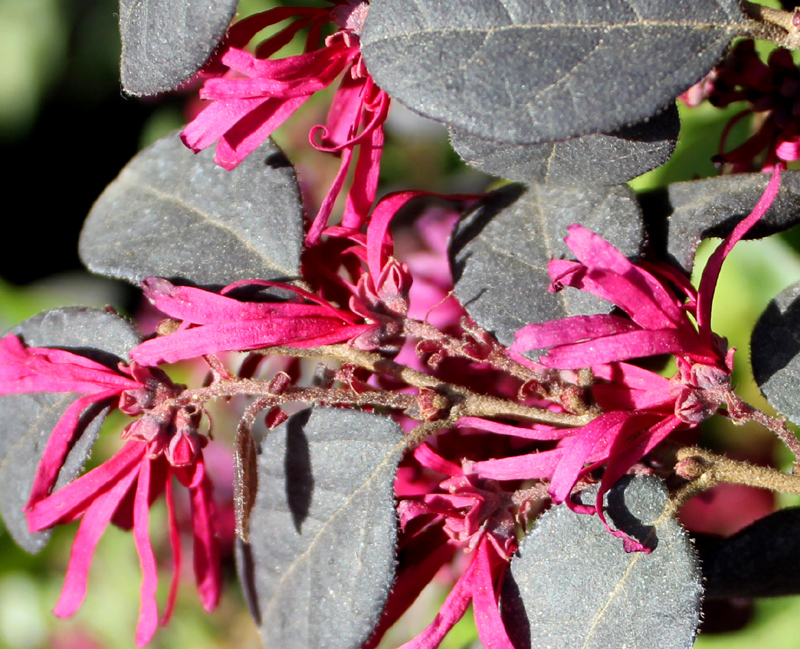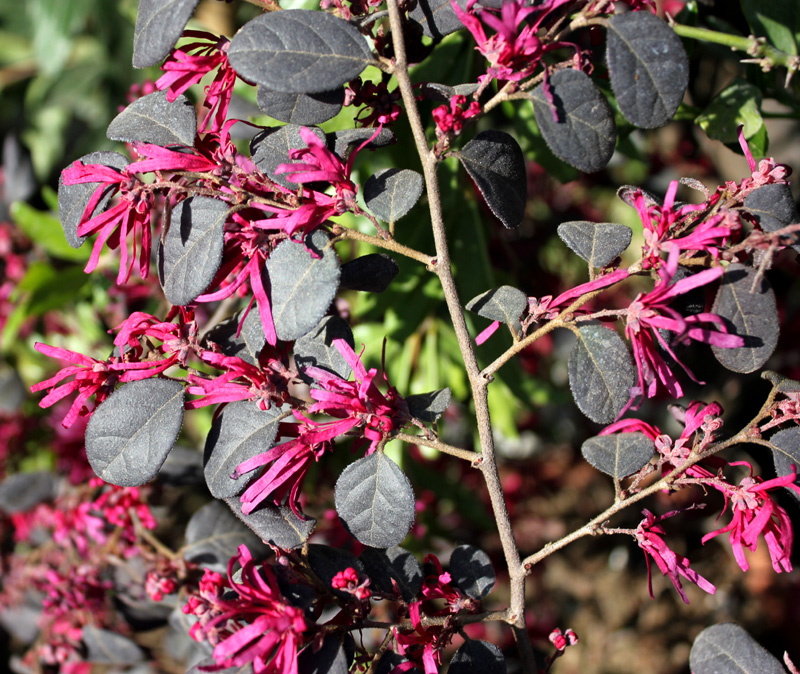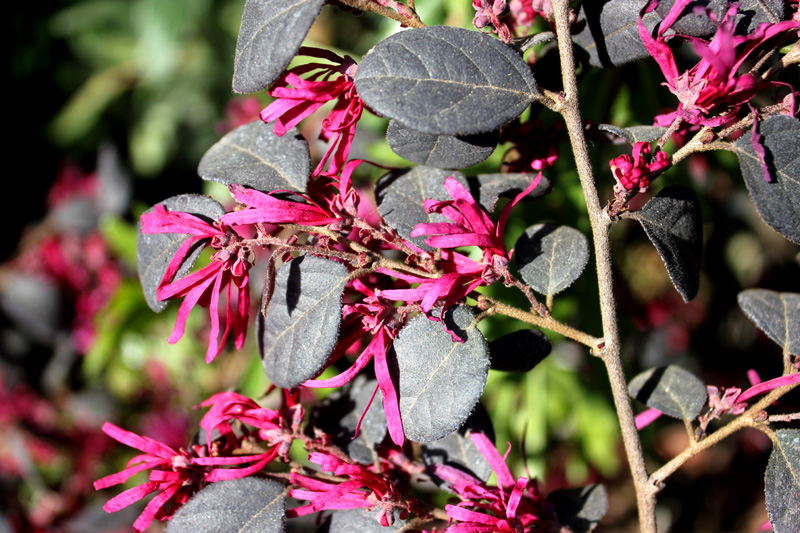 Loropetalum chinense var. rubrum from Delhi-GSFEB05/66 : 4 posts by 4 authors.
It is good to find a plant which you have been seeing so regularly in California, finally also sold in nurseries in India.
Loropetalum

chinense

var.

rubrum

Yieh, Zhong Guo Yuan Yi Zhuan Kan (China Bull. Hort. Special Issue). 1942(2): 33. 1942.
Chinese Fringe Flower
Evergreen shrub or small tree up to 3 m tall, brnches stellate-pubescent; leaves ovate, elliptic to obovate, up to 6 cm long, often tinged purple, densely stellate-pubescent, margin entire, lateral veins 4-8 on each side; flowers red in a dense up to 16 flowered raceme, on up to 1 cm long peduncle, pedicel short; sepals ovate, 2-3 mm long; petals 4-6, red, 1-2 cm long with rounded apex; stamens 4 or 5, anthers ovoid; ovary inferior; fruit capsule obovoid-globose, 7-8 mm long, with persistent calyx cup.
Photographed from Indian Tourism Festival, Garden of Five senses, Delhi
---
I came across this plant in the Golden Gate Park, San Francisco and also Sacramento.
Got the id on searching.
---
Thanks for posting Sir, we have also seen this at the same place…
---
Yes. individual plants in pots as in Indian nurseries' stock as above esp. with flowers freshly opened looks very nice, flowers always reminded me of those crepe paper flowers little children are taught to make in the montessori schools, your pictures reminded me of my childhood attempts at being a paper gardener!!!
---
Loropetalum chinense var. rubrum
Family: Hamamelidaceae
FLOWER SHOW, SHIMLA
27 May 2017 
---
ID Please. I saw this plant with small pink flowers at a nursery in Bhimtal. 
---
I hope
Loropetalum chinense
---
Purple plant with pink flowers at a nursery in Bhimtal.
---
Could you help me to id the following image please. 
---
Please check for Loropetalum chinensis of Hamamelidaceae. 
---
These photos are taken on 29 JUL 2017. Place: Red Earth Kabini resort, Badanekuppe, Hosmala Village 571114.
Kindly identify the species
---
I have not seen such flowers, so cannot even guess. Looks like exotic ornamental. 
---
Yes, exotic ornamental, recently introduced in nurseries..  Loropetalum chinense
---
---
Location: Lantau, Hong Kong 
---
this is red flowered witch hazel. most likely Loropetalum chinensis var. rubrum
thanks for showing 
---
Yes this should be Loropetalum chinense f. rubrum, not variety.
---
---
Red Chinese Fringe Flower
Loropetalum chinense var. rubrum
Hamamelidaceae
Shimla
April 2019
---
very nice … are the leaves naturally red in this plant or is it because of cold. Foi has pictures of a plant in pot. was yours growing in a pot or was it in grounds??? what i have seen in southern california gardens is with green leaves, shrubs in ground, exposed to weather, drought etc 
---
…, this plant is also growing in a pot. Leaves are naturally reddish in colour.
---
so depending on soil??? growing condign? temperature etc, leaves reddish versus green that i have seen in semiarid lands? is there a paper somewhere?, i wonder
---
I shot this plant in Lantau Island, Hong Kong .
---