---
Requesting to please provide ID of the plant captured
at VJTI Flower Show
in Mumbai in February 2013.

Can this be
Clerodendrum schmidtii
with its red coloured stalks?
---
Species in images is Clerodendrum schmidtii C.B.Clarke. As … signifies the characters of flower stocks.
---
---
Clerodendrum wallichii if it is pendulous raceme.
---
Thank you … for the ID. Yes the flowers were in pendulous racemes…
---
Requesting to revisit the ID….Can this be Clerodendrum schmidtii based on this link here:
http://toptropicals.com/
---
---
Kindly identify this
ornamental shrub approximately 2 metres in height
with cascading white flowers on red stalks,
photographed at a house
in Hyderabad city, Telangana in January 2019.
---
More close to Clerodendrum laevifolium
---
seems to be close enough. nice presentation by the way
---
Appears to be white flowered Clerodendrum thomsonii
---
I think the posted plant is Clerodendrum schmidtii C.B.Clarke
---
I guess … has correctly identified.
---
---
Came across … picture of 
Clerodendrum schmidtii
on FOI.
My plant looks more like it as it has red stalks.

Requesting … to kindly validate
---
This should be 
Clerodendrum
laevifolium
Blume (=C. 
wallichii
 Merr.)
1. Clerodendrum schmidtii differs from most other Clerodendrum species in being coarse to touch on the leaf surfaces, a cordate to auriculate leaf base, pendulous inflorescence and calyx covered with hairs on both surfaces.
Images have smooth, glabrous and shining inflorescence, and leaf bases are not cordate.
2. This species is much more similar to 
C. nutans
but differs in having an ovate or ovate-lanceolate shaped calyx lobe (more than 3 mm wide vs. 1–2.6 mm wide).
3. While, 
Clerodendrum
nutans
 Wall. ex Jack is also a legitimate species.
---
Can someone please help with ID of following flowers?
These were collected
in B'lore, India.
---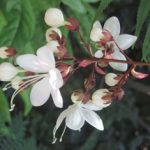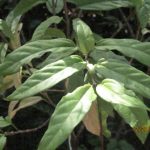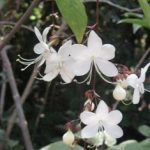 211212 BRS 421 : Pl. find the attached file contain photos for id. request.
Location: Nadukuppam, Villupuram Dist.
Date: 20.12.12
Habitat: garden
Habit: small tree
---
May be any Clerodendrum sp
---
Looks like some Clerodendrum species
---
---
.
References: The Plant List Ver.1.1  WCSP  Top Tropicals Selby  Project Noah