Melocanna clarkei (Gamble) P.Kumari & P.Singh, Nelumbo 51: 234 2009. (syn: Arundinaria clarkei Gamble; Neomicrocalamus clarkei (Gamble) R.B.Majumdar; Schizostachyum mannii R.B.Majumdar);
Location : Mamit, Mizoram
Date : Unknown
Habit : Erect, graceful bamboo, 10-13 m.tall, 2.5-4.5 cm. diameter
Altitude : 80-1,500 m.
Habiat : Wild in the forests
---
Is it for Id or is it confirmed as Bambusa khasiana ?
---
Sir, it is for ID
---
Well, I have seen this thread earlier, but the booklet (on grasses and Bambusa) I have doesn't feature this species.
---
It looks like Gigantochloa apus
---
Here is a species list distributed in your region –
Please tell us what do you think of your species might be.
---
Schizostachyum manii or Bambusa khasiana ?
---
Thank you so much … for the feedback.
So, you have zeroed in to two species -1) Schizostachyum manii and 2) Bambusa khasiana.
I am not sure if 
Schizostachyum manii
 is a synonym of 
Racemobamboos mannii
 (nothing found on this taxon).
We do not have much on Bambusa khasiana except the attached FBI description, KEW description and illustration. The ID seems to me to be possible. Can you please share some daylight photographs of new shoots and nodes of mature culm….
---
Missed ….. here is the FBI description
Attachments (1)
---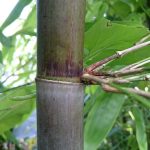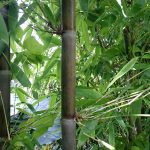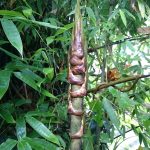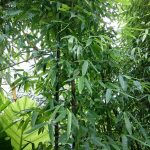 Sir, Thank you so much sir … for good information and attaching herewith another shoot, etc.
Attachments (4)
---
Well, …, what I wanted to see I do not find in the attached pictures –
a bluish ring above the node (I can see the whitish ring below the node though)
head (apex) of the new shoot looks different than the illustration in Gamble (what i noted in earlier plate too)
FBI has two species, from the region, with stem sheath featuring very long or narrow blade – B. pallida and B. khasiana. The former one is like B. tulda I have uploaded recently. I can only hope your ID is correct.
---
Please check Cephalostachyum pergracile
---
---