---
Stem 20-50 cm high. Leaves to 7 x 3 cm, elliptic-oblong, acute. Flowers yellow, few, in about 15 cm long spike; bracts 3 x 1.7 cm, broadly elliptic, acute-apiculate, foliaceous, almost concealing the flowers; dorsal sepal 15 x 9 mm, ovate-oblong, obtuse, 5-veined; lateral sepals 15 x 9 mm, elliptic, obtuse, 7-veined; petals 15 x 4 mm, obliquely oblong, acute, 4-veined; spur 15 mm long, clavate.
Flowering and fruiting: September-October
(Attributions- Dr. N Sasidharan (Dr. B P Pal Fellow), Kerala Forest Research Institute, Peechi from
India Biodiversity Portal
)
.
---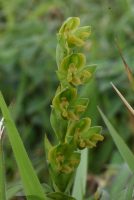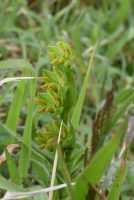 pics of Habenaria perrottetiana: 2 high res. images.
Please find attached pics of Habenaria perrottetiana, which you may please include in the database.
Pictures were taken in the wild (grasslands) in Chikamagalur district in Karnataka in the month of October.
Hope you find them useful.
---
Seeking suggestions for location for Orchid hunt tour
: 10 posts by 5 authors.
I am sorry for being absent for almost a year from efI but was totally tied-up with several activities and hence wasnt able to give time though I have been observing and reading every post, specially that of orchids, on the group.

I am writing this email to not only inform but also to seek suggestions regarding my plan to call for "Orchid Hunting Tour" that I am proposing for like minded people.

This "Orchid Hunting Tour" I am planning for 2016, not sure about when and where  and it depends on suggestions from all of you regarding which place would be more promising and suitable season according to that location.

I request and seek your suggestion through this email, in this regards stated above.
---
The place can be decided if you fix the time. If you fix the place then time has to be decided. As all orchids dont flower at one time and one place. You being in Maharastra, how far would you like to go?
---
I have two locations in my mind.
Chakrata (in western Himalayas) – Uttarakhand, for which I propose August being best time
Waynad (In soutthern western ghats) – Kerala, for which I propose May being best time.
I may be wrong in identifying right season but let the suggestions may flow in. 
---
Late July-August is good time for Chakrata if monsoon is on time, or you need to shift according to monsoon delay. If you wish to Go higher then June is good time.
Waynad I never been so I don't have much idea.
---
Wayanad district of Kerala is blessed with high diversity of orchids ca. 174 including 17 rare and facing extinction. A book is already published "Orchids of Wayanad" by Ratheesh et al. in 2013. This book give colour photographs of all orchids mentioned.
---
There are 2 types of orhids.
1.Terrestrial orchids
2. epiphytic orchids
Terrestrial orchids will be in flowering during July – November. They will be in the open areas of shola forests. Western ghats area, eastern ghat areas, Arunachal pradesh, Andhaman Islands are having diverse orchid flora. Epiphytic orchids flower during February – April. BSI has its National orchidorium at Yercaud, Tamilnadu. Kodaikanal also one orchidorium is maintained.
---
How can I get a copy of this book ? Does it mention Habenaria perrottetiana ? Has anyone seen this plant in wild except …?
---
Yes many persons are collected this species from different district of Kerala viz. Wayanadu, Idukki, Pathanathitta, Trivandrum etc. Observed flowering in Sept-October.
I have also collected this species from Periyar Tiger Reserve in 2008. If I can findout photos from my backup I will send you.
---
Yes in that book this species is recorded. I have sent you that page click on our whatsapp orchid group. Pls check.