---
Pseudo-bulbous herbs. Leaves 2-3, ovate-lanceate to elliptic, 4-15 x 1-3 cm, base sheathing, apex acute, plicate. Racemes 6-25 cm long; bracts lanceate. Flowers dense, reddish, small, not resupinate. Dorsal sepal lanceate, deflexed. Lateral sepals obliquely oblong, deflexed. Lateral petals linear-lanceate, margins curved, held like horns. Lip laciniate, rhomboid, pectinate, 1-3- lobed, mid-lobe shorter than laterals; anthers 2-celled, pollinia 4, in pairs.
Flowering and fruiting: June-August
Peninsular India and Sri Lanka
(Attributions- Dr. N Sasidharan (Dr. B P Pal Fellow), Kerala Forest Research Institute, Peechi
---
Submitting images of a specimen of a terrestrial orchid  for identification.
Date/time:17-07-2015 about 10 am

Location: Mullaiyanagiri, Chikmagalur, Karnataka about 1700 msl
Habitat: Wild, Shola forest

Habit; A terrestrial herb
---
It will be Liparis or Microstylis sp
---
That's the funniest variation I have ever seen. I imagine how far it can go or is it a new species??? I think you may describe this as a new species. This close to Malaxis versicolor but very different. … you should see this.
---
This is Malaxis densiflora (A.Rich.) Kuntze
Its my request to … if he could send a specimen.
---
I will certainly go over to the site and collect the specimen.Kindly inform how it should be packed. Should it be pressed before packing..?
---
Please collect one or two specimen and press it in newspaper. You can post along with the newspaper.
---
I have sent the specimen as sought by you, by post today.
---
Thanks. That's very interesting … I never knew about this species. There are many more pics of this floating on facebook may be you can help in identifying them.
---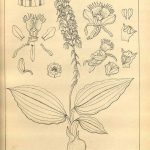 Please check the labellum sketch on one of the sheets and even on illustration. It doesn't actually match with
Malaxis densiflora
.
Here is some info from another resource, book by Abraham and Vatsala. They also record this as very variable species and have given three varieties.
Attachments (4)
---
This is really great. Don't usually get to see image of this group. Seidenfia densiflora (Malaxis densiflora, Crepidium densiflora – whatever you may call). May be the only image of this species on efloraofindia.
---