Mahonia aquifolium (Pursh) Nutt. (syn:
Berberis aquifolium
Pursh; Berberis aquifolium var. juglandifolia Rehder; Berberis fascicularis Sims; Berberis fasciculata Schult. & Schult.f.; Berberis pinnata

Banks ex DC

.; Mahonia diversifolia Sweet; Odostemon aquifolium (

Pursh

)

Rydb.);
USA (California, District of Columbia, Georgia, Idaho, Kentucky, Michigan, Montana, New Jersey, New York, Ohio, Oregon, Washington State), Canada (Alberta, British Columbia, Ontario, Quebec), France (I), Italy (I), Austria (I), England (I), Czech Republic (I), Slovakia (I), Montenegro (I), Serbia & Kosovo (I), Croatia (I), Germany (I), Netherlands (I), Hungary (I), Australia (I) (South Australia (I), Australian Capital Territory (I)), Uzbekistan (I)
as per
Catalogue of Life
;
---
Mahonia aquifolium (Oregon-grape[4] or Oregon grape) is a species of flowering plant in the family Berberidaceae, native to western North America. It is an evergreen shrub growing to 1 m (3 ft) tall by 1.5 m (5 ft) wide, with pinnate leaves consisting of spiny leaflets, and dense clusters of yellow flowers in early spring, followed by dark bluish-black berries.[5]
M. aquifolium grows to 1–2 m (3 ft 3 in–6 ft 7 in) tall by 1.5 m (5 ft) wide, with pinnate leaves up to 30 cm (12 in) long, each leaf made up of spiny leaflets. The leathery leaves resemble
holly
and the stems and twigs have a thickened, corky appearance. The flowers, borne in dense clusters in late spring, are yellow, and are followed by spherical dark dusty blue berries, which give rise to the common name "Oregon grape".

[7]
Mahonia aquifolium is a native plant in the North American West from
Southeast Alaska
to
Northern California
, and eastern
Alberta
to central
New Mexico
, often occurring in the understory of
Douglas-fir
forests (although other forest types contain the species) and in brushlands in the Cascades, Rockies, and northern Sierras.
In some areas outside its native range, M. aquifolium has been classified as an invasive exotic species that may displace native vegetation.

[12]

[13]
M. aquifolium is a popular subject in shady or woodland plantings. It is valued for its striking foliage and flowers, which often appear before those of other shrubs. It is resistant to summer drought, tolerates poor soils, and does not create excessive leaf litter. Its berries attract birds.

[5]
The small purplish-black fruits, which are quite tart and contain large seeds, are included in smaller quantities in the traditional diets of Pacific Northwest aboriginal peoples, mixed with
Salal
or another sweeter fruit. Today they are sometimes used to make jelly, alone or mixed with salal.

[16]

Oregon grape juice can be fermented to make wine, similar to European barberry wine folk traditions, although it requires an unusually high amount of sugar.

[17]

The inner bark of the larger stems and roots of Oregon-grape yield a yellow dye; the berries give purple dye.

[18]

As the leaves of Oregon-grape are holly-like and resist wilting, the foliage is sometimes used by florists for greenery and a small gathering industry has been established in the
Pacific Northwest
.
---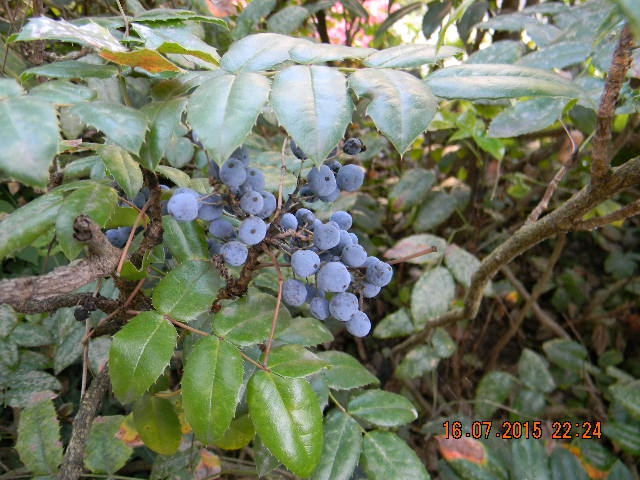 please identify the plant from Wetter, Germany.
---
Mahonia aquifolium I hope
---
please identify the plant in the picture. The shot were taken from Morning Walkers' Park, Warsaw.
---