Rubus
nepalensis
(Hook.f.) Kuntze, Meth. Sp.-Beschr. Rubus 125. 1879 (syn:
Rubus barbatus
Edgew.;
Rubus nutans
Wall. (ambiguous synonym); (≡)
Rubus nutans var. nepalensis
Hook. f. (basionym); (=)
Rubus nutantiflorus
H. Hara;
Rubus nutantiflorus
var.
nepalensis
(Hook. fil.) Balakrishnan);
Common name: Nepalese Raspberry, Himalayan Creeping Bramble • Nepali: भुइ ऐंसेलु Bhui Ainselu
---
Rubus nepalensis (Himalayan creeping bramble, Nepalese raspberry) is a species of evergreen raspberry endemic to Nepal and Himalayan India. It grows to about 1m in diameter, with height up to 20cms. Fruit is small, edible, and slightly sour.
The
Rubus nepalensis
, also known as the
Himalayan Creeping Bramble
, is a plant which is native to the country of Nepal. It comes from the Rosaceae family of plants.
[1]
It is a shrub that has many stems, and it is known for growing widely and covering a lot of ground. It spreads wherever it grows and takes over the area in which it is located. This plant is an evergreen, which means it will remain green throughout the whole year. It does not grow very high; the average height it will grow to is ten inches, and its spread would be about three feet.
It has a Hardiness Zone of about 8a, which means that it can grow in, and withstand, an area with a minimum temperature of −12.2 °C to −9.4 °C.

[2]

So, compared to many plants, it needs a relatively warm temperature.
The flowers on this particular plant are a hermaphrodite, meaning it has both female and male flowers.

[3]

This plant can be grown almost anywhere in Nepal, as it will grow in a variety of soils, including soils which contain clay or sand. It prefers soil that is drained, in other words, soil that is not too wet. This is an ideal plant for farmers to cultivate in Nepal, as the topography there is mountainous. If the berry was planted on the mountainsides, any excess water would naturally drain downward. This plant can either grow in little shade, or in no shade at all. This plant does not need a lot of care to grow well and produce a great output; it can do so with little human intervention.

[4]



(from
Wikipedia
 on 24.9.15)


.
---
Rubus nepalensis (Hook.f.) Kuntze
Distinctive perennial herbaceous species with creeping stems; leaves trifoliate with ovate to rhombic double toothed leaflets, 1-3 cm long; flowers nodding, white, 2-3 cm across; calyx lobes shaggy-haired, lanceolate, long pointed.
Photographed
from along Chopta Mandal Road, Uttarakhand.
---
Rubus nepalensis (Hook. f.) Kuntze : 2 posts by 2 authors. Attachments (2)
Sharing some pictures of Rubus nepalensis (Hook. f.) Kuntze shot at Kharidhunga Nepal on 15 October 2011 at 8650 ft.
---
---
Location: Kalinchowk, Dolakha, Nepal
Nepali Name: 
भूइं  ऐंसेलु Bhuin Ainselu
---
---
Location:  
Kharidhunga, Sindhupalchok, Nepal
The Plant List says the name is unresolved.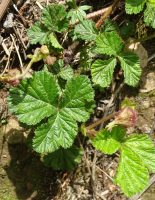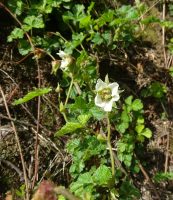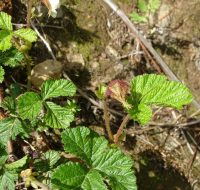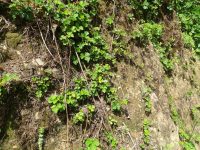 Rubus nepalensis (Hook.f.) Kuntze
: 5 high res. images.
Location: Lama Kyang, Lukum, Rukum West, Nepal 
Habit : Wild
---