Himalaya to India
(as per
WCSP
)
---
Commelina caroliniana, sometimes known as the Carolina dayflower, is an herbaceous plant in the dayflower family native to India and Bangladesh. Both the scientific name and the common name are misleading as the plant was described based on specimens found in the southeastern United States before it was known that the plant had been introduced from India. It was most likely introduced to South Carolina in the late 17th century along with rice seed from India. Its flowers emerge from summer to fall and rarely into the winter.
Commelina caroliniana is an annual herb with a diffusely spreading growth habit. It will readily root at the
nodes
when they come into contact with the soil. The stems are decumbent (i.e. lying on the ground with rising tips) to scandent (i.e. climbing). The glabrous (i.e. hairless) leaves have blades that are lanceolate to lanceolate-elliptic or lanceolate-oblong in shape, measuring 2.5 to 10.5 cm in length by 0.7 to 2.4 cm in width. The leaf margins are scabrous (i.e. with rough projections), while the apex is acute to acuminate in outline.

[3]
The inflorescences are important for making a proper identification, and especially for distinguishing it from Commelina diffusa. The upper
cyme
, also called a cincinnus, is typically vestigial and included inside the
spathe
, though it is can be rarely 1-flowered and exserted. The spathes are solitary and bright green in colour, though becoming paler towards the base. Unlike Commelina communis, it lacks veins with contrasting colour. They are pedunculate (i.e. supported on a stalk), with the peduncles measuring 0.6 to 2.3 cm. They are generally not falcate (i.e. sickle-shaped), though they may be slightly so (cf. Commelina diffusa). They measure 1.2 to 3 cm in length, and rarely up to 3.7 cm long, by 0.5 to 1 cm in width. Their margins are not fused and are usually ciliate (i.e. with a fringe of hairs), while the apex is acuminate in outline. They are glabrous or very lightly pilose (i.e. with fine soft hair).

[3]
The
flowers
are bisexual with all three petals being blue, though the smaller lower petal is white towards the centre. The centre-most
stamen
has a white connective (i.e. the portion connecting the two halves of the
anther
). There are 3 cruciform
staminodes
present, each with yellow antherodes, these often showing a maroon spot at their centres. The fruit is a
capsule
, each having 3
locules
and 2 valves and measuring 6 to 8 mm, though they may be rarely as small as 5 mm. Each capsule contains 5 dark brown seeds that measure 2.4 to 4.3 mm long, and rarely up to 4.6 mm, by 2 to 2.3 mm wide, though rarely they can be as narrow as 1.6 mm. They are smooth to faintly alveolate (i.e. with a honeycombed surface) with a mealy texture. The
chromosome
number is 2n = ca. 86.

[3]
---
Commelina caroliniana is an endemic species to the India Subcontinent. It is commonly found in fields, swamps and irrigated fields. It was introduced in South Carolina in the year 1696 and spread across to the southern east part of United States. It is also  present in Phillipines and Guam. In India it is found in Andaman, Delhi, Gujarat, Goa, Kerala, Maharastra, Rajasthan, Tamil Nadu and Uttar  Pradesh. The species has been located from 32 localities in the India sub continent. The area of occupancy and extent of occurrence are wide.  Data on population trends and conservation has not been reported. It is therefore listed as Least Concern.
Commelina caroliniana is commonly found in fields, swamps, yards, waste places, along roadsides , rarely in the forests. It is also a weed in crops, especially in heavy irrigation field such as rice.
Citation:
Rehel, S. 2013. Commelina caroliniana. The IUCN Red List of Threatened Species 2013: e.T177167A7382133.

Link

. Downloaded on 15 October 2015
.
---
location :
amby valley rd. lonavala/ mulshi, pune
plant habit:herb

height:about 2ft.
---
This is also look likes Commelina diffusa for me… needs lateral view of spathes to conclude identity more firmly….
---
This appears to be Commelina caroliniana!
---
.
---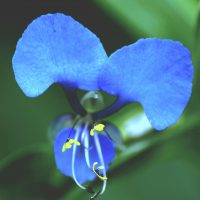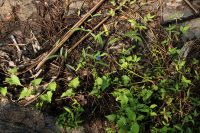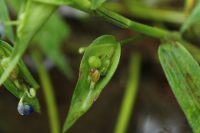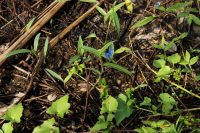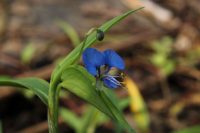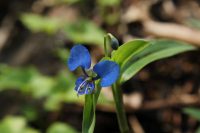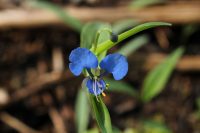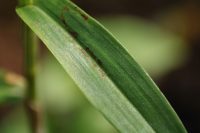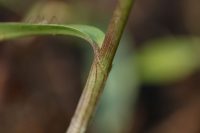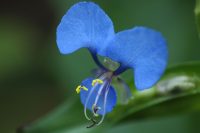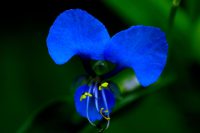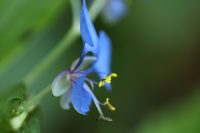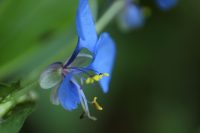 322 ID wild creeper Commelina:
Please ID wild creeper, I observed more than one flower bulbs or seed chambers in one bract when compared with Commelina indehiscens, sepals also visible clearly,
Location: near Vannappuram, Thodupuzha, Idukki Dist.,Kerala PIN:685607
Altitude: 1500fsl
Flower date: 09.04.2022, 09.35am
Habitat: wild, wet misty rocky hill, sunlight
Plant habit: creeping, branches, weak fleshy stem 03mm diameter, annual
Height: 10 cm
Leaves: alternate, oblong, apex, fleshy, size:05×01.5cm
Flower: bracts, 3 petals, diameter:20mm, blue, non fragrant
Fruit: chamber ovoid green into brown, size:3×2mm
Seed:
Camera: CANON EOS1500D +rr
---
Only a suggestion. Not sure. Check this link:
https://efloraofindia.com/2011/02/19/commelina-forsskalii/.
The winged blue stamen filaments are characteristic of the species
---
Thank you very much dear …, for the suggestion, it is very close to Commelina forsskalii, but lower petal is clearly visible, growing very rare here and entire plant were died, only visible again in next season,
---
More close to Commelina caroliniana, please check!!
---
Yes, it is very close to Commelina caroliniana, dear …, thank you very much for ID my plant,
---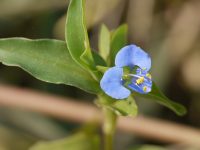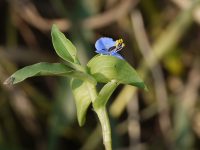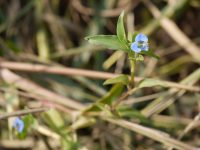 Commelina sp. … FOR ID :: Waghbil, Thane, Maharashtra :: Oct 30, 2010 · 9:45 AM IST: 2 images.
Commelina … FOR ID
Waghbil, Thane, Maharashtra :: Oct 30, 2010 · 9:45 AM IST :: about 3 m (10 ft) asl
---
This appears to be Commelina caroliniana.
---
---
.
References: The Plant List Ver.1.1  WCSP  IPNI  BSI Flora of India checklist  Flora of North America  Annotated checklist of Flowering plants of Nepal  JSTOR (Specimen) India Biodiversity Portal  IBIS Flora Wikipedia  IUCN Red List (LC)