Vanilla
wightii
Lindl. ex Wight,
Icon. Pl. Ind. Orient. 3: t. 931 1845
. ;
.
---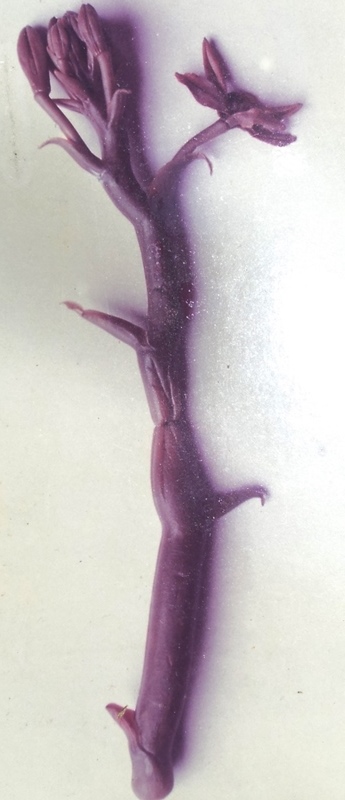 Vanilla wightii Lindl. ex Wight is a terrestrial climber over bushes in the scrub jungle, observed from Palamaneru area of Andhra Pradesh, Thanks to Dr. Rangacharylu who took me to the field during 1989.
---
Interesting !!
---
---
This is Vanilla. Was there no leaf?
---
Looks little different. Can't comment further.
---
Thanks … for liking. Yes … I could not observe any leaf, may be leaf was there but i could not locate. attaching one more picture. 
---
I asked because this looks a close to a species Vanilla aphylla, but cant confirm. Flower is so different. Seems I need to recheck all Vanilla to confirm their ID. Much be exotic.
---
ou couldn't find the leaves sir, because I think this is Vanilla aphylla, the one without leaves. The redness inside the labellum is a bit dark though!!
---
Ok I am extremely sorry. There is some issue here. It was originally identified as Vanilla aphylla too, but later in 1890s it was pointed out that this was Vanilla wightiana which was a spelling mistake for Vanilla wightii.
So for the time being this has to stay as Vanilla wightii, however, I think this is a very normal Vanilla aphylla. Both do not have leaves.
---
You mean to say that we keep it as Vanilla wightii on the efi site.
I hope I am correct.
---
yes sir it should be Vanilla wightii.
---