C. & S. China
(as per
WCSP
);
It is a vigorous
deciduous
shrub
growing to 4 m (13 ft) tall with an erect trunk and leaves 5–29 cm (2–11 in) long and 2–12 cm (1–5 in) broad. Its strongly scented pendent flowers, produced in winter (between November and March in UK,

[4]

) on bare stems, have 15-21 yellow or pale green-yellow,
tepals
, the inner ones usually with purplish red pigments.

[5]

[6]

[7]
---
---
---
Chimonanthus praecox
Wintersweet
Shimla
Nov., 2016
It is very sweet smelling small tree.
---
Thanks for sharing … I had collected this plant in Kashmir in early seventies, but unfortunately at that time with film cameras, costly colour film rolls, you could not afford to click every plant. Perhaps this list of Exotic Trees and Shrubs we had published should be helpful.
Attachments (1) – 1983-Exotic Trees and Shrubs of Kashmir.PDF
---
Thank you, Sir.  I had also posted it earlier on efi and FoI, but this time, photographs are much better, so again thought of sharing.
---
---
Seems like Rosaceae Species.
Very eager to know the id.
---
One of my long pending posts.
Today, I came across … post on
Chimonanthus praecox
and on searching further, these fruits look close to me.
Please let me have your feedback.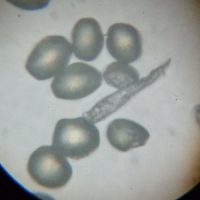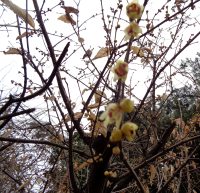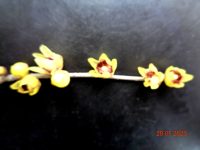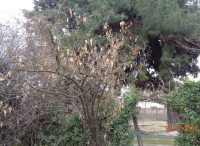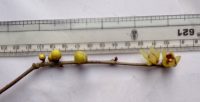 Wintersweet (Chimonanthus praecox) in Srinagar: 5 images.
Am posting photos of the shrub wintersweet (Chimonanthus praecox) which is becoming popular in lawns of homes  in Srinagar.
Habitat: Cultivated. In gardens and lawns
Habit: Shrub with a woody stem 3-4 m high.
Family: Calycanthaceae native to China
It is deciduous and sheds all its leaves in autumn.
Around the last week of January it starts flowering and the pale yellow waxy flowers borne in profusion remain till early March. The inner tepals have purplish red bases. The flowers are very fragrant and to me their  fragrance seems very similar to that of Narcissus flowers'. In light breeze a single tree can fill a moderate sized lawn with its fragrance.
For members who like myself are fascinated by the shape of pollen grains I have also posted pictures of its pollen seen through a microscope. The pollen is peculiar in that it seems spherical when seen in polar view but appears elongated in equatorial view. Experts have used SEM images of its pollen to distinguish between its different cultivars.
---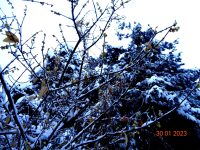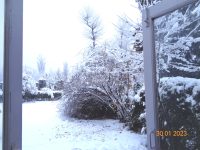 Two more photos:
Photo1 shows the bush flowering in snow. That is perhaps why it is called Gol e Yakh (Ice Flower) in Persian. The tall tree in the background is an Elm (Ulmus sp.) called Brenin Kashmiri.
Photo2 is a closeup of the flowers
---
Thanks …, seen lot of them but never clicked (photography was a big luxury in sixties and seventies. Aarti ji had shared pictures of fruiting twigs in April from Botanical Garden, Srinagar.
---
Previously these bushes were only seen in Mughal gardens but now people have started planting them in their private gardens.
As … has rightly said before the advent of digital cameras photography was a luxury. I too purchased an entry level digital camera only after retirement when my local vendor stopped selling films saying there was no demand for them.
---