Images
by D S Rawat (Inserted by J.M.Garg) (For more images & complete details,
click on the links)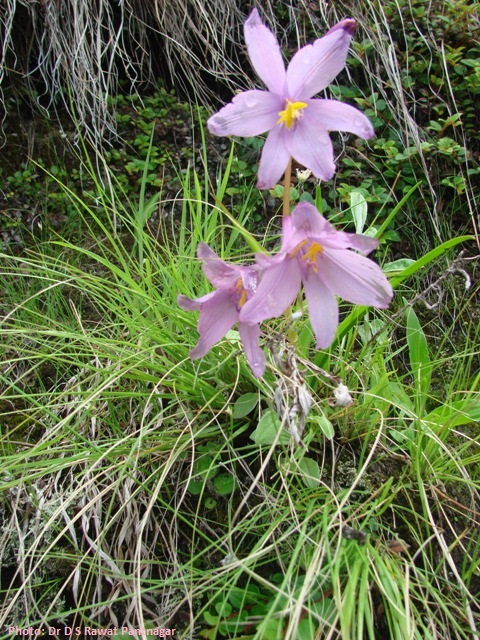 ---
Notholirion macrophyllum is a species of the genus Notholorion, in the Liliaceae (lily) family. They are bulbous flowering plants originating in Asia. N. macrophyllum is the smallest species in the family, with a height of 20–25 cm. The leaves are basal, 30–40 cm long and about 2 cm wide. from June to August N. macrophyllum produces a racemose inflorescence bearing 2–4 (occasionally 6) pale violet to purple or red, bell-shaped, hermaphrodite, flowers with dark purple flecks in the throat, about 5 cm in length. After flowering the plant produces a capsular fruit.
The area of distribution includes Tibet, Nepal, Sichuan, Yunnan, Bhutan, and Sikkim, where it is found in oak forests, and on grassy slopes and meadows at altitudes from 2800 to 3400 m.
---
While inserting the pics in Liliaceae species pages I found that Notholirion macrophyllum is not represented in eFI. To add it in the database the image is being submitted.
This species is known from only one location in Uttarakhand which is near Chopta, Tungnath from where it was photographed.
---
Thanks, … for adding one more species.
---