---
Agrostemma githago, the common corn-cockle (also written "corncockle" and "corn cockle" and known locally simply as "the corncockle").
It grows with a stem to 100 cm long with lanceolate leaves. The flowers are up to 5 cm in diameter, usually single at the ends of the stem. The sepals have 5 narrow teeth much longer than the petals. It has 10 stamens.

[1]

 It has slender pink flowers. It is a stiffly erect plant up to 1 metre (3 ft 3 in) tall and covered with fine hairs. Its few branches are each tipped with a single deep pink to purple flower. The flowers are scentless, are 25–50 millimetres (1–2 in) across and are produced in the summer months – May to September in the northern hemisphere, November to March in the southern hemisphere.
Each petal bears two or three discontinuous black lines. The five narrow pointed sepals exceed the petals and are joined at the base to form a rigid tube with 10 ribs. Leaves are pale green, opposite, narrowly lanceolate, held nearly erect against stem and are 45–145 mm (1.8–5.7 in) long. Seeds are produced in a many-seeded capsule.
It can be found in fields, roadsides, railway lines, waste places, and other disturbed areas.
It is now present in many parts of the temperate world as an alien species, probably introduced with imported European 
wheat
. It is known to occur throughout much of the 
United States
 and parts of 
Canada
, parts of 
Australia
 and 
New Zealand
---
Agrostemma githago
Common corn-cockle

Cultivated

Near Shimla

New on efloraindia
---
Sorry for uploading wrong attachment (Ranunculus distans Syn. R.
laetus). Attaching the correct photograph again.
Thanks are due to … who pointed out my mistake within minutes. Attachments (1)
---
Thanks, …, for posting again a new species to efi.
---
One more phgotograph
Attachments (1)
---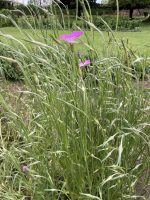 J&K, Srinagar, April 2023 :: Agrostemma githago for confirmation :: ARK2023-037: 2 high res. images.
These flowers were seen in Shalimar Bagh in Srinagar, J&K in April 2023.
They seem to be Agrostemma githago.
Requested to please confirm.
---
Yes !
---