---
Images
by Aarti S Khale (Id by Varun Sharma) (Inserted by J.M.Garg) (For more photos & complete details, click
on the links)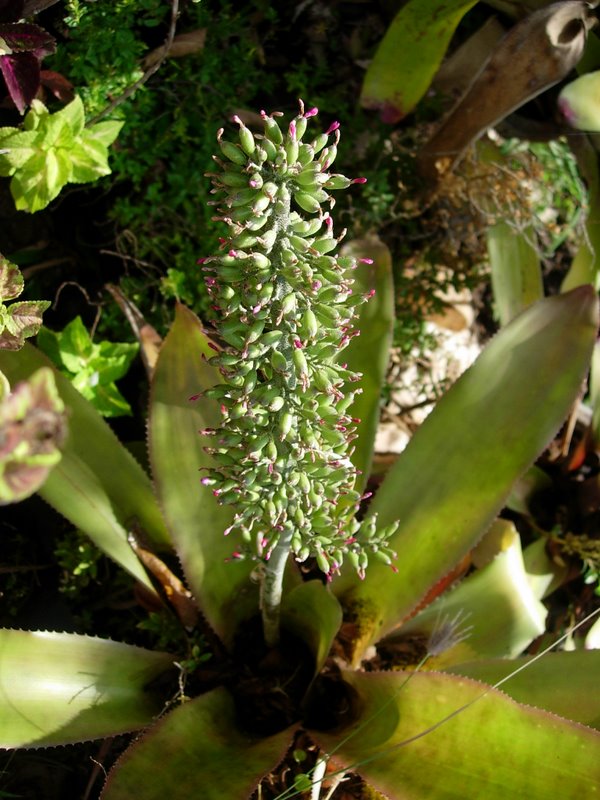 Date/Time : 16th of April, 2008/ 9.07am.
Location Place : Gangajal Nursery, Nasik, Maharashtra … Altitude :  … GPS : 
Habitat : Garden … Type : cultivated
Plant Habit : Herb … Height : small plant … Length :…
Leaves Type :  … Shape : as seen … Size : large
Inflorescence Type : … Size : 
Flowers Size : about 1 cm … Colour : green-pink … 
---
Looks like some Agave plant to me.
---
Agave chiapensis ???
A medium sized species of Agave. Pinkish flowers ?
---
Looks like
Agave Chiapensis
but as per wikipedia, the flower spike in
A Chiapensis
is 2 metres tall. We will have to look further.
http://en.wikipedia.org/wiki/Agave_chiapensis
---
Chances of Aechmea mexicana Baker are higher because of inflorescence and kind of leaf serrations.
---
Bromeliad seen at a plant nursery in Nasik.
---
Appears to be
Aechmea mexicana
 as per images herein.
---
Thanks … It does look like the suggested id.
---