Palhinhaea cernua
(L.) Carv.Vasc. & Franco,
Bol. Soc. Brot., sér. 2, 41: 25 1967
. (syn:
Lepidotis cernua
(L.) P.Beauv.;
Lycopodiella cernua
(L.) Pic.Serm.;
Lycopodiella cernua
var.
caboverdeana
(Gilli) O.Eriksson, A.Hansen & Sunding;
Lycopodiella cernua
var.
sikkimensis
(Müll.Hal.) Panigrahi & Sarn.Singh;
Lycopodium boryanum
A.Rich.;
Lycopodium brevibracteatum
Alderw.;
Lycopodium capillaceum
(Spring) Hieron.;
Lycopodium cernuum
L.;
Lycopodium cernuum
var.
boryanum
A.Rich.;
Lycopodium cernuum
var.
caboverdeanum
Gilli;
Lycopodium cernuum
var.
capillaceum
Spring;
Lycopodium cernuum
var.
marianum
(Willd.) Bak.;
Lycopodium cernuum
var.
panamense
Wercklé ex Nessel;
Lycopodium cernuum
var.
seychellarum
Nessel;
Lycopodium cernuum
f.
sikkimense
(C.Müller) H.S.Kung;
Lycopodium cernuum
var.
sikkimense
(Müll.Berol.) C.B.Cl.;
Lycopodium cernuum
var.
vulcanicum
(Bl.) Herter;
Lycopodium cernuum
var.
watsonianum
Herter ex Nessel;
Lycopodium cymosum
(Fée) L'Herm. ex Hieron.;
Lycopodium dichotomum
Blanco (ambiguous synonym);
Lycopodium ericinum
Cesati;
Lycopodium heeschii
Müll.Hal.;
Lycopodium hupeanum
K.Mueller;
Lycopodium marianum
Willd.;
Lycopodium moritzii
Müll.Hal.;
Lycopodium polycephalum
Col.;
Lycopodium secundum
Müll.Hal.;
Lycopodium sikkimense
Müll.Hal. (ambiguous synonym);
Lycopodium veneris
Herter;
Lycopodium vulcanicum
Bl.;
Palhinhaea brevibracteata
(Alderw.) Holub;
Palhinhaea capillacea
(Spring) Holub;
Palhinhaea cernua
f.
ciliatomarginata
W.M.Chu;
Palhinhaea cernua
f.
ciliatomarginata
W.M.Chu;
Palhinhaea cernua
var.
sikkimensis
(Müll.Hal.) Ching;
Palhinhaea cernua
f.
sikkimensis
(Müll.Hal.) H.S.Kung;
Palhinhaea mariana
(Willd.) Holub;
Palhinhaea polycephala
(Col.) Holub);
.
Tropics & Subtropics:
Alabama, Andaman Is., Angola, Argentina Northeast, Arkansas, Ascension, Assam, Azores, Bangladesh, Belize, Benin, Bismarck Archipelago, Bolivia, Borneo, Brazil North, Brazil Northeast, Brazil South, Brazil Southeast, Brazil West-Central, Burundi, Cameroon, Cape Provinces, Cape Verde, Caroline Is., Central African Repu, China South-Central, China Southeast, Colombia, Comoros, Cook Is., Costa Rica, Cuba, Dominican Republic, East Himalaya, Ecuador, El Salvador, Equatorial Guinea, Ethiopia, Fiji, Florida, French Guiana, Gabon, Galápagos, Gambia, Georgia, Ghana, Guatemala, Guinea-Bissau, Gulf of Guinea Is., Guyana, Hainan, Haiti, Hawaii, Honduras, India, Ivory Coast, Jamaica, Japan, Jawa, Kazan-retto, Kenya, Kermadec Is., Korea, KwaZulu-Natal, Laos, Leeward Is., Lesser Sunda Is., Liberia, Louisiana, Madagascar, Madeira, Malawi, Malaya, Mali, Maluku, Marianas, Marquesas, Mauritius, Mexico Central, Mexico Gulf, Mexico Northeast, Mexico Southeast, Mexico Southwest, Mississippi, Mozambique, Myanmar, Nansei-shoto, Nepal, New Caledonia, New Guinea, New South Wales, New Zealand North, New Zealand South, Nicaragua, Nicobar Is., Nigeria, Norfolk Is., Northern Provinces, Northern Territory, Ogasawara-shoto, Panamá, Paraguay, Peru, Philippines, Puerto Rico, Queensland, Rodrigues, Rwanda, Réunion, Samoa, Senegal, Seychelles, Sierra Leone, Society Is., Solomon Is., South Carolina, Sri Lanka, St.Helena, Sudan, Sulawesi, Sumatera, Suriname, Swaziland, Taiwan, Tanzania, Texas, Thailand, Tibet, Togo, Tonga, Trinidad-Tobago, Tuamotu, Tubuai Is., Uganda, Uruguay, Vanuatu, Venezuela, Venezuelan Antilles, Vietnam, Wallis-Futuna Is., West Himalaya, Western Australia, Windward Is., Zambia, Zaïre, Zimbabwe
as per
POWO
(
Lycopodiella cernua
(L.) Pic.Serm.);
Azores (Sao Miguel Isl., Terceira, Pico, Faial), Madeira (Madeira Isl.), Cape Verde Isl. (Fogo Isl.), Senegal, Gambia, Guinea-Bissau, Guinea, Sierra Leone, Liberia, Ivory Coast, Mali, Ghana, Togo, Benin, Nigeria, Cameroon, Bioko Isl. (Fernando Poo), Annobon Isl., Principe Isl., So Tom, Equatorial Guinea (Rio Muni), Gabon, Congo (Brazzaville), Central African Republic, D.R. Congo (Zaire), Sudan, Ethiopia, Uganda, Rwanda, Burundi, Kenya, Tanzania, Pemba Isl., Zanzibar, Angola, Zambia, Malawi, Mozambique, Zimbabwe, South Africa (Limpopo, Mpulamanga, E-North West, Gauteng, KwaZulu-Natal, W-Cape Prov., E-Cape Prov.), Swaziland, Lesotho, Comoros (Mayotte etc.), Madagascar, Mauritius, La Runion, Rodrigues Isl., Ascension Isl., St. Helena, Seychelles, China (Chongqing, Fujian, Guangdong, Guangxi, Guizhou, Hainan, Hunan, Jiangxi, Sichuan, Yunnan, Zhejiang), Taiwan, Tibet, Japan, South Korea, Ryukyu Isl., peninsular Malaysia (widespread), Singapore, Sumatra, Borneo (Sabah, Sarawak, Mt. Kinabalu, etc.), Java, Philippines, Palawan,

India (Andhra Pradesh, Arunachal Pradesh, Assam State, Bihar, Chhattisgarh, Goa, Jharkand, Karnataka, Kerala, Madhya Pradesh, Maharashtra, Manipur, Meghalaya, Mizoram, Nagaland, Odisha, Sikkim, Tamil Nadu, Tripura, Uttarakhand, West Bengal), Bhutan, Nepal, Myanmar [Burma], Bangladesh,

Thailand, Vietnam,

Sri Lanka, Andaman Isl., Nicobar Isl.,

New Guinea, Bismarck Arch., Moluccas (Seram), Lesser Sunda Isl. (Lombok), Sulawesi, Solomon Isl. (Bougainville, Choiseul, Gizo, Guadalcanal, Santa Ysabel, Kolombangara, Makira, Rendova, Vangunu, Malaita, New Georgia, Nggatokae), Australia (N-Western Australia, Northern Territory, Queensland, New South Wales), New Zealand (North Isl., South Isl.), Kermadec Isl., Tonga ('Eua, Tongatapu, Late Isl., Kao, Vava'u), Austral Isl. (Rapa Iti, Rurutu, Tubuai), Marquesas Isl. (Nuku Hiva, Ua Huka, Ua Pou, Hiva Oa, Tahuata, Fatu Hiva), Society Isl. (Tahiti, Moorea), Western Samoa (Upolu), American Samoa (Tutuila, Ta'u), Southern Marianas (Saipan, Rota Isl., Guam), Northern Marianas (Pagan, Alamagan), Fiji (Viti Levu, Ovalau), Rotuma Isl., Palau Isl. (Babeldoab, Koror, Nagarakabesang, Aulupse'el, Peliliu), Micronesia (Yap, Truk, Moen, Dublon, Fefan, Pohnpei, Kosrae), Wallis & Futuna (Futuna Isl.), Norfolk Isl., Hawaii (Kauai, Oahu, Molokai, Lanai, Maui, Hawaii Isl.), New Caledonia, Cook Isl. (Rarotonga), Bonin Isl. (Chichijima, Hahajima), Volcano Isl. (Kita-Iwojima), Costa Rica, Galapagos, Cuba, Hispaniola, Jamaica, Puerto Rico, Nicaragua, Mexico (Chiapas, Colima, Guerrero, Hidalgo, Jalisco, Mexico State, Michoacan, Nayarit, Oaxaca, Puebla, Tabasco, Veracruz), Belize, Guatemala, Honduras, El Salvador, Panama, Colombia (Amazonas, Antioquia, Arauca, Boyac, Caldas, Caquet, Cauca, Cesar, Choc, Cundinamarca, Guaina, Huila, La Guajira, Magdalena, Meta, Nario, Norte de Santander, Quindo, Risaralda, San Andrs, Providencia y Santa Catalina, Santander, Tolima, Valle, Vaup), Ecuador, Peru, Bolivia (Beni, Chuquisaca, Cochabamba, La Paz, Pando, Santa Cruz), N-Brazil (Para, Amazonas), NE-Brazil (Ceara, Pernambuco, Bahia, Alagoas, Sergipe), WC-Brazil (Mato Grosso, Goias, Distrito Federal), SE-Brazil (Minas Gerais, Espirito Santo, Sao Paulo, Rio de Janeiro), Argentina (Corrientes, Entre Rios, Misiones), S-Brazil (Parana), Paraguay (Caazapa, Canindeyu, Cordillera, Guaira), Uruguay (Rivera, Tacuarembo), Trinidad, Tobago, St. Kitts, Montserrat, Guadeloupe, Dominica, Martinique, St. Lucia, St. Vincent, Grenada, Barbados, Nevis, Venezuela (Amazonas, Apure, Aragua, Barinas, Bolivar, Cojedes, Distrito Federal, Falcon, Merida, Miranda, Monagas, Nueva Esparta, Portuguesa, Sucre, Tachira, Trujillo, Zulia), Guyana, Surinam, French Guiana, U.S. Virgin Isl. (St. John, St. Thomas, Tortola), USA (S-Alabama, SW-Arkansas, Florida, S-Georgia, Louisiana, S-Mississippi, ?South Carolina, E-Texas), Sicily (I), +Lebanon (I), +Syria (I)
as per
Catalogue of Life
;
---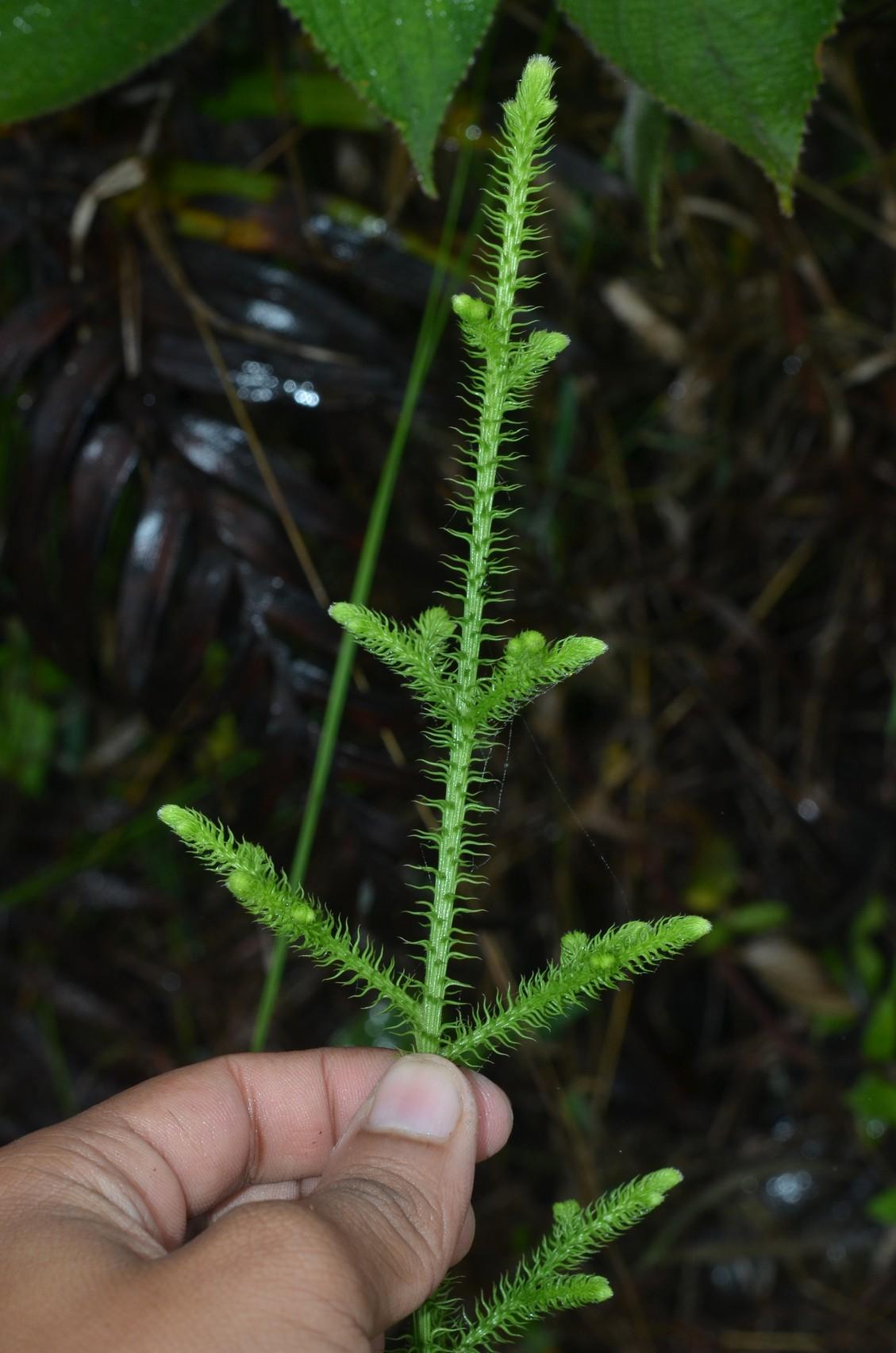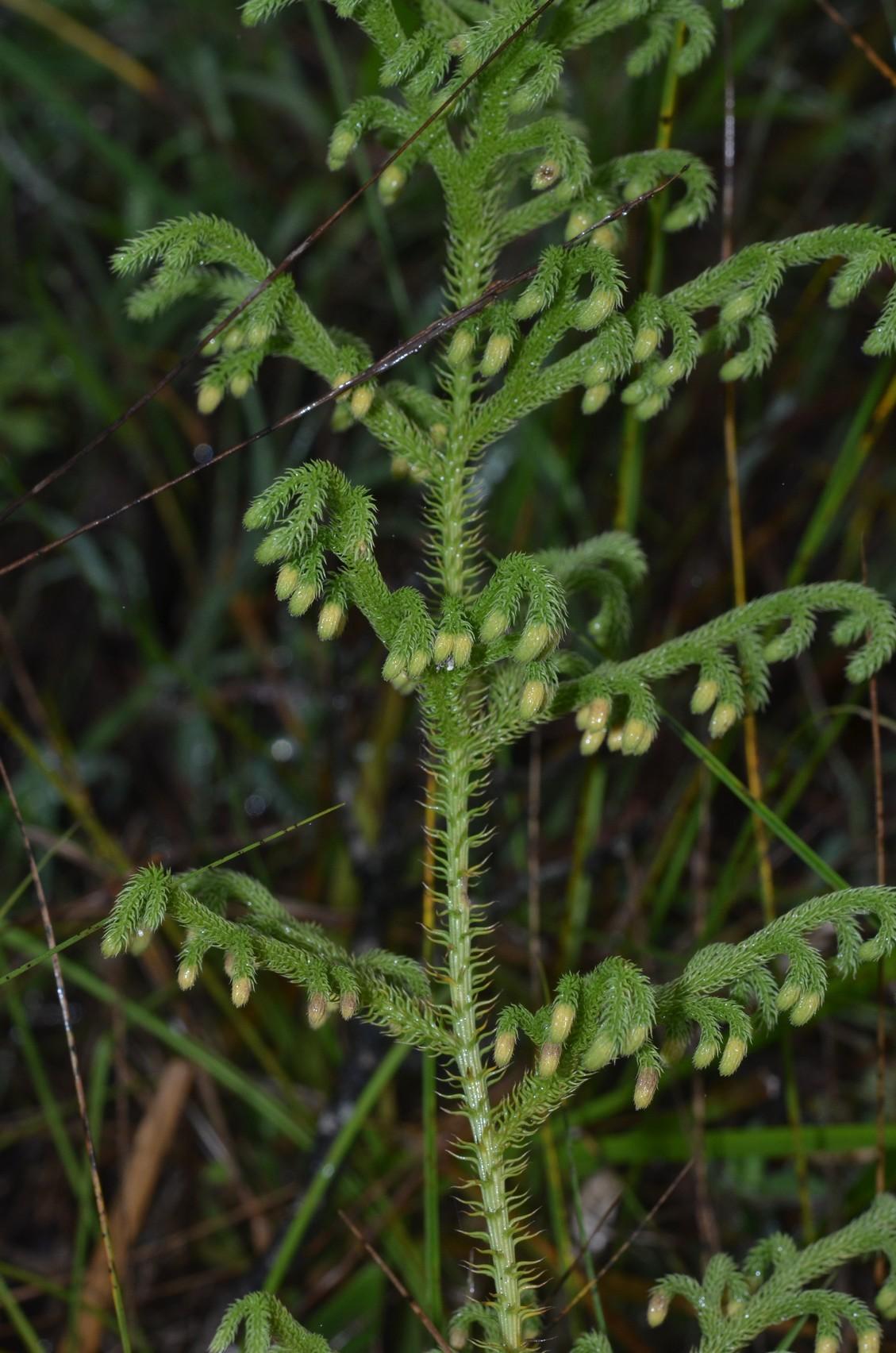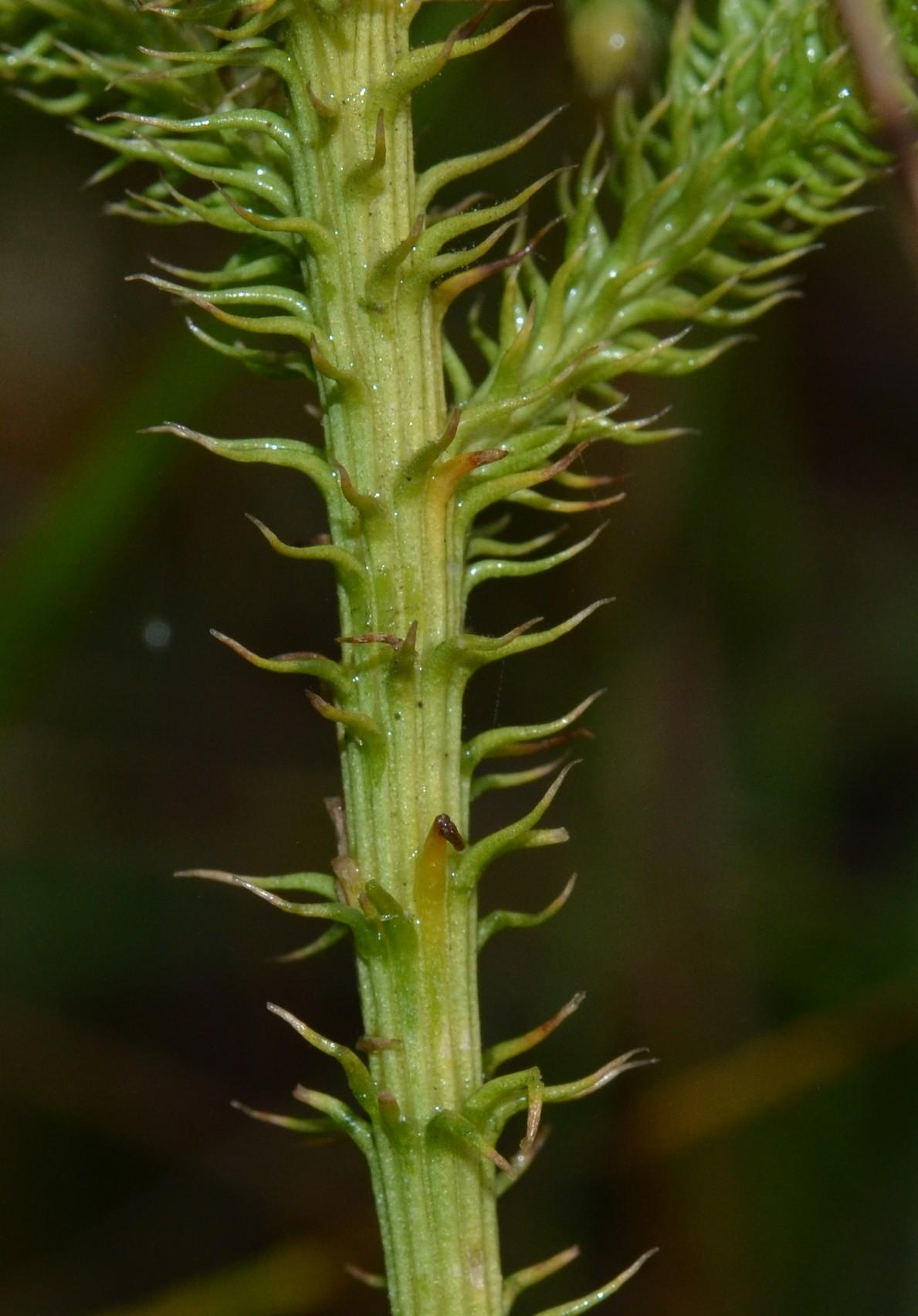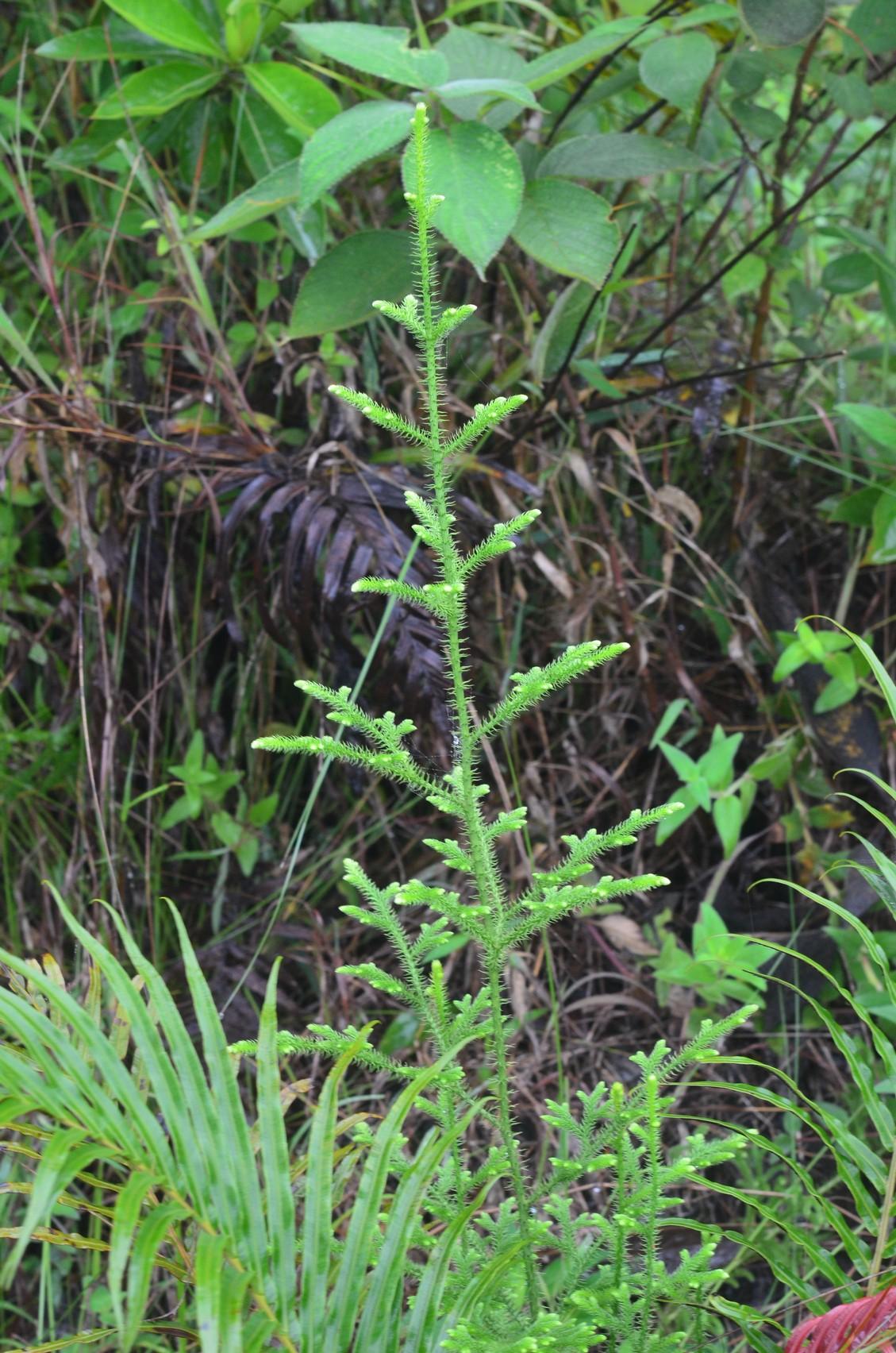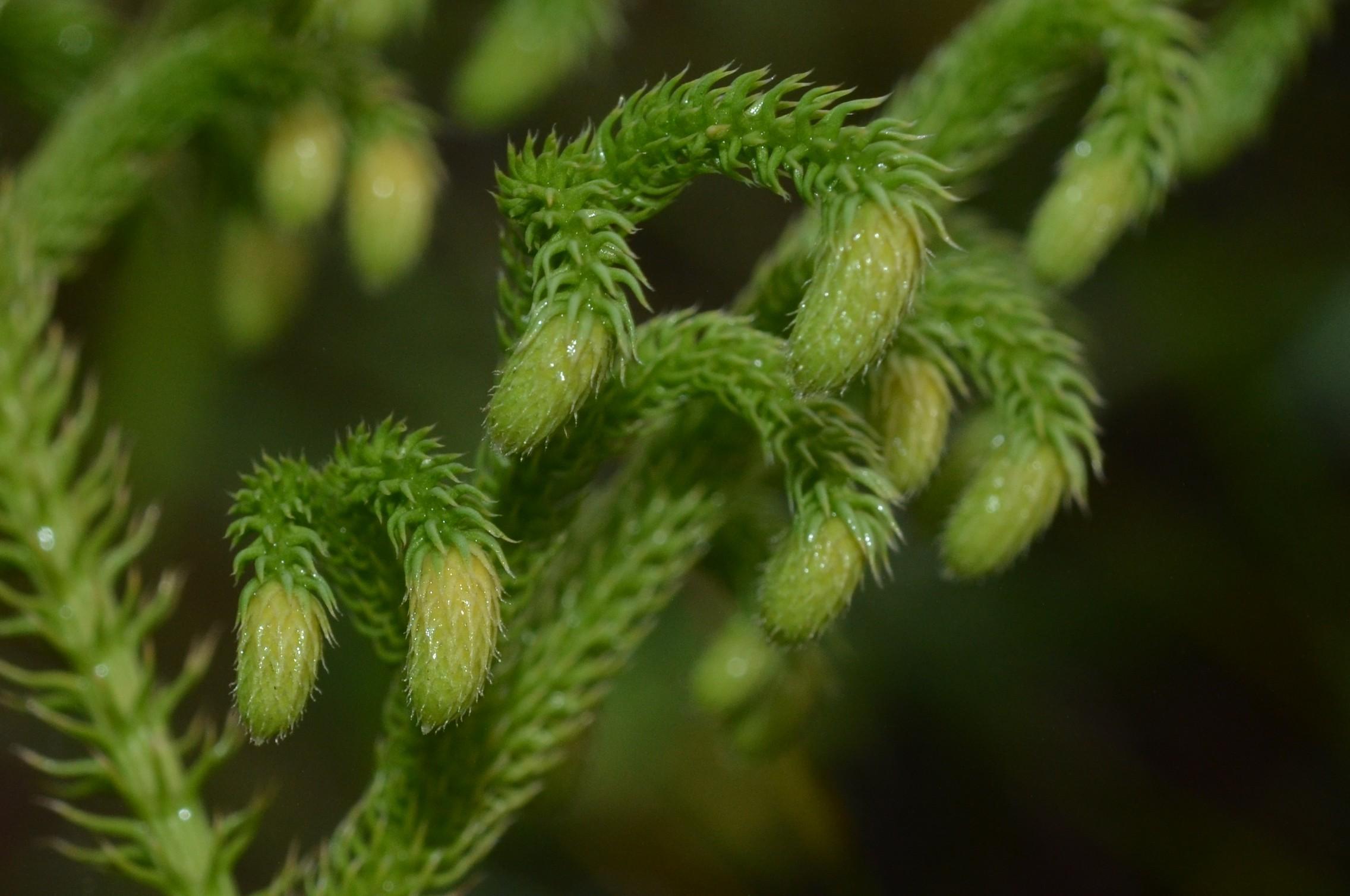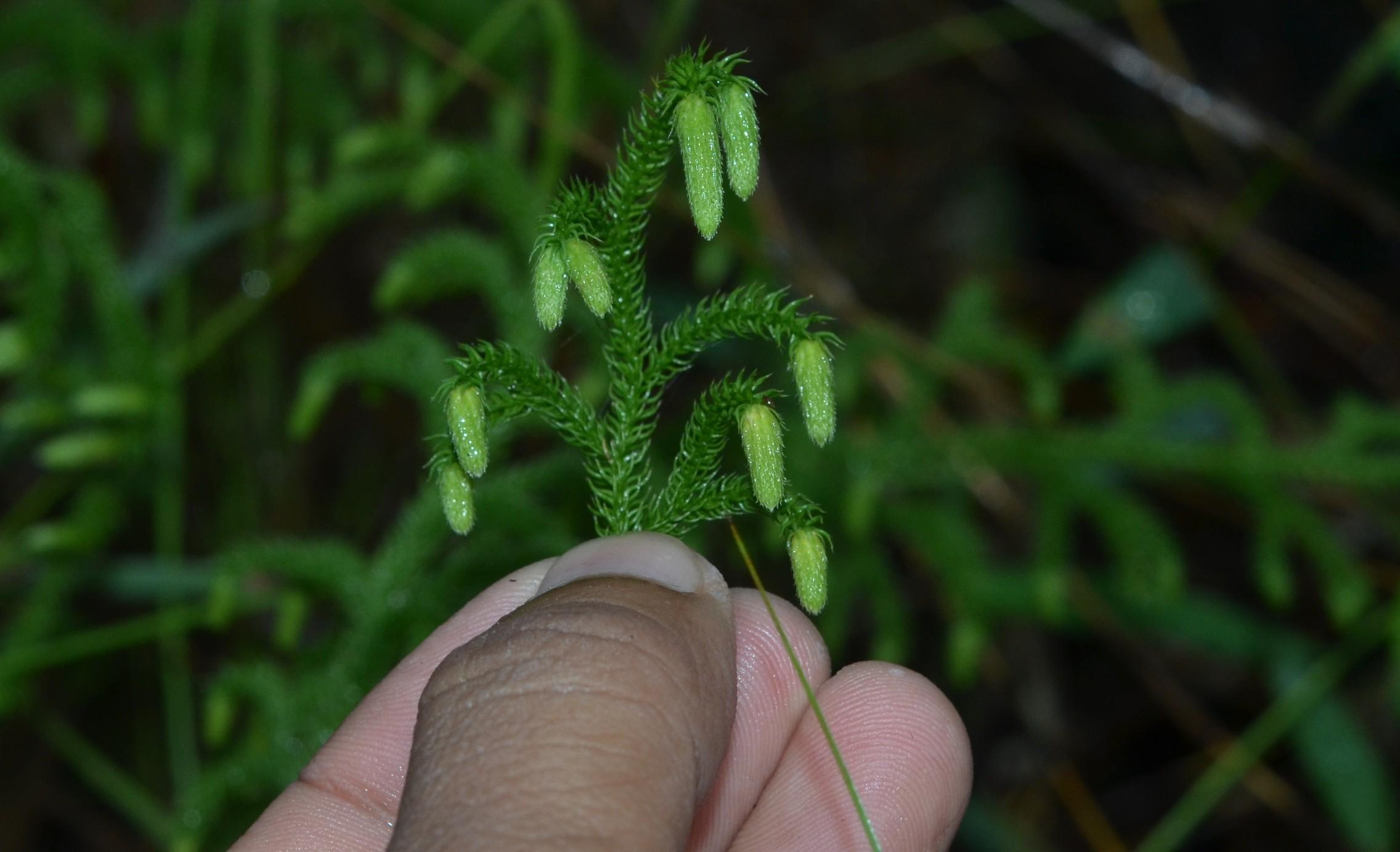 ANJUN03 Lycopodium sp. for identification
: 7 posts by 4 authors. Attachments
(6
)
Family: Lycopodiaceae
Date: 23rd June 2016
Place: Chikamagalur, Karnataka
Habit: Herb
Habitat: Grasslands at around 1300m.
---
Please check for Lycopodium cernuum
---
Thank you sir. I did check, however I am not sure yet of the ID as I am not familiar with pteridophytes!
---
Yes, sorry I didn't say anything with this one as it is well known. The images are excellent, actually. It is
Palhinhaea cernua
(syn.:
Lycopodiella cernua
)-
occurs throughout India

and makes these very attractive miniature Christmas trees!
But seems extraordinarily difficult to transplant and grow- I never succeeded to cultivate it after many tries. It is known to have a mycorrhizal association, in the rhizoids, but as it is so common and widespread it seems odd that the mycorrhiza are not present in gardens too- yet apparently everywhere on path-banks, especially in red-clay soil areas.

It varies in hairiness, the type having hairs between the leaves on the main stems- but non hairy ones, like this one,
also occur in both north and south, and are commoner in China.
---
---
Palhinhaea cernua (L.) Vasc. & Franco. SN23420a : 2 posts by 2 authors. Attachments (1)- 4 mb.
Palhinhaea cernua (L.) Vasc. & Franco. (= Lycopodium cernum L.)
A lower group fern found wild from Western Ghats Tamilnadu. It also used in indigenous medicine.