India: Himalayas from 912 to 3500 m. Jammu & Kashmir, Himachal Pradesh, Uttar Pradesh, Sikkim and West Bengal (Darjeeling); Nepal and Bhutan
as per
BSI Flora of India
 (1993);
---
Similar to H. monanthemum but often with short slender branches; leaves larger, 1.2-2.6 x 0.6-1.4cm, pellucid dots usually few and inconspicuous; flowers in 3-12-flowered cymes; pedicels 2-4mm; bracts glandular-ciliate, not leaf-like or sheathing; sepals elliptic-lanceolate, 1-1.5mm broad; petals 6-9mm.
Clearings in Hemlock and Fir forests
(Attributions- A.J.C. Grierson & D.G.Long. Flora of Bhutan Volume 1 Part 2. Published by RBGE 1984 from Bhutan Biodiversity Porta)
.
---
It took me a while to determine this flower's ID. Most flowers I saw were incomplete or covered in water. The following images are from my two walks on 31 July and 6-7 August. I believe this is Hypericum himalaicum. Please advise.
A good resource I consulted is here;
Hypericum himalaicum
2400m and above

31 July and 6-7 August 2016.
---
Thanks, …, for the complete set.
---
---
ID Please:
Remains unidentified since July,2008
From Valley of Flowers
---
Hypericum perforatum I hope.
---
This should be Hypericum elodeoides
One identifying feature is that sepals have prominent long-stalked glands on the margins. These glands can be seen in … picture. Unfortunately picture 725 seems to have undergone some software color "enhancement", while 737 is okay.. …, if you have an unmodified version of 725, or any other showing sepals, please post it.
---
I think you are right. The plant with reddish tinge seems to be H. elodeoides. The second photograph I have a little doubt that there may not be mix of two plants, the upper green seems to have linear leaves, lower reddish with nearly oval. … may please check from his original photographs.
---
---
---
VOF Week: Hypericum for id from the trek..:
This Hypericum was shot on 16 August 2012 while going back from Ghanghariya to Gobind ghat…identification please…
---
Styles 3, slightly longer than ovary, petals without marginal gland dots, leaves obtuse……………………I think Hypericum napaulense
---
I think Hypericum elodeoides
the stalked glands on the sepals are diagnostic.
---
Perhaps this should help, The Key from Flora Pakistan
Petals with marginal black glands; styles 1.5-2.5 longer than ovary; stem always terete, usually unbranched; sepals acute to obtuse; sepals ribbed ……… Hypericum elodeoides

Petals without marginal black glands; style 0.9-1.3 x as long as ovary; stem sometimes 2-6-lined, frequently branched; leaves subobtuse to rounded; sepals not or scarcely ribbed ….. Hypericum napaulense
Both may have sepals glandular along margin
But then the controversy ends since Flora of China, Enumeration…..Nepal, The Plant List treat H. napaulense as synonym of H. elodeoides
---
Thanks a lot … and Sir Ji for identification….and discussion…sepals are glandular here, but ribbed…styles longer than ovary.….H. eleodeoides Syn. H. napaulense it is….
---
---
That's an interesting proposition … However, I am not able to comment on it yet.
This
Hypericum
species was also recorded
from VOF…

Please validate/correct the id as
Hypericum elodeoides
or otherwise..
---
Very good photographs. Thanks for sharing
---
---
---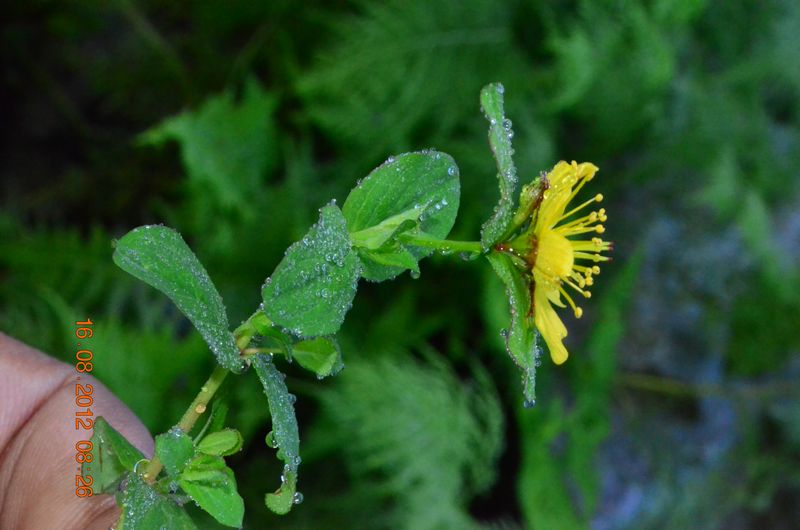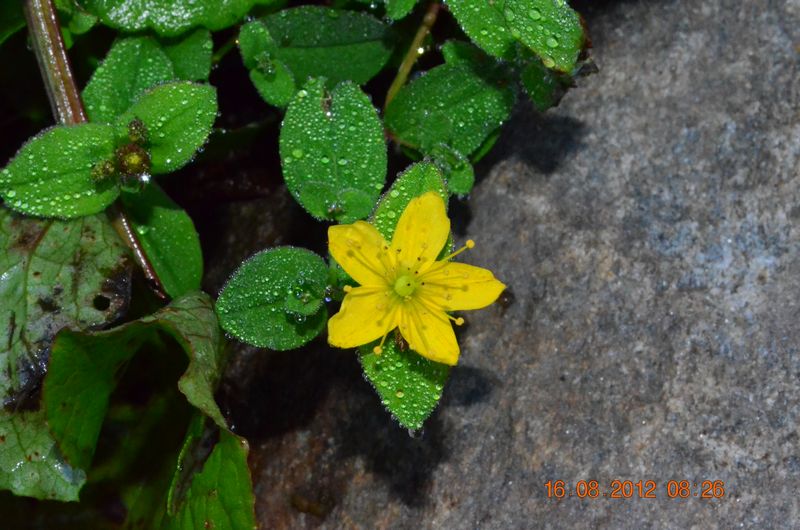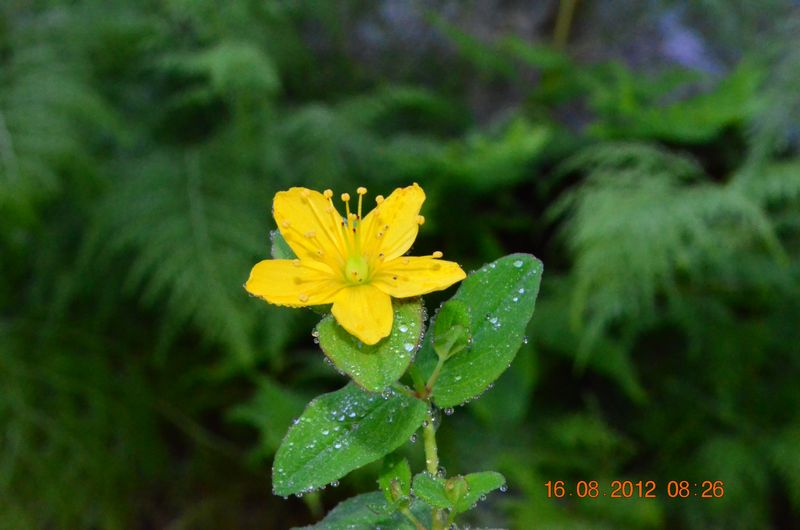 VoF Week:Hypericum elodeoides from the way to Ghangriya:
Hypericum elodeoides from the way to Ghangriya
Pls validate
---
Yes … Very good photographs
---