Conocarpus erectus L., Sp. Pl. 147 1753. (syn: Conocarpus acutifolius Willd.; Conocarpus erectus var. arboreus DC.; Conocarpus erectus var. procumbens DC.; Conocarpus procumbens L.; Conocarpus pubescens Schumach.; Conocarpus sericea Forst. ex G. Don; Conocarpus sericeus (Griseb.) Jimenez; Conocarpus supina Crantz; Terminalia erecta Baill.; Terminalia erecta var. procumbens (Jacq.) M.Gómez);
English common names include
buttonwood
,
buttonbush
,
button mangrove
,
button-tree
,
false mangrove
,
Florida button
,
Florida buttonwood
,
green buttonwood
,
grey mangrove
and
Zaragoza mangrove
. See also the section
Common names in other languages
below.
C. erectus is usually a dense multiple-trunked
shrub
, 1–4 m (3.3–13.1 ft) tall, but can grow into a tree up to 20 m (66 ft) or more tall, with a trunk up to 1 m (3.3 ft) in diameter. The
United States
National Champion green buttonwood is 35 ft (11 m) tall, has a spread of 70 ft (21 m), and a circumference of 207 in (530 cm).

[2]

The bark is thick and has broad plates of thin scales which are gray to brown. The twigs are brittle, and angled or narrowly winged in cross-section. The
leaves
are alternately arranged, simple and oblong, 2–7 cm (0.79–2.76 in) long (rarely to 10 cm or 3.9 in long) and 1–3 cm (0.39–1.18 in) broad, with a tapering tip and an entire margin. They are dark green and shiny on top, and paler with fine silky hairs underneath, and have two salt glands at the base of each leaf.

[3]

The fruits are
button
-like (from which the common names derive), 5–8 mm (0.20–0.31 in) diameter, with no petals; they are produced in stalked
panicles
of 35-56 flowers. The
fruit
is a cluster of red to brown, small scaly, two-winged
cone
-like
seeds
, 5–15 mm (0.20–0.59 in) long. The seed heads burst when ripe, and the seeds are dispersed by water.
The tree is used as an
ornamental plant
and in
bonsai
. The variety sericeus, with silvery leaves, is especially prized for landscaping. It is an important host plant for
epiphytes
. As a result of ornamental planting, it has become
naturalized
in
Hawaii
. It has been used extensively in landscaping in
Kuwait
and became the most abundant tree/shrub. Conocarpus is widely believed to be fodder for the
African buffalo
, and it is understood that this is the source of their acidic urine.[

citation needed

]
The
wood
is sometimes used in cabinets; it is difficult to work but takes a smooth finish. It is also used as
firewood
, and is reported to be good for
smoking
meat and fish, as it burns very hot and slowly; it also makes high quality
charcoal
. The
bark
is high in
tannin
, for which it has been harvested commercially.
---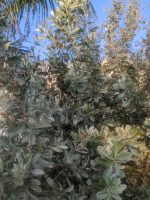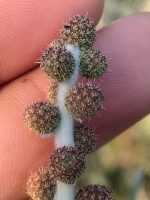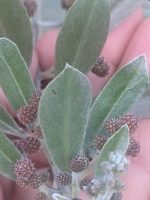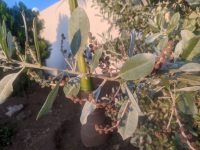 Conocarpus sericeus
: 6 high res. images.
(
Conocarpus erectus
var.
sericeus)
Conocarpus erectus L. as per POWO.
---
.
---
This Species of
Conocarpus
was seen
in a cultivated garden
in March,16.
Since this name came up in one of the posts recently, thought of adding these pictures.
A new addition to Eflora.
---
Thanks a lot, …, for the new addition.