Got it identified as Dendrobium phalaenopsis (two suggestions, one as hybrid cultivar 'Pastel Pink') from group Indian Flora on Facebook. Please validate as it is not recorded in our database, nor its new names D. bigibbum Lindl. (The Plant List).
Photographed
from Hoysala Village, Belur, Karnataka.
---
Its not very easy to differentiate bigibbum and phalaenopsis. Bigibbum as the name suggests has two spurs, one distinct at the end of column stretching out and second is a kind of ventral protrusion, there is also thickening on the labellum. Phalaenopsis petals and sepals are longer and there is no white patch on the labellum.
I can see a kind of thickening on the labellum with white colour, so I would say your plant is Dendrobium bigibbum. Of course it can be hybrid or just the normal form as the colour is very same as normal form. Both are easily available in the market in India. But anyways I have less idea about the hybrids. This is not native to India.
Some orchid experts keep them together (The Plant List) with bigibbum as accepted name whereas other keep them separate (Kew Checklist; Dr. H.P Wood-author of the book, The Dendrobiums). I personally feel that they are different.
---
Thanks a lot … for validation
---
.
---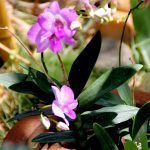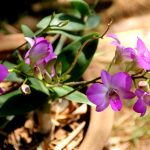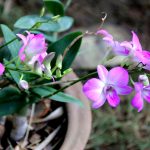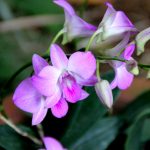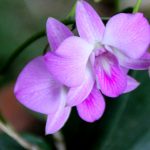 Dendrobium bigibbum from Belur Road Hassan-GS09022022-1: 5 very high res. images.
Dendrobium bigibbum photographed from Belur Road Hassan, 25-9-2015
---