Petrorhagia saxifraga (L.) Link, Handbuch 2: 235 (1831) (syn: Gypsophila saxifraga L.; Tunica saxifraga (L.) Scop.);
.
Central & S. Europe to Iran: Albania, Austria, Bulgaria, Corse, Czechoslovakia, France, Germany, Greece, Hungary, Iran, Italy, North Caucasus, Portugal, Romania, Sardegna, Sicilia, Spain, Switzerland, Transcaucasus, Turkey, Ukraine, Yugoslavia; Introduced into: Baltic States, British Columbia, Denmark, Great Britain, Idaho, Illinois, Maine, Massachusetts, Michigan, Minnesota, New York, Ohio, Ontario, Pennsylvania, Poland, South Dakota, Sweden, Virginia, Wisconsin as per POWO;
.
---
Plant for ID :: Rome :: EU-ARKOCT50 : 4 posts by 2 authors. Attachments (4)
Spotted these flowers by the roadside in Rome in May 2016.
Requested to please provide ID.
---
This is probably a Dianthus species (Caryophyllaceae).
---
Arenaris sp. ????
---
A name suggestion for that plant on an FB group was 
Petrorhagia
saxifraga
. This plant looks very similar to that one.
Could both these plants be the same?
---
Yes, appears close to Petrorhagia saxifraga as per
https://eunis.eea.europa.eu/species/165566
http://www.efloras.org/object_page.aspx?object_id=91965&flora_id=1
https://www.missouribotanicalgarden.PlantFinder/=279045
https://gobotany.nativeplanttrust.org/species/petrorhagia/saxifraga/
https://en.wikipedia.org/wiki/Petrorhagia_saxifraga
---
.
---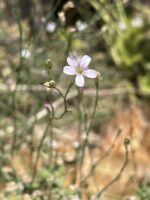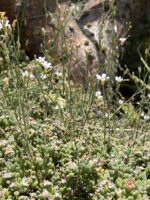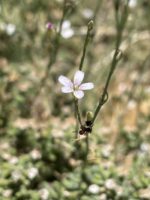 France, July 2022 :: Petrorhagia saxifraga for validation :: ARK2022-087: 2 high res. images.
This was clicked at the Eze Botanical Garden near Nice, France in July 2022.
An FB group suggested Petrorhagia saxifraga. Requested to please validate.
Eze Botanical Gardens is situated on the French riviera (on the Mediterranean coast) and houses a host of succulent plants and xerophytes from all the continents.
---
Yes, appears close as per images at Wikipedia.
---
But are the succulent leaves part of this Petrorhagia saxifraga ?
---
No …, the succulent leaves do not belong to this plant.
I have requested the ID of the succulent leaves in another post.
---
---
.
References:
POWO  Catalogue of Life
https://eunis.eea.europa.eu/species/165566
http://www.efloras.org/object_page.aspx?object_id=91965&flora_id=1
https://www.missouribotanicalgarden.Details=279045
https://gobotany.nativeplanttrust.org/species/petrorhagia/saxifraga/
https://en.wikipedia.org/wiki/Petrorhagia_saxifraga