Central Asia to W. Nepal:
Kazakhstan, Kirgizstan, Nepal, Tadzhikistan, Tibet, Uzbekistan,
West Himalaya,
Xinjiang
as per
POWO
;
.
Alpine zones in damp places,
3300 – 4500 m. Jammu & Kashmir, Himachal Pradesh and Uttar Pradesh; W. Nepal and China (W. Tibet)
as per
BSI Flora of India
;
Common name:
Yellow Himalayan Oxeye Daisy
. 
---
Whilst going through some of the slides I have scanned in from visits to Kashmir back in the 1980s, came across a couple of shots of Adonis chrysocyathus, which you do not appear to have any images of.
Not that good images but better than nothing.  Perhaps someone has some quality close-ups taken with a digital camera to add?
A.chrysocyathus
sometimes known as
'Golden Bowl'
grows in large clumps on alpine meadows
in Kashmir @ 2700-3900m
with Iris hookeriana and Euphorbia wallichii as they are all avoided by grazing animals.
Stewart records 2 other Adonis. A.aestivalis, a common spring annual with the flowers varying greatly in size and colour. Recorded in Pakistan and Kashmir @ 300-1800m.
Also, Adonis squarrosa, with a strange combination of records from Baluchistan, Kashmir, Kishtwar and Pangi….
---
Nice photographs …, thanks for sharing.
---
Worthwhile to have whatever images are available of any many species as possible on this site – even if not close-ups and taken 30 years ago.
---
---
Could not locate this shot earlier of fine display of
Adonis chrysocyathus
beside Vishensar Lake at some 3600m
in Kashmir.
Would you add it to other 2 images posted yesterday.
---
.
---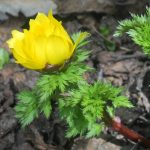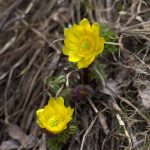 Your Adonis chrysocyathus images: 2 images.
Please find attached herewith the photos of Adonis chrysocyathus for your reference and perusal.
---