Comarum salesovianum (Stephan) Asch. & Graebn., Syn. Mitteleur. Fl. 6: 663. 1904 (syn: Comarum salesovii (Stephan ex Willd.) Bunge ; Farinopsis salesoviana (Steph.) Chrtek & Sojak ; Potentilla discolor Cambess.; Potentilla salesoviana Steph.);
.


Central Asia to SW. Siberia and W. Himalaya:

Altay, China North-Central, Inner Mongolia, Kazakhstan, Kirgizstan, Mongolia,

Pakistan,

Qinghai, Tadzhikistan, Tuva,

West Himalaya,

Xinjiang

as per POWO (Farinopsis salesoviana (Steph.) Chrtek & Sojak);


.




China (Gansu, Nei Mongol, Ningxia, Qinghai, Xinjiang), Tibet, Afghanistan (Wakhan), NW-India, Kyrgyzstan, Mongolia,

Pakistan (Chitral), Pakistani Kashmir (Gilgit, Baltistan), Jammu & Kashmir (Nubra, Ladakh, Zanskar),

Tajikistan, Kazakhstan

as per CoL;


.
---
Here with the first FULL posting for this species – which is currently an UNRESOLVED name according to 'The Plant List'.
It is not mentioned in 'Flowers of the Himalaya' or its Supplement – perhaps why it has not been noticed much or photographed in Ladakh by efI members?
Stewart knew this plant as Potentilla salesoviana –
which he described as a pretty white-flowered shrub in stony stream beds.
  He recorded it from Ladakh.
I first came across this in Zanskar in 1987.  It was growing on the Kew rockery in the early 1980s but dug up and presumably discarded when they re-did the plantings concentrating upon introductions from Kew expeditions.
I attach 3 images taken by the late Krishan Lal
at 3500m at Kaza, Spiti, H.P.

Has anyone seen this beyond Spiti. No records for Nepal.
There appears to be no entry for this in eFI.
Perhaps, in part because it is not included in 'Flowers of the Himalaya' or its 'Supplement'.
Stewart knew it as Potentilla salesoviana from N.Pakistan & Ladakh @ 3000-4200m.
A pretty white-flowered shrub typically found in stream beds.
I am familiar with it from Zanskar.
'Flora of Lahaul-Spiti' found it

common amongst boulders and on rocky slopes

 at Patseo.
There appear to be no records for it in Nepal in the 'Trans-Himalayan' zone there.
Hopefully, a member of this group can take some good photos in Ladakh (where it is quite widespread) or Lahoul, so we can have our own images.
The species appears to have quite a wide distribution from Afghanistan, China, Mongolia and other regions.
---
.
---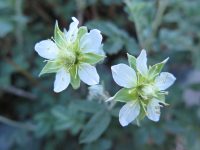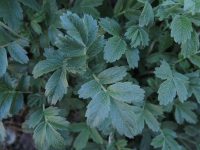 Request ID of this white potentilla?: 3 high res. images.
I have not been able to find this on the efloraindia site nor a match on the net.
Attaching an image of the flower and the leaves. Photographed
around 4000m in Ladakh today (28.6.22).
---
Potentilla caulescens maybe?
Also try to check https://efloraofindia.com/2011/03/24/potentilla/
---
Comarum salesovianum (= Potentilla salesoviana).
---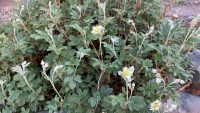 Thank you both but I'm not sure we have the identity yet. P caulescens does look quite similar but the petals appear to be shaped a bit differently and distribution is given only as Europe.
I made a typo as of course meant 4000m (not 400m) in Ladakh. I am attaching a wider image to show how it was growing. Quite woody and tall. rather than a creeper.
---
It is Comarum salesovianum (Syn Potentilla salesoviana)….:)
---