C. Asia to Himalaya
as per
WCSP
;
The commonest Allium I have come across
in Ladakh
in A.carolinianum – even saw a poster of it along the road by Leh airport last time I visited Ladakh. Makes a pleasant change to have a plant given prominence rather than just animals!
I have attached a 4 images taken on my behalf as slides in the 1980s + 1 by Oleg Polunin in the 1970s which I have scanned in.  They do not show close-up detail but are a start
Hopefully, this will encourage group members who can visit Ladakh to take better close-ups of the common and most prominent species such as A.carolinianum but other Alliums as well, as the genus has been neglected by travellers and field botanists to Ladakh (as have less showy families such as Poaceae (formerly Gramineae), Cyperaceae, Juncaceae  and numerous others that do not "catch the eye".  Yet these plants are often very important ecologically.

Members of my team collected a herbarium specimen of Allium carolinianum for the University of Kashmir herbarium during the University of Southampton Ladakh Expedition in 1980.
It was found

at Rangdum, Suru Valley @ 4150m

on a mountain slope facing West in dry stony sandy soil

with Dianthus, Artemisia, Ephedra and grasses;

dull green leaves, prominent onion smell from bulb and leaves, mauve-purple flowers, mauve stamens. To 30cm.



Some years later I found

on the Rangdum-side of the Pensi La.



Flowers of Himalaya record this from Afghanistan to Central Nepal on stony slopes @ 3300-4800m. 
Does …

know it from Uttarakhand?
Stewart knew this onion from N.Pakistan but not much in Ladakh – though Thomson found it in the Shyok Valley in the 19th Century. 2700-5100m.

Stewart had no records from the Kashmir Valley either, though it is prominent enough on steep rocky slopes/scree above Krishensar Lake (see the photo below taken by Polunin)  Perhaps … knows it from Kashmir as well as Ladakh?
Flora of Lahaul-Spiti found it

common on moist slopes

at Sissu –

reporting that the local people used it as flavouring and it is also sold in the markets of hilly areas.

This suggests that digging up a bulb to be photographed (and then carefully planting back) to aid correct identification, is perfectly reasonable action (see my post on Allium przewalskianum).

The specific ephiphet (species name) is rather curious because this is not a North American species and IF my memory serves me when named back in 1804 it was thought the pressed specimen was from a region to justify the name 'carolinianum' – which is incorrect. By the Code of Botanical Nomenclature the name must stand but perhaps there should be a means of corrected such mistakes!?

Just remembered that during the Kashmir Botanical Expedition in 1983, one of my team members caught a trout in Vishensar or Krishensar Lake (it was the Scots who first stocked Kashmir's Lakes with trout) whilst I gathered wild 'chives' from the nearby mountainside, which presumably would have been Allium carolinianum?  We ended up with a meal of Trout with Almond & Chive sauce making a most pleasant change from normal  'expedition' fare – see image number 5.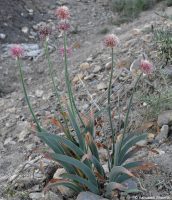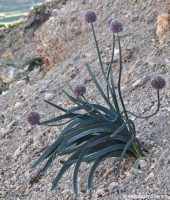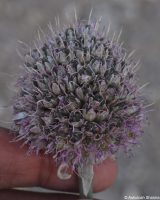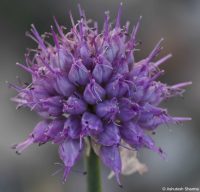 Allium carolinianum Redouté submission AS9 September 2023
: 4 high res. images.
Here I am submitting some images of Allium carolinianum presented on our eFI website with only a couple of images.
Allium carolinianum Redouté
Family – Amaryllidaceae
From Lahaul & Spiti district, Himachal Pradesh (above 4000 m elevation)
Photographed in early August 2023,
---