---
Terrestrial herbs, with 'V'-shaped tuber, leafless when flowering. Leaves 1 or 2, linear, to 20 x 1.5 cm; scape above ground portion 25-40 cm long. Flowers 3-8, towards the apex of scape, pink-purple; bracts 1.5-2.5 x 4 mm, ovate, long-acuminate; sepals pubescent outside, subsimilar; dorsal sepal 12.1 x 4.1 mm, elliptic-oblong, acute, 5-veined; lateral sepals 12.1 x 4 mm, oblong-lanceolate, acute, 5-veined; petals 13 x 1-2.5 mm, oblanceolate-oblong, obliquely acute, 3-5-veined; lip 11 x 4-8 mm, 3-lobed; side lobes obliquely ovate, obtuse; midlobe 4.5 x 4 mm, oblong, obtuse; disc ridged, base saccate.
Flowering and fruiting: January-March
(Attributions- Dr. N Sasidharan (Dr. B P Pal Fellow), Kerala Forest Research Institute, Peechi from
India Biodiversity Portal
)
.
---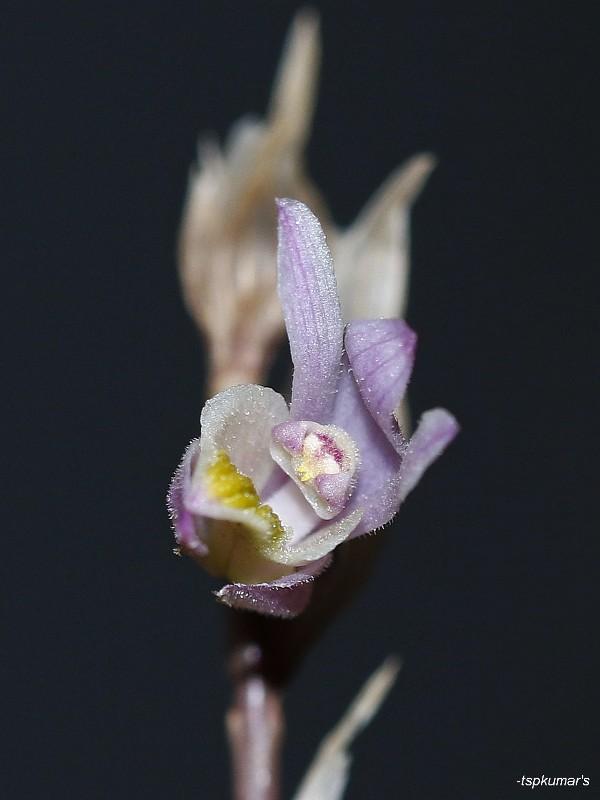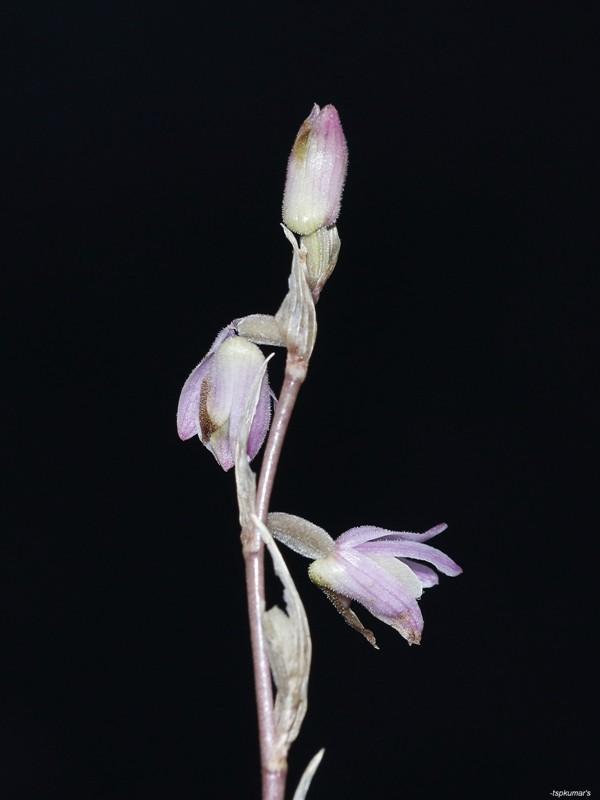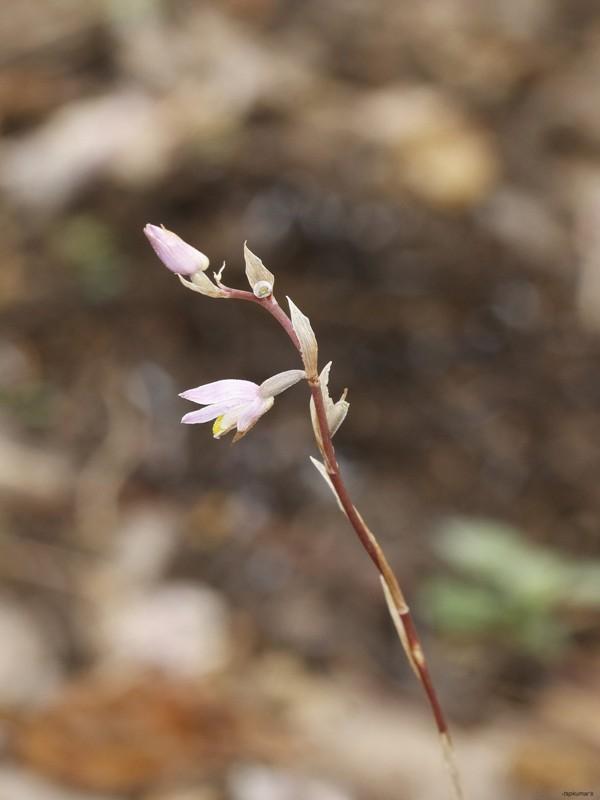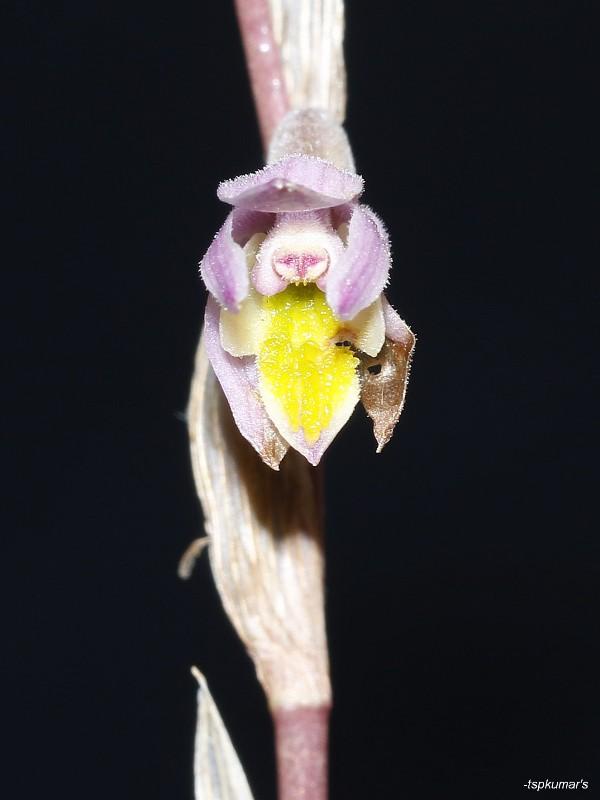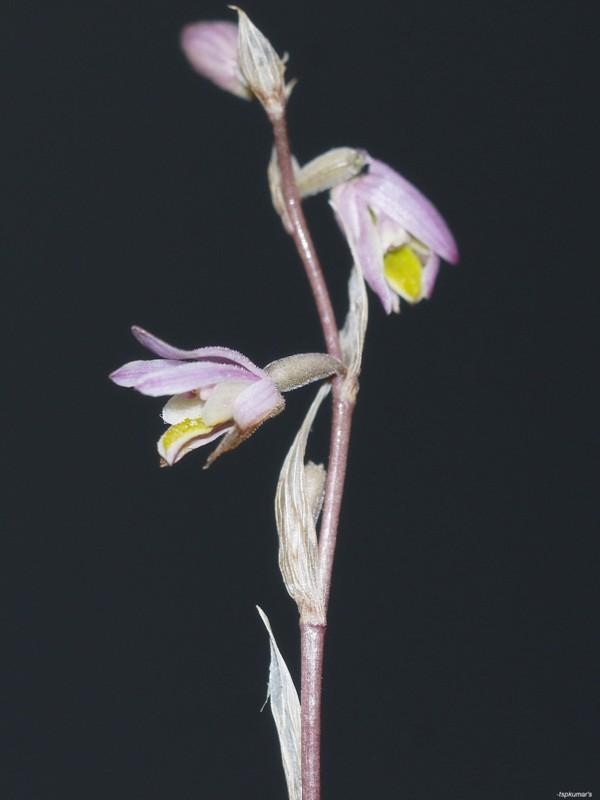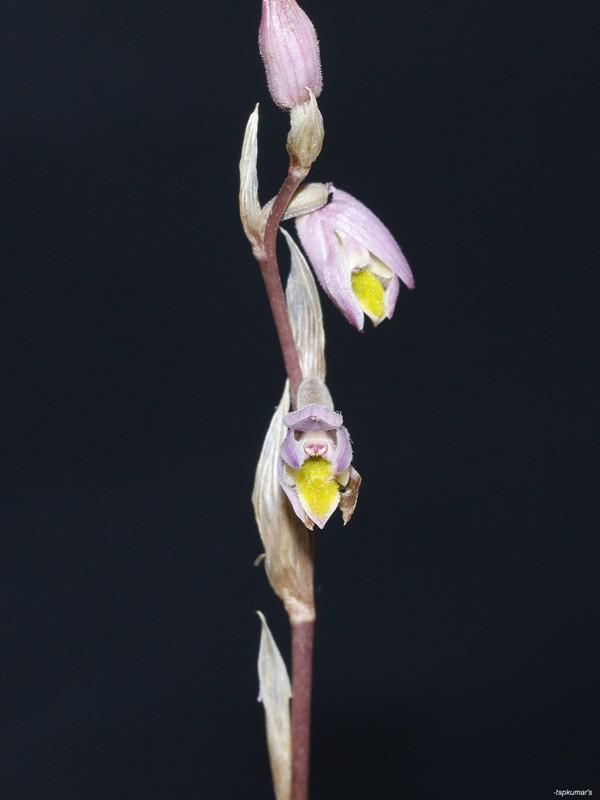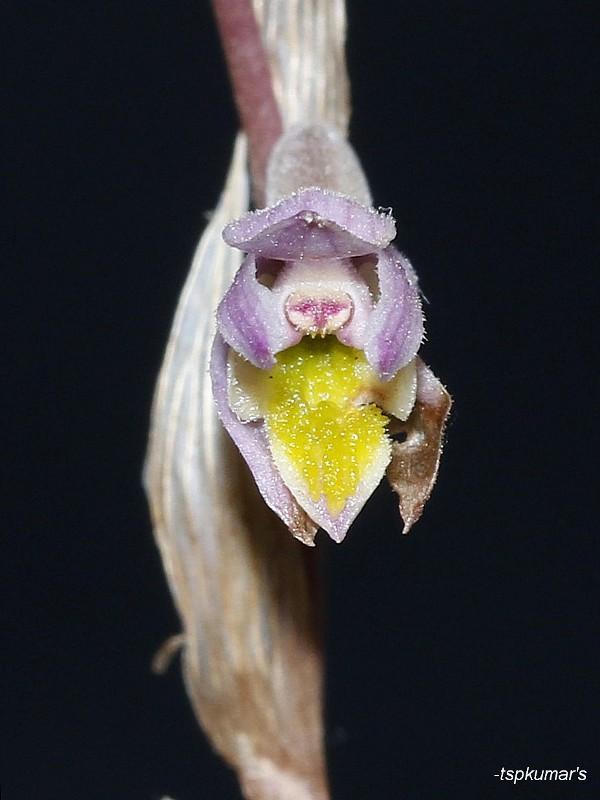 TSP-DEC2016-01-456:Images of Aphyllorchis montana (Orchidaceae)
: 9 posts by 5 authors. Attachments
(7)
Presenting few images of Aphyllorchis montana syn A.prainii  (Orchidaceae) 

I think the images match the description of Aphyllorchis prainii contained  in the Digital Flora of Karnataka that further gives a reference to Aphyllorchis montana as per the Plant List.

Ref-1: http://florakarnataka.ces.iisc.ac.in/hjcb2/herbsheet.php?id=2989&cat=1
Ref-2: citeseerx.ist.psu.edu/pdf 
Habit:Grassy herb with erect unbranched leafless stem. 
Habitat:Terrestrial,evergreen forest floor among leaf litter 
Sighting:Kempuhole forest,Shirady Ghat,near Sakaleshpur,Karnataka about 900 msl 
Date:01-12-2016
---
What a Beauty!! Thanks for sharing 
---
Very interesting and greetings from Savannakhet, Laos. Interesting that your plant is flowering now as it flowers in April.
This is Pachystoma pubescens.
---
.
---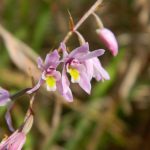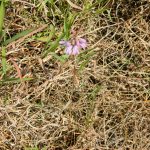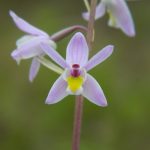 Terrestrial orchid from Teressa ID…
: 4 images.
In Feb 2018
I have collected this terrestrial orchid
from Teressa Island
grassland habitat.
Photos attached for Identification. Need Identification help.
---
Very beautiful.
Pachystoma pubescens. Where is Teressa?
---
Teressa Island is in Nicobar Group.
---