Is this Furcarea? I will be obliged if someone can confirm the identity.
This is not an Indian plant and someone has brought it from abroad. SO, I am not in position to mention any locality or date of collection.
---
Pl. check Agave sisalana as per differences from Factsheet
---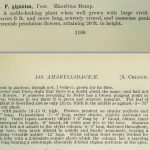 As per "botany of Bihar and Orissa", 
Agave sisalana
 has very short ascending caudex. It is possibly 
Furcraea
 sp., the common species is 
F. gigantea
 Vent. I attach herewith screenshot from Haines's book.
1 attachment
---