Rheum
nobile
Hook. f. & Thomson,
Ill. Himal. Pl. , pl. 19 1855
. ;
.
Afghanistan to S. Tibet and N. Myanmar:
Afghanistan,
East Himalaya, Myanmar, Nepal, Pakistan,
Tibet
as per
POWO
;
Common name:
 Sikkim Rhubarb, Noble rhubarb • 
Sanskrit

:
अम्लपर्णी Amlaparni, Ekavira
.
It is an extraordinary species of
rhubarb
(genus Rheum). At 1–2 m tall, R. nobile towers above all the
shrubs
and low herbs in its habitat, and it is visible across valleys a mile away.

[2]
R. nobile is often called a glasshouse plant because of its outer curtain of translucent
bracts
which pass visible light, creating a
greenhouse effect
, while blocking
ultraviolet
radiation. These are important defenses against the increased UV-B exposure and extreme cold in its high altitude range.
[3]
An individual R. nobile is a conical tower of delicate, straw-coloured, shining, translucent, regularly overlapping bracts; the higher ones have pink edges. Large, glossy, green
radicle
leaves, with red
petioles
and nerves, form a broad base to the plant. Turning up the bracts reveals membranous, fragile, pink
stipules
. Within these are short branched
panicles
of diminutive green
flowers
.

[4]
The
root
is often 1–2 m (3.3–6.6 ft) long and as thick as an arm, and bright yellow inside. The stems are pleasantly
acidic
, and they are consumed by the local people, who call the plant Chuka. The hollow of the stem contains a good deal of limpid water. After flowering, the stem lengthens and the bracts separate one from another, turning a coarse red-brown. As the fruit
ripens
, the bracts fall away, leaving a ragged-looking stem covered with panicles of deep brown pendulous fruits.
As Hooker put their appearance: "In the winter, these naked black stems, projecting from the beetling cliffs, or towering above the snow, are in dismal keeping with the surrounding desolation of that season.".
[4]
(From
Wikipedia
on 18.1.17)

.
.
---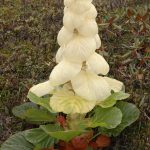 Your Rheum nobile images: 1 image.
PFA images of Rheum nobile from Sikkim.
---
Thanks, Navendu ji, for the wonderful addition.
---
.
---
Fwd: Rheum nobile – new to efi : 1 post by 1 author.
Having just posted links to 2 images of Pleurospermum amabile taken by Roger Nix it seems efficient also to post an image taken by him of Rheum nobile, as this is also new to eFI.
According to 'Flowers of the Himalaya' R.nobile is known from Eastern Nepal to SE Tibet

on open slopes

@ 3600-4500m
.  Another very striking and distinctive-looking plant, unlikely to be mistaken for anything else –
which makes a pleasant change!

The stout stems bear a conical spike of large pale cream-coloured, rounded and bladder-like, drooping and overlapping bracts which conceal the short flower-clusters.
I will take a close look at the postings of other Rheums on eFI at some point.
'Flora of Bhutan' says

rocky hillsides

@ 4250-4600m.