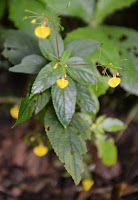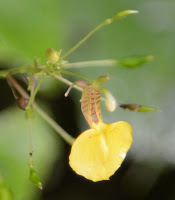 Probable Balsaminaceae from Myanmar
: 7 posts by 3 authors.
I have identified this plant as being an Impatiens (Balsaminaceae) but I'm not sure!
Can you confirm and if so, can you name the species?
Pictures taken
on the 14-10-2016 altitude 130met. In Hpa-an, Kayin State, Myanmar
Thank you in advance for your help
---
This is certainly Impatiens, but urther determination will be time consuming and final effect unsure.
I will try it and inform you about effects when ready.
---
Thank you for your confirmation of the genus Impatiens.
I have already spent a lot of time trying to identify the species without success …. But I'm not a specialist!
I appreciate the work you are giving me.
---
I tried this interesting balsam, but I don't have enough literature to determine it.
Thai botanists were studying Myanmarese balsams last year, so you can try to contact one of them.
Contact me personallty to get contact.
---
Thanks, …, for this great work.
---
Impatiens capillipes
---