Hypericum cordifolium Choisy, Prodr. 1: 545 1824. (syn: Eremanthe cordifolia (Choisy) K. Koch; Hypericum bracteatum Buck.-Ham. ex D. Don; Hypericum lungusum Buch.-Ham. ex D. Don; Norysca cordifolia (Choisy) Bl.; Norysca urala var. angustifolia Y. Kimura);  
---
shrubs or under shrubs, up to 75 cm tall. Stem erect, branched near the apex, terete, purplish brown, glabrous. Leaves simple, opposite, lanceolate-elliptic to oblong-elliptic, about 1.5-3 x 0.4-1.3 cm across, base amplexicaul, margins entire, apex acute or shallow acuminate, glabrous above and glaucous beneath, midrib impressed above and prominent beneath, lateral veins about 5-8 on either side of the midrib, petiole sessile, exstipulate. Inflorescence monochasial or dichasial terminal or supra-axillary corymbose cymes. Flowers bisexual, actinomorphic,about 3.5-5 cm across, pedicel about 8-13 mm long, bracts linear ovate, apex acuminate, about 7-8 mm long, caducous, sepals 5, quincuncial, subequal, lanceolate-ovate, apex acute to acuminate, chartaceous, margins entire near base and crenulate near apex, glandular punctate with black glands, persistent, about 6-9 x 3-4 mm across, petals 5, oblanceolate-obovate, yellow, veined prominently, punctate with raised glands, about 15-20 x 8-13 mm across. Stamens 25-30, in each bundles or fascicles or 5, free, filaments linear, filiform, glabrous, about 4-5 mm long, anthers dorsifixed, yellow or reddish. Ovary superior, globose, 1-5 locular, syncarpus, ovules many, axil placentation or pseudo central placentation, styles 5, free from the base, erect. Fruit capsule septicidal, ovoid-ellipsoid, about 9-11 mm long, apex obtuse, punctuate with resinous vesicles, with persistent style. Seeds numerous, ellipsoid-cylindric, about 0.8 mm long, testa striated-reticulate, acute on both ends, brown, embryo slender, erect.
Native of Nepal, cultivated in gardens of Darjeeling.
Local Distribution: Uttarakhand, West Bengal.

(Attributions- Ganeshaiah, K. N., UAS, Bangalore, India.; Kailash, B. R., ATREE, Bangalore, India.; Royal Norwegian Embassy grants. Indian Bioresource Information Network (IBIN), Department of Biotechnology, New Delhi, India from
India Biodiversity Portal
)
---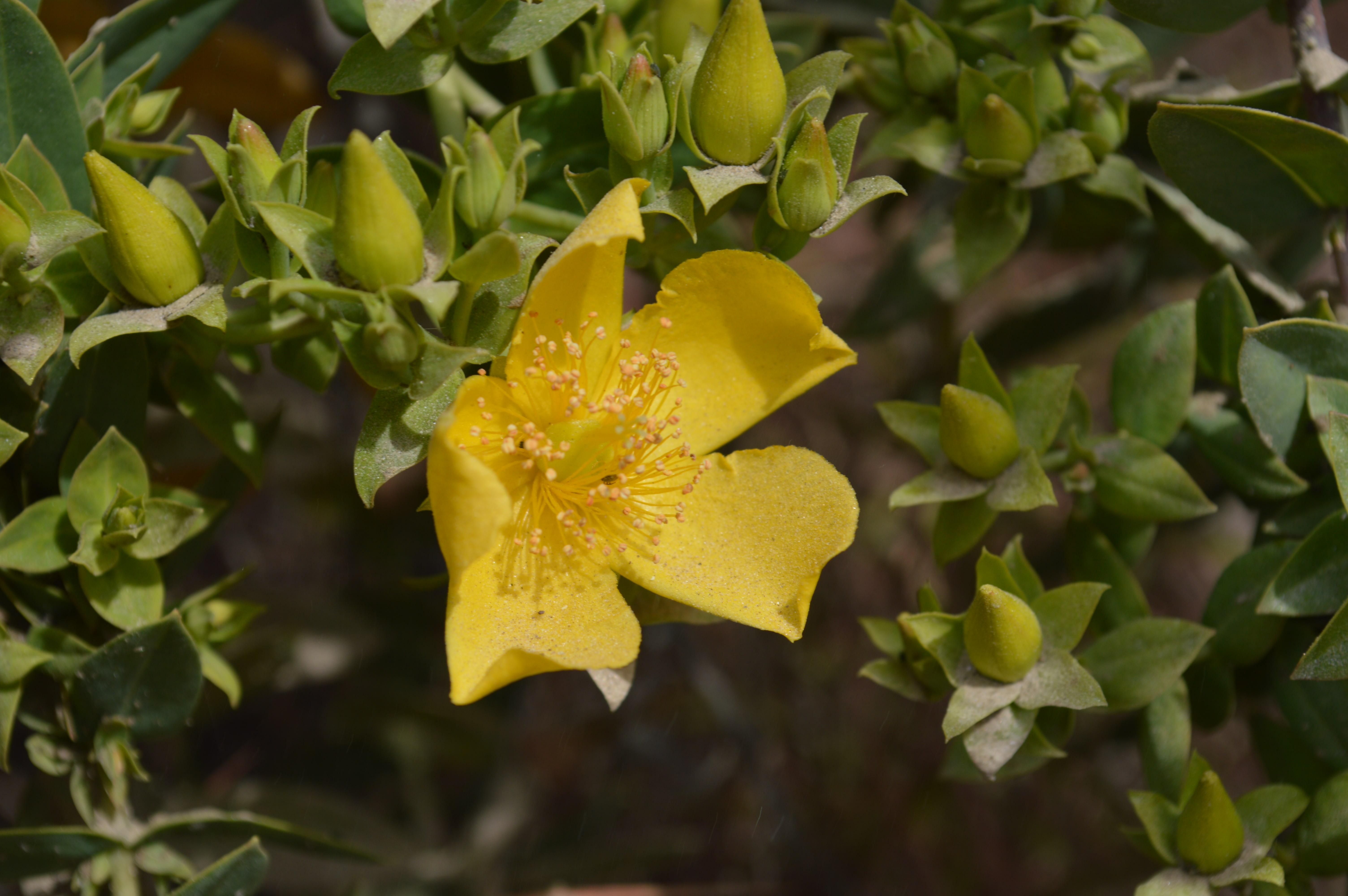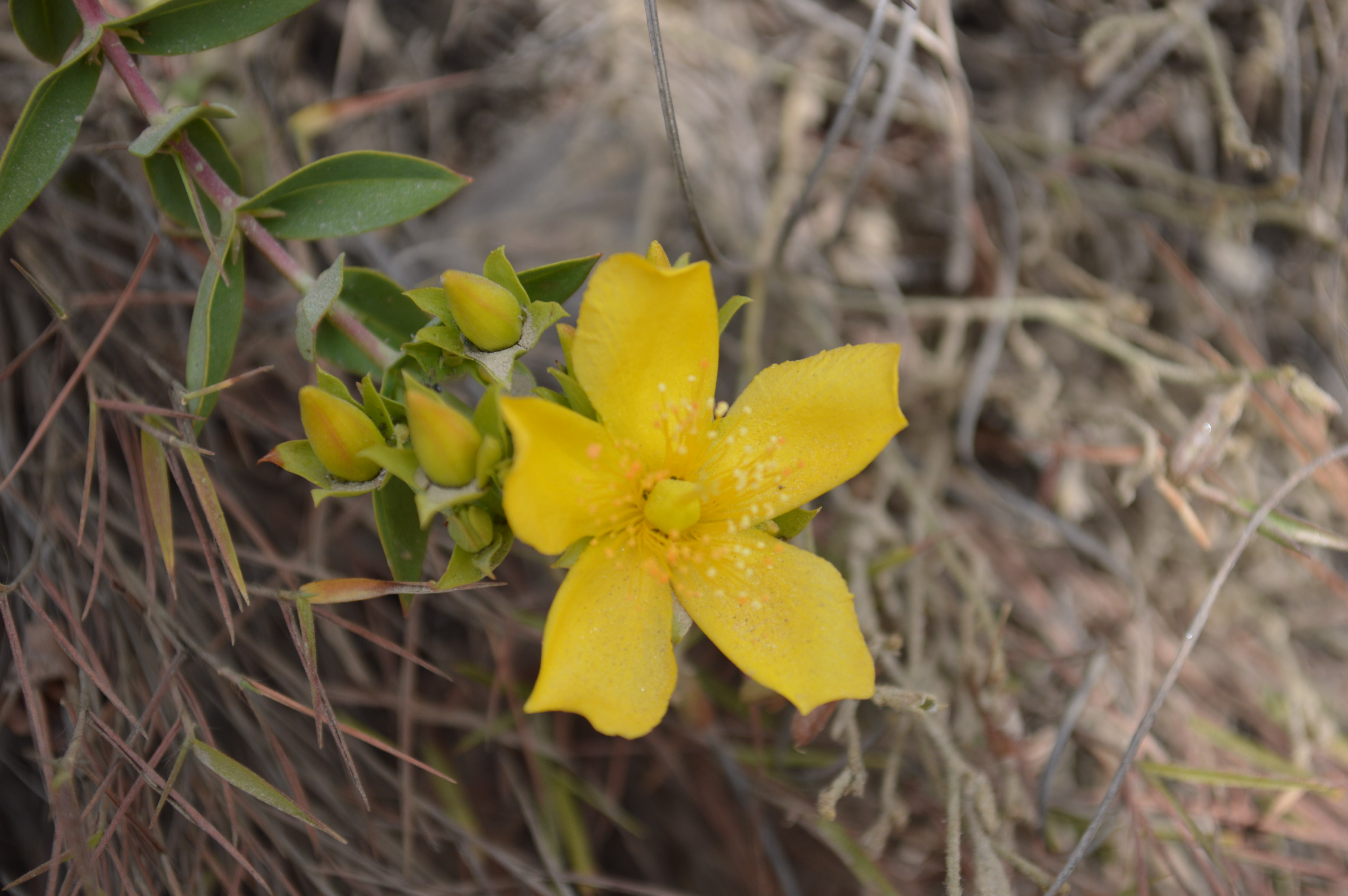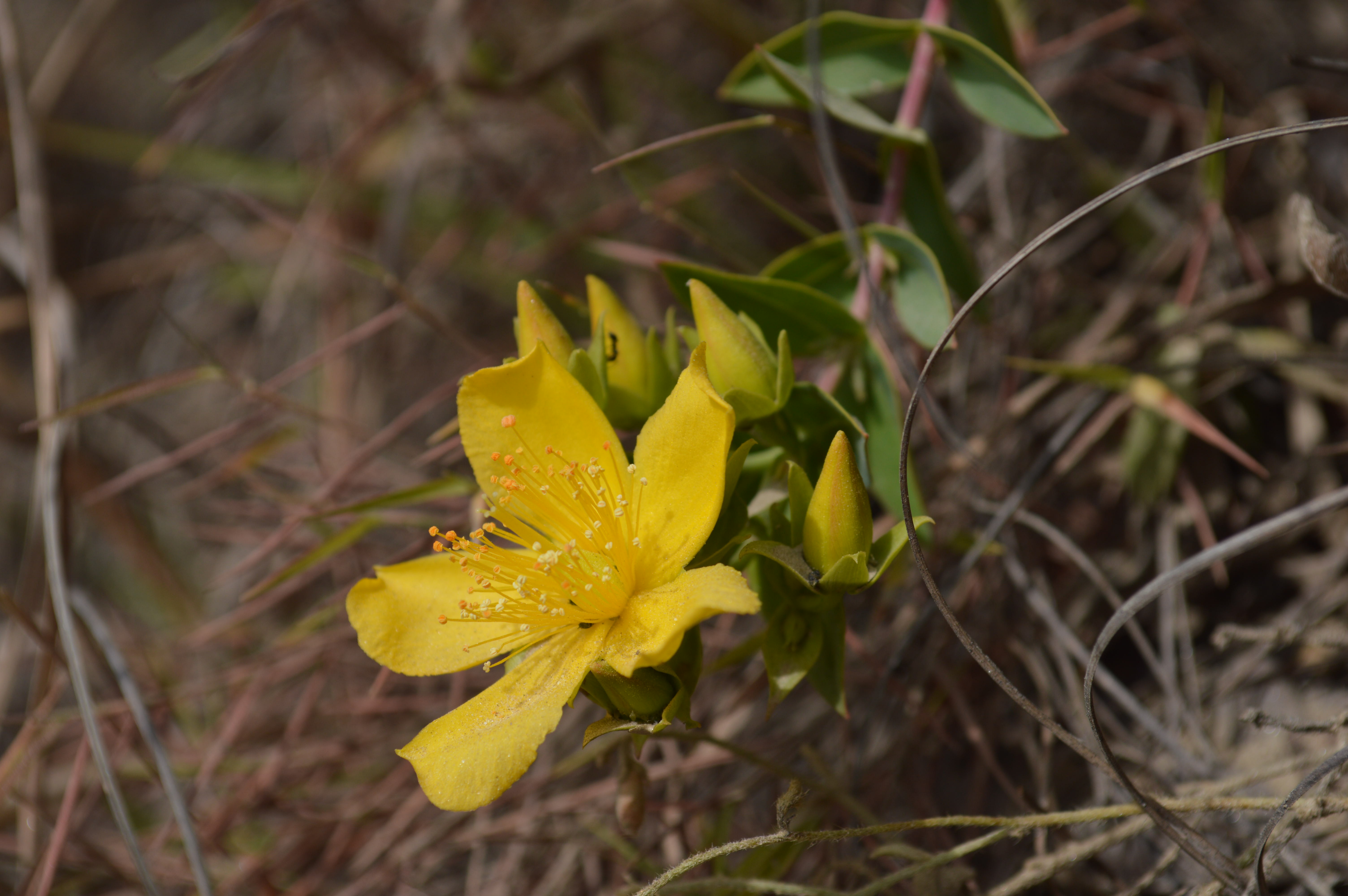 : 5 posts by 2 authors.
Attachments
(3)
Location: Namo Buddha, Nepal
Date : 23 February 2013
Altitude : 5500 ft.
---
I could not find any image on net except for yours.
Pl. check with specimen at
To me it appears close but can not be certain.
---
I think close to the illustration at
Thank you. Nepali Names: अरेली Areli / अरेटो Areto / प्याउँली Pyaaunlee / उरौली फूल Arauli Phool  
---
Location : Pharpingl, Nepal
Date : 20 March 2017
Altitude : 4800 ft.
Could not make out which one is this. Leaf pattern looks like Hypericum podocarpoides but shape does not match.
---
I think a similar plant with close ups was posted by you recently. 
---
Is this the same ? 
---
I was talking of the same post. Pl. Check if it is the same. 
---
To me these appear to be similar to your images in another thread and identified as Hypericum cordifolium
---