Cotoneaster horizontalis Decne, Flore des serres168 1877. (syn: Cotoneaster acuminata var. prostrata Hook. ex Dcne.; Cotoneaster symonsii Loud. ex B. A. E. Koehne; Pyrus horizontalis (Decne.) M. F. Fay & Christenh.);
China (Gansu, Sichuan), Taiwan (I), USA (I) (Oregon (I), Washington State (I)), Canada (I) (British Columbia (I), Ontario (I)), Austria (I), Belgium (I), England (I), Germany (I), Ireland (I), Northern Ireland (I), Switzerland (I), Netherlands (I), Italy (I), Norway (I), Slovakia (I), Slovenia (I), Sweden (I), Luxembourg (I), Poland (I), Hungary (I), Japan (I), SE-Australia (I), New Zealand (I)
as per
Catalogue of Life
;
---
I believe D. retusa in eFI is probably a species of Cotoneaster and need a re look
---
The out-of-focus image does not help but Jeanette Fryer considers this is likely to be Cotoneaster horizontalis Decaisne – which is NOT a native of the Himalaya.  No indication was given that this was a cultivated specimen – which it must be.  It really is important to indicate whether a plant is wild, naturalised or cultivated.  If only a single image is posted, makes it hard to work things out.
C.horizontalis is a native of Sichuan & Gansu, China.
In cultivation it was originally distributed from shrubs growing in the garden of the National Museum of Natural History in Paris from seed received from Missionary Armand David around 1870.
The plant is incredibly tough, much used for covering walls. The leafless branches in winter are attractive with their herringbone habit.
As for the mistaken identification of
Daphne retusa
, this probably comes from mis-matching with a photo in 'Flowers of the Himalaya' – though had the description been read: leaves –
small shiny green, broadly oblanceolate, margins inrolled, clustered towards ends of branches
, it would have been clear the specimen photographed was not this.  Furthermore,
its habitat of alpine shrubberies & open slopes
@ 3300-3700m
does not tally with Darjeeling.
Please may I request that the descriptions of species must be read in 'Flowers of the Himalaya' as matching quickly with the images (which should be examined carefully) before deciding upon an identification.  In addition, it must always be remembered that 'Flowers of the Himalaya' has illustrations (whether photos or line drawings) of only a fraction of the total flora.
---
---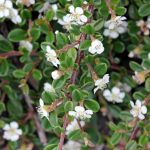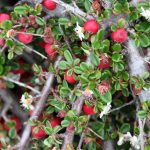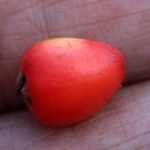 Cotoneaster horizontalis from California-GS17012021-5
: 5 images.
Cotoneaster horizontalis Decne

Small shrub
similar to C. microphyllus but with horizontally spreading branches, white, pink to red petals and ovoid fruits.

Photographed
from Fremont, California, 9-5-2019
.
---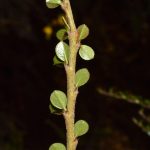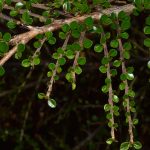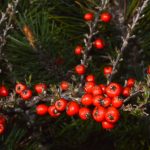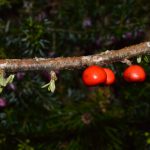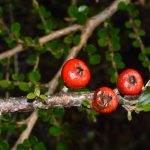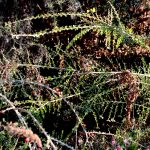 SK 3519 27 May 2022: 6 very high res. images.
Location: Eden Project, Cornwall, UK
Date: 03 April 2022
Habit : Cultivated
Which Cortoneaster ???
---
Agree Cotoneaster….. maybe Cotoneaster microphyllus (Note spelling)
Google search
---
I think it looks different as per images in POWO.
---
Cotoneaster horizontalis Decne. !
---