Lophira alata 
Banks ex Gaertn. fil.,
Suppl. Carp.: 52 (1805) (syn:
Lophira africana Loudon ex G.Don
;
Lophira barteri Tiegh.
;
Lophira macrophylla Tiegh.
;
Lophira procera A.Chev.
;
Lophira simplex G.Don
;
Lophira thollonii Tiegh.
);


.


W. Tropical Africa to Uganda:

Benin, Cameroon, Central African Repu, Chad, Congo, Equatorial Guinea, Gabon, Gambia, Ghana, Guinea, Guinea-Bissau, Ivory Coast, Liberia, Nigeria, Sierra Leone, Sudan, Uganda, Zaïre

as per POWO;


.
---
I have been struggling to get the ID for this tree since a long time. Pics attached. Require kind assistance from all the experts to help me narrow down the ID of this tree.
To me, this looks like a tree in the
Sterculiaceae
family and looking at the fruit i thought it would be
Pterocymbium
sp. But the leaf does not match and hence confused.
Any help would be greatly appreciated.
---
This was seen in Dandeli, Karnataka.
---
Hopea ponga.
---
Thanks, …
But to me these image look different from those at
Hopea ponga
---
This post shows fruits in early stage. Why not? They do tally with the ones on the page
---
Thanks, … I shall check again though leaf arrangement also looks different to me.
---
Could this be some Dipterocarpus sp.?
---
I tried matching with all the species of Dipterocarpaceae, but could not find a match. Is it that this has been introduced in Dandeli from outside?
---
Looks different from Dipterocarpaceae!

Google image 
search results
.
---
Leaf pattern looks completely different from this genus !
---
The fruit looks very similar to Pterocymbium tinctorium fruits and I had hinted this long back…but as the leaf looks completely different, I had not pursued this id. Just thought i should bring this up in case we want to go back and explore Pterocymbium sp or some other tree in that family
---
Leaf looks different.
---
OK …; I did not tally much about the leaves. Yes, it may be different.
---
This tree has been identified by Dr Hussain Barbuiya as "Lophira alata"
Family: Ochnaceae
Native Range: West Tropical Africa to Uganda..
---
It must be introduced!
---
Wow! So delighted to have finally got the ID. A very big thanks to … for identifying this and … and all others to have followed up on this relentlessly. 🙏🙏
When I read about this tree, it seems it has timber value (and hence is in vulnerable status due to habitat loss I guess) and it somehow explains why this
tree was found inside a timber depot of Dandeli.
Somebody planted it with the knowledge of its timber value. I can only hope that it has not been cut by now. 🙁
I guess it's a pretty rare tree in India and am not sure whether any other place it has been seen and documented in India.
---
.
---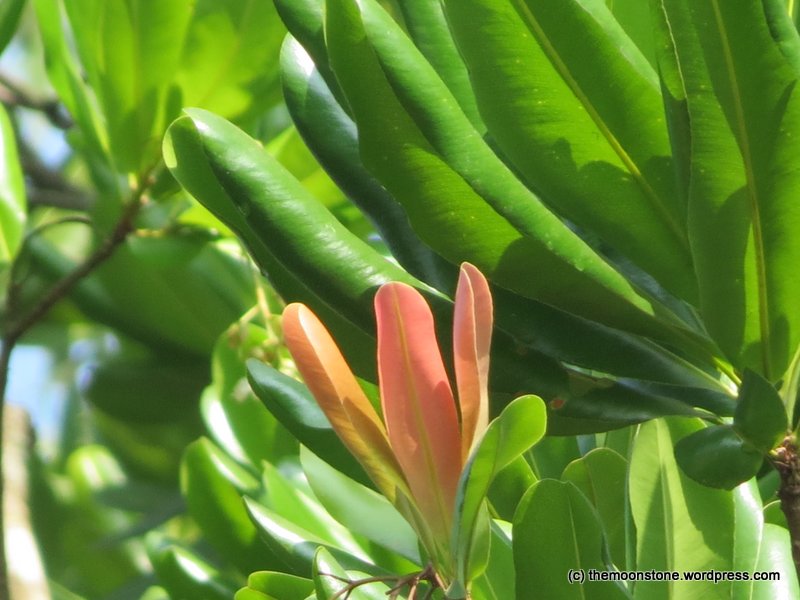 Tree for ID – Dandeli – 22022014-Ampajit : 13 posts by 6 authors. 3 images.
Please help me ID this tree.
Location:Dandeli, Karnataka
Date:30-dec-2013
It was a very tall and beautiful tree. These are the only pics i have.
The tree was neither fruiting nor flowering when i took this pic.
---
Scaevola sp…..at least the leaf morphology reminds that…
---
Isnt Scaevola a beach plant? This is a full fledged tree and that too a very tall tree.
---
Scaevola species so far in efi
---
Scaveola sp
---
So we can close this thread by finalising that this is one of the Scaevola sp. Thanks all for the help.
---
I don't think we can conclude this thread as resolved.
There is no genus by the name of genus Scaveola.
Yes there is a genus by the name of Scaevola, but most species are annual or perennial herbs.
 A few are shrubs and the common species often planted also S. frutescens now known as S. taccada is a spreading shrub which may reach at the most 3 m in height.
This seems to be a tall tree and can't be a species of
Scaevola.
Let us hunt for an appropriate ID. Flowers should help.
---
Sure … Even my understanding of Scaveola was similar and had never seen a full fledged tree. Unfortunately there is no way i can get the flowers for this as i had taken the pics when i went on trip to Dandeli. However i agree to pursue and lets wait for more comments to see whether we get any further clue.
---
Looks like Scaevola taccada
NOT SURE
---
…, i dont think its a scaevola species. As mentioned earlier, most of the Scaevola species are herbs or shrubs… this is a very tall and large tree.
---
After seeing the flowers in … photographs from Java I feel … has mixed up the two plants. The first and third photographs may belong to Scaevola taccada, as leaves look very similar to that of … and plant looks shrubby. The tall tree shown in second photograph is also visible in background in third photograph. It may be a different plant. Perhaps that may solve confusion. I hope I am not very wrong.
---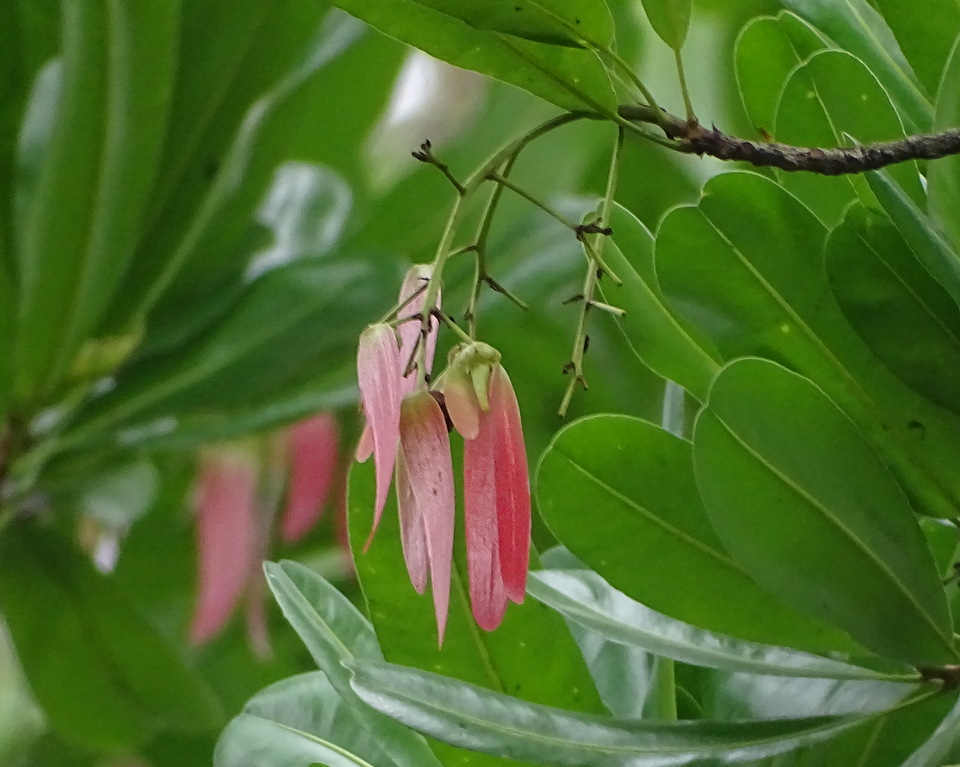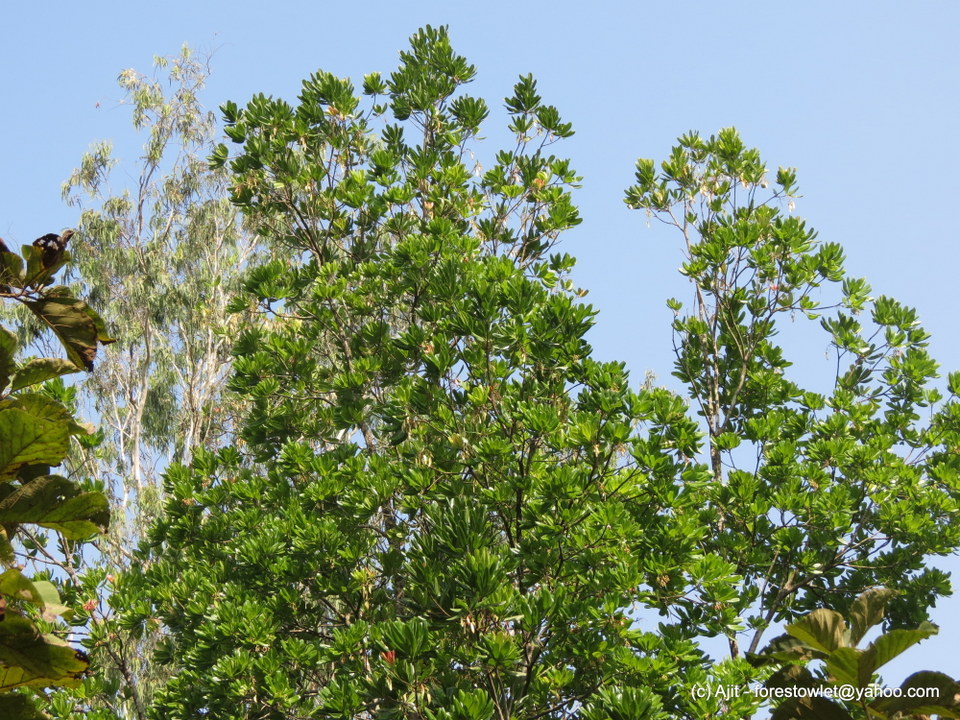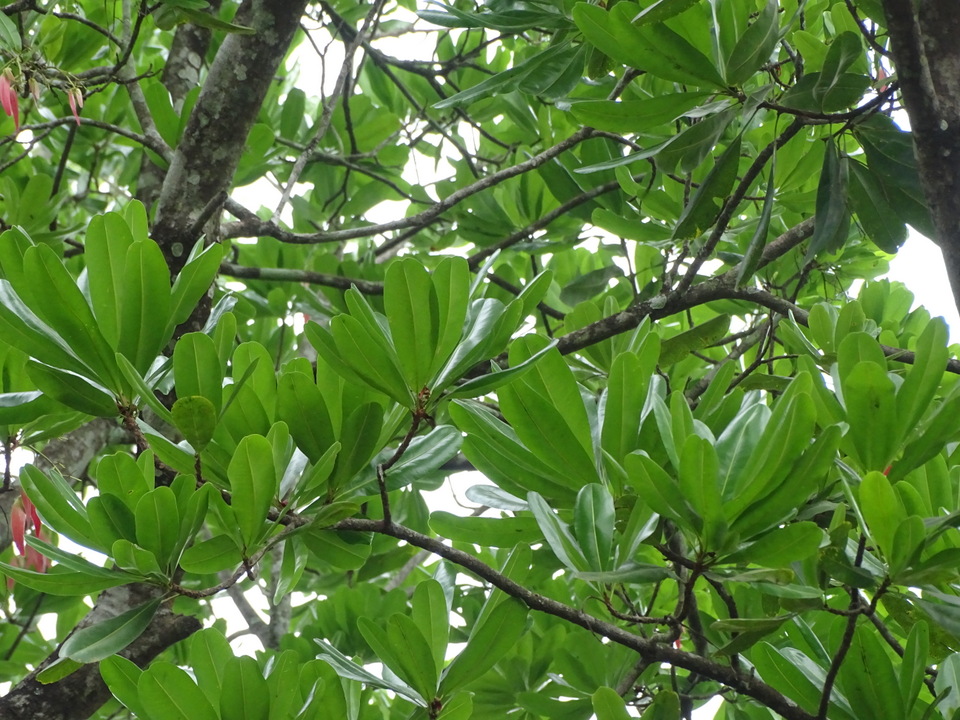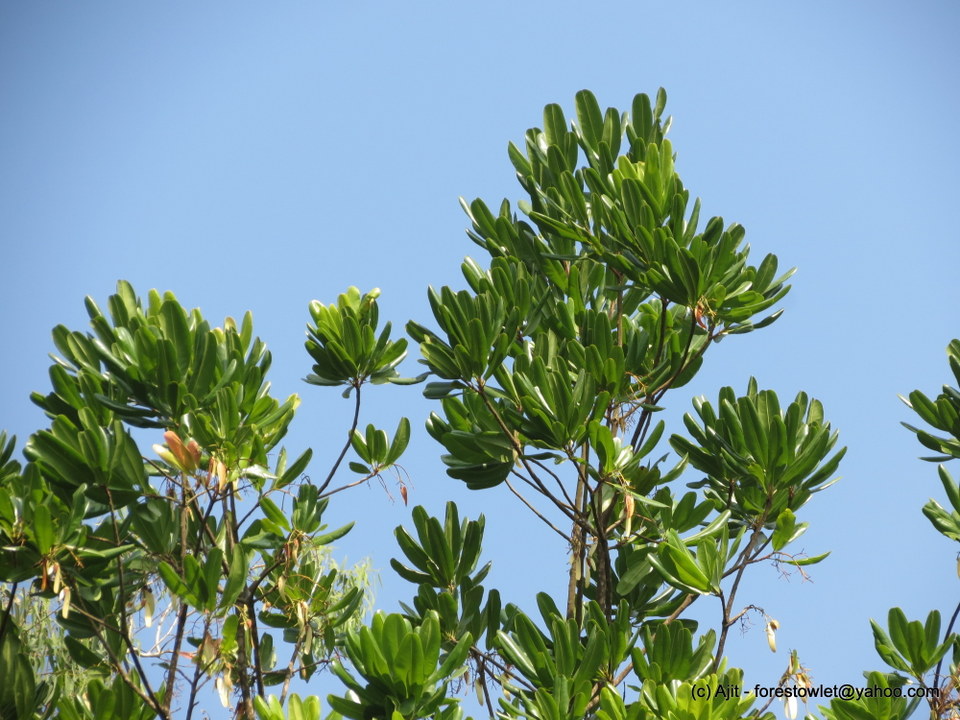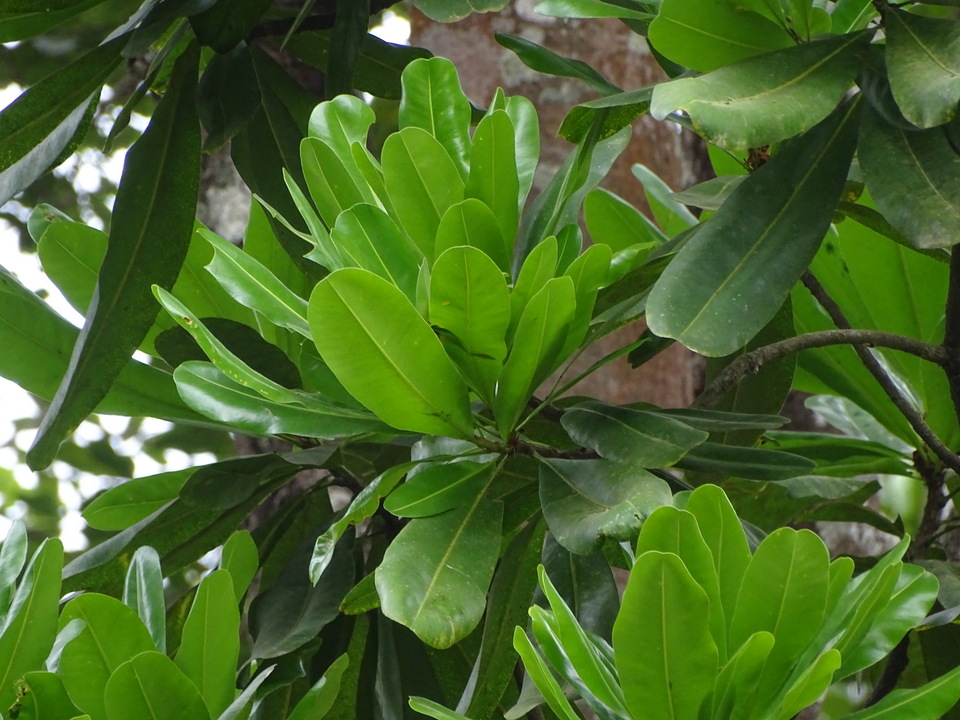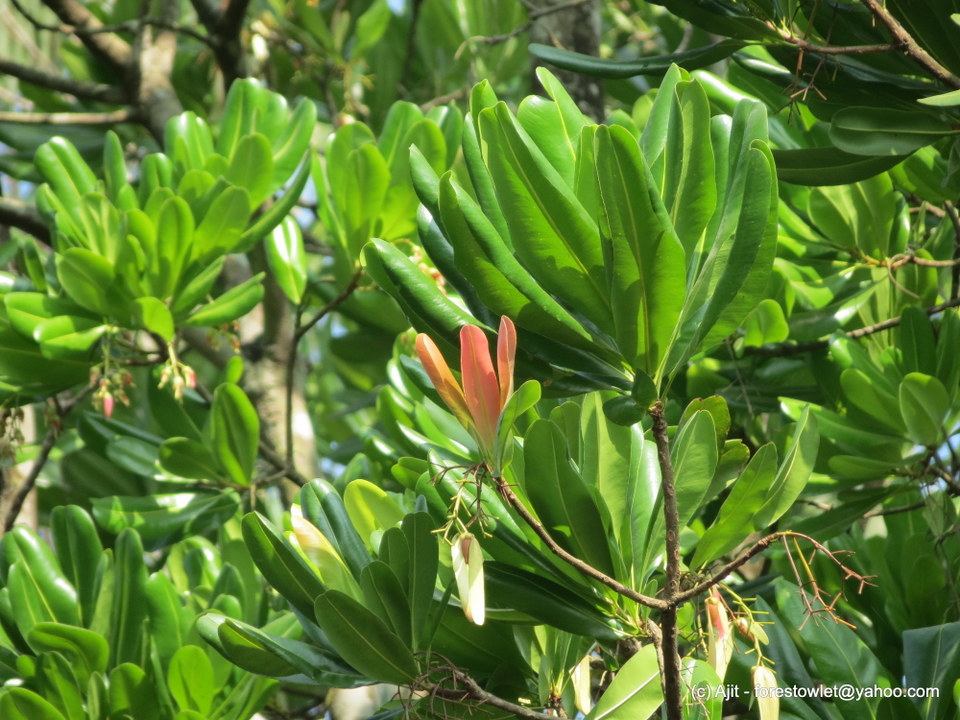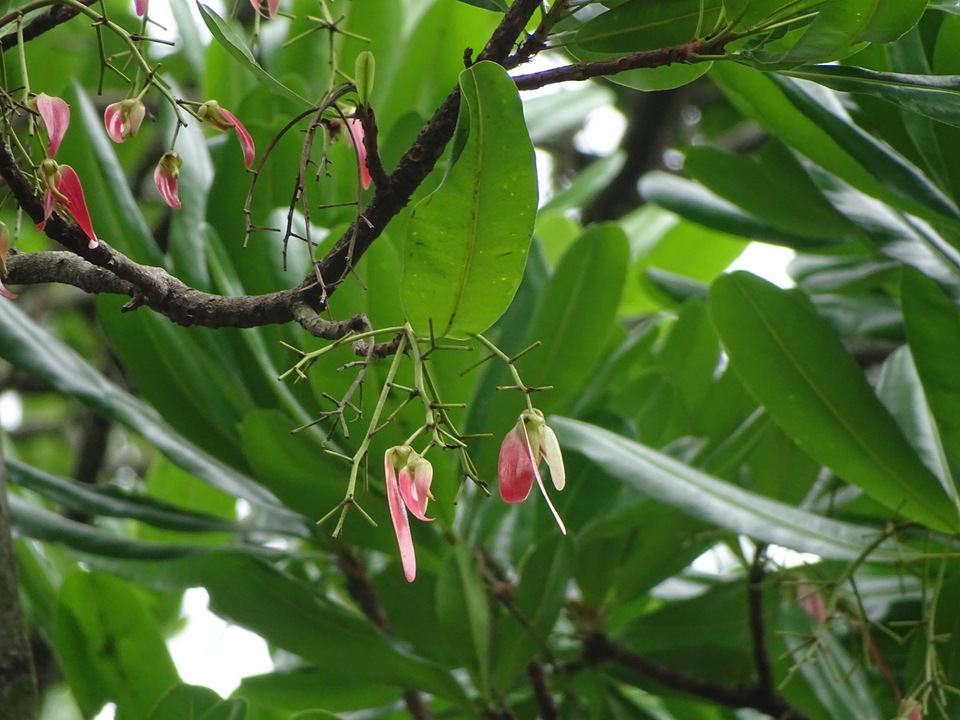 I think same as in another thread: 
ID
 help needed-AA02-22-02-2017 2
 (still unidentified)
---
---