Lycopodium
japonicum
Thunb.,
Syst. Veg. ed. 14: 944 1784
. (Syn:
Lycopodium centrochinense
Ching;
Lycopodium clavatum
var.
nipponicum
Nakai;
Lycopodium clavatum
var.
wallichianum
Spring;
Lycopodium interjectum
Ching & H. S. Kung;
Lycopodium japonicum
f.
yunnanense
(Ching) W. M. Chu;
Lycopodium kinabaluense
Ching;
Lycopodium pseudoclavatum
Ching;
Lycopodium pseudoclavatum
var.
yunnanense
Ching;
Lycopodium simulans
Ching & H. S. Kung;
Lycopodium taliense
Ching;
Stachygynandrum japonicum
(Thunb. ex Murray) P. Beauv.);
.
Nepal to Temp. E. Asia and Philippines, Solomon Islands:
Assam, Bangladesh, Cambodia, China South-Central, China Southeast, East Himalaya, India, Japan, Laos, Myanmar, Nansei-shoto, Nepal, Philippines, Solomon Is., Sri Lanka, Sulawesi, Taiwan, Tibet, Vietnam, West Himalaya, Xinjiang
as
POWO
;
China (Anhui, Fujian, Guangdong, Guangxi, Guizhou, Hubei, Hunan, Jiangsu, Jiangxi, Sichuan, Xinjiang, Yunnan, Zhejiang), Tibet, Taiwan, Japan, India (Arunachal Pradesh, Sikkim, Darjeeling, Uttarakhand, NE-India, C-India, S-India), Nepal, Bhutan, Myanmar [Burma], Sri Lanka, Bangladesh, Cambodia, Laos, ?Vietnam, Sulawesi
as per
Catalogue of Life;
---
Terrestrial herb with long trailing stem, 90-100 cm long, 1 cm thick with leaves, profusely anisodichotomously branching, branches ascending. Leaves pale green, spirally arranged, overlapping, minute, subulate, 5 x 1 mm, acuminate. Cones terminal 6-8 x 0.4-0.8 cm, cylindrical, pedunculate on ultimate branches; sporophylls 3 x 1 mm, ovate, acute, margins thin, membranaceous, fimbriate. Spores whitish, 40 x 40 m, tetrahedral, trilete, reticulate.
Terrestrial in grasslands of high altitude areas
Global Distribution- India, Sri Lanka, Bangladesh, Nepal, Bhutan, Myanmar and China
(Attributions- K. P. Rajesh from India Biodiversity Portal)
.
---
Location: Thulo Phedi, Taplejung, Nepal
Nepali Names: नागबेली Naagabelee / लहरे झ्याउ Lahare Jhyaau  / बन 
माला Ban Maalaa
---
This species is not L clavatum, which is not present in India, but is the very well known and common Himalayan species, Lycopodium japonicum. 
There are two things seriously wrong with the previous comment by …  First he put in a meaningless term "Accepted name" in brackets after it – this is the sort of nonsense one sees in all those compilatory websites of names trawled from literature by people who are not botanists and have zero botanical knowledge of the name or species they trawled.  Please do not use the "accepted name" nonsense as it is not true and is quite meaningless.  It amounts to an attempt by the compilers to push researchers into using a particular name by pretense that it has some special authority (which it does not have) and thus limit scientists freedom of thought.   A very bad thing to follow..
Just let us ask – "accepted" by whom?  Why?  On what nomenclatural-taxonomic grounds?  Then one can immediately understand it is not science and is inappropriate to use.
Apart from that, the old identification as the circumboreal species L. clavatum (Europe, northern N. America, north Asia) is something you will see in the Victorian books, along with all the other mistaken identifications of European species, such as Dryopteris filix-mas, Polystichum setiferum, P. aculeatum, Athyrium filix-femina, Osmunda regalis etc.  It was based on the very wide and general species-concepts of the 19th Century European botanists.  But long since then in the 1930's Prof. Ching was one of the first to realise L. clavatum is not present in the Himalaya or India and the species is L. japonicum, which has long stalks to the cones and a more compound fertile panicle.  His habit was often to split things too far as he was actually rather poor at recognising species, especially from the 1960's onwards, when his memory of species began to disintegrate so he split it into L. japonicum, L. centrochinense and L. pseudoclavataum.  But in fact all three names belong to the single species, L. japonicum.
I would recommend people to refer to a modern carefully researched book – the L. japonicum identity is given in many works, including our Ferns and Allies of Nepal 2015 (free from the Dept. of Plant Resources, Godavary Kathmandu), and of course in the Annotated checklist of Indian pteridophytes 1 2016 (Bishen Singh Mahendra Pal Singh).   I hope it should help avoid this sort of error.
---
Lycopodium japonicum
Thunb

.
Nepali names : नागबेली Naagabelee
---
---
---
I hope Lycopodium clavatum or any other species.
---
Initially I thought of catkins from Salicaceae but on closer look it shows the leafy green structures below of Lycopodium clavatum.
… has to be right. These are sporophylls of it. This is a very interesting group of plants called as Viridiplantae.
Plantae——
Vascular plants(tracheophytes)
Lycopodiophyta (Club mosses)
Link:  http://en.wikipedia.org/wiki/Plant
---
Can it also be Lycopodium japonicum as in another thread?
---
Yes,  typical Lycopodium japonicum.
---
---
ID……….31.10.2011……….S.S………….27:
Please can you confirm whether this seed head is from Lycopodium which is growing below.
Date/Time-….9th April 2011.
Location- Place, Altitude, GPS-
Lachung. Sikkim. High in the mountains further North
Habitat- Garden/ Urban/ Wild/ Type-…..
Wild. In amongst trees
Plant Habit- Tree/ Shrub/ Climber/ Herb- …..
Fern like.
Height/Length-….
low growing
Leaves Type/ Shape/ Size-…
Inflorescence Type/ Size-???
Flowers Size/ Colour/ Calyx/ Bracts-????
Fruits Type/ Shape/ Size Seeds-…. see pic.
---
---
Many thanks … for the confirmation that the seed head does indeed belong to the Lycopodium!
I wasn't sure if it belonged to a second different plant.
---
Can it also be Lycopodium japonicum as in another thread?
---
Yes, it is L. japonicum.
---
---
Location: 
 Gopaldhara, Darjeeling, India 
Lycopodium japonicum
Thunb. ex Murray
…???
---
or L. cernuum?
---
Thank you …! Lycopodium japonicum Thunb.
Nepali names : नागबेली Naagabelee
Common Club Moss / Lycopodium
---
---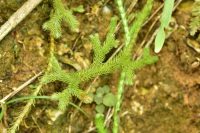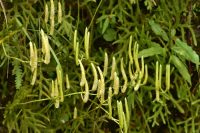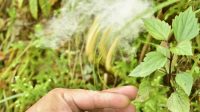 Id please: 3 images.
can anyone identify this herb?
this was growing on slopes of hills 
when moved sporophylls produced clouds of spore as seen in pic

Picture taken
at West Bengal on July 2022
---
Kindly check once with Lycopodium clavatum.
---
Lycopodium japonicum, common clubmoss.
If you sprinkle the spores over a flame they spark in the air as the internal oil burns.
They used to be collected to use as yellow powder during Holi, now replaced by yellow aniline dyed powder – which is mildly carcinogenic, like so many of our modern chemicals. [mind you, spores of Pteridium revolutum, Bracken, are carcinogenic, too, so it's not only modern unnatural chemicals!].

As I expect you have seen, the plant is traditionally used to adorn wedding gates at marriage-parties – and even the army use it on their barbed-wire fences – which is not sustainable and ought to be stopped.  I have seen people gathering great sacks of it for sale as an adornment. 
It can't be cultivated as it always dies once uprooted, wrong mycorrhiza…
---
---
.
References:
POWO  Catalogue of Life  The Plant List Ver.1.1  IPNI  GBIF  Flora of China  Encyclopaedia of Life  India Biodiversity Portal