Bhutan to W. Malesia
as per
WCSP
;
.
Tacca integrifolia is a herb growing from a thick, cylindrical
rhizome
. The leaf blades are borne on long stems and are oblong-elliptical to oblong-lanceolate, some 50 by 20 cm (20 by 8 in), with tapering bases and slender pointed tips. The flower
scape
is about 55 cm (22 in) long and is topped with a pair of
involucral bracts
, broad and erect, white with mauve venation. Among the individual nodding flowers, which are arranged in an umbel, are further long, filiform (thread-like) bracts. The perianth of each flower is tubular and purplish-black, 1 to 2 cm (0.4 to 0.8 in) long, with two whorls of three perianth lobes, the outer three narrowly oblong and the inner three broadly obovate. The fruits are fleshy berries some 2 cm (0.8 in) long, and the seeds, which have six longitudinal ridges, have the remains of the perianth lobes still attached.

[2]

[3]
The species is native to hilly regions of tropical and subtropical central Asia. It is known from Pakistan, eastern India, Sri Lanka, Bhutan, Bangladesh, Nepal, Myanmar, Malaysia, Thailand, Cambodia, Vietnam and eastern China.

[2]

It grows in the understorey of humid rainforests, growing in the leaf litter in shady sites.

[4]
The
stamens
are attached to the tube of the perianth in a helmet-like manner and, with the flat-topped
stigma lobes
, may form an insect trap; a sweet musky odour has been detected from these flowers and this may attract
flies
as
pollinators
. After pollination, the scape bends over and the developing fruits rest on the ground. The fleshy fruits are a dull colour with soft jelly-like pulp, and it is possible that the seeds are dispersed by
rodents
and other small mammals as they feed on the fruits.

[3]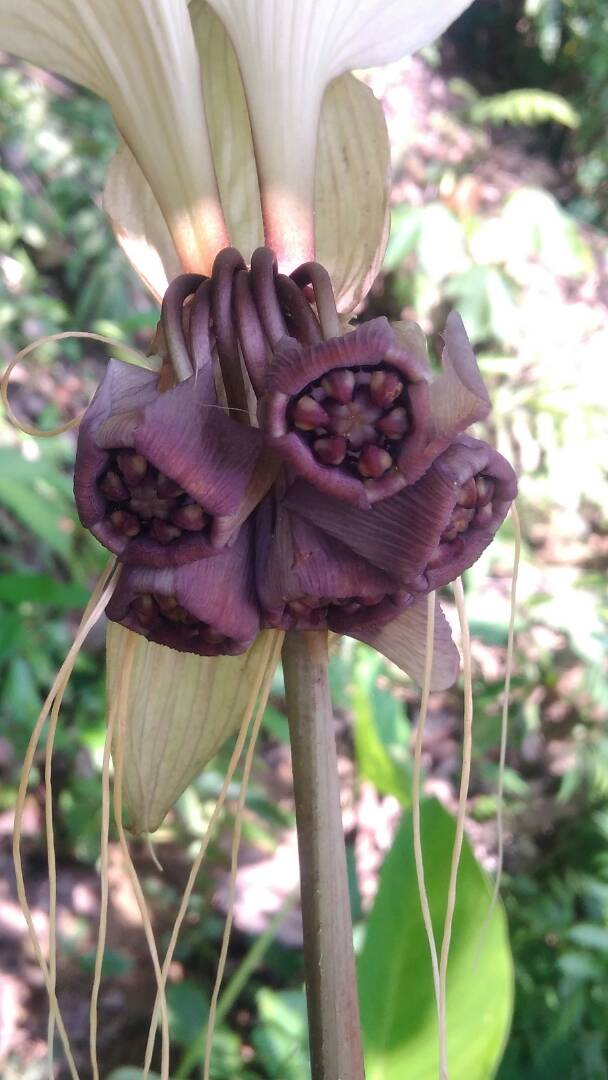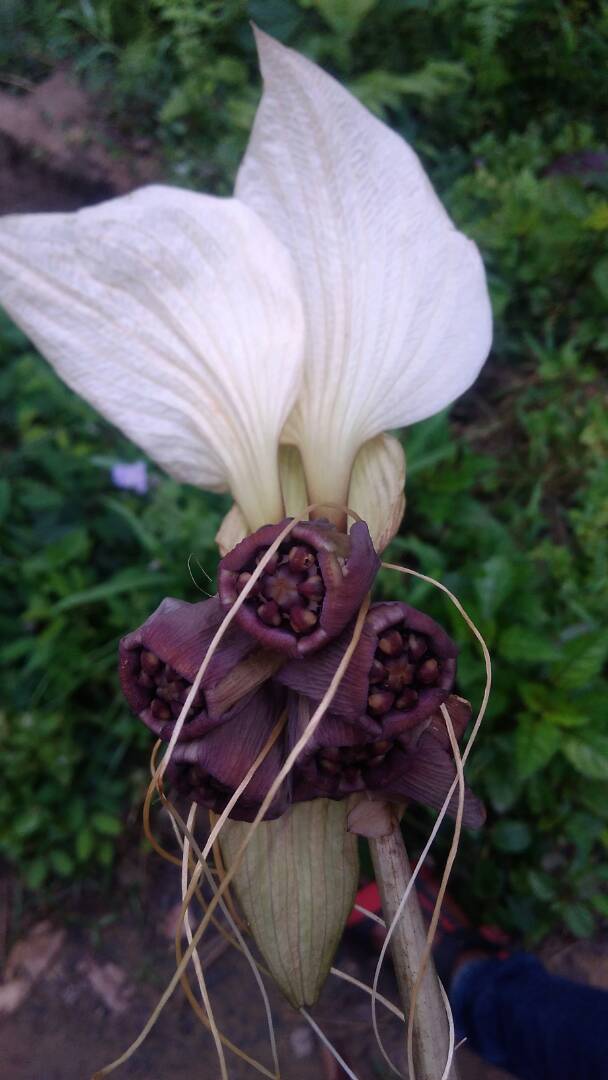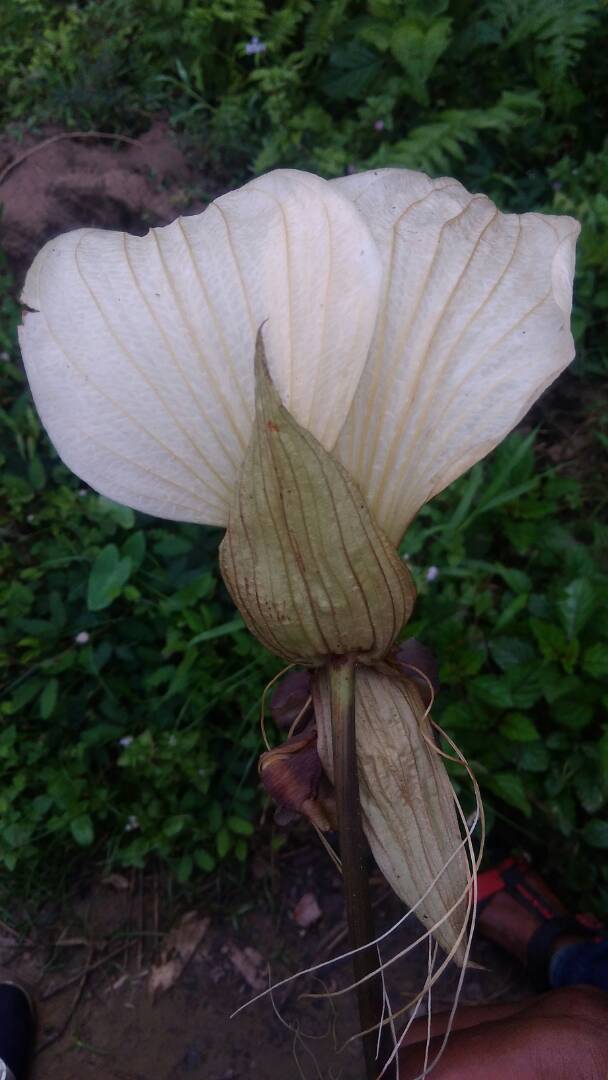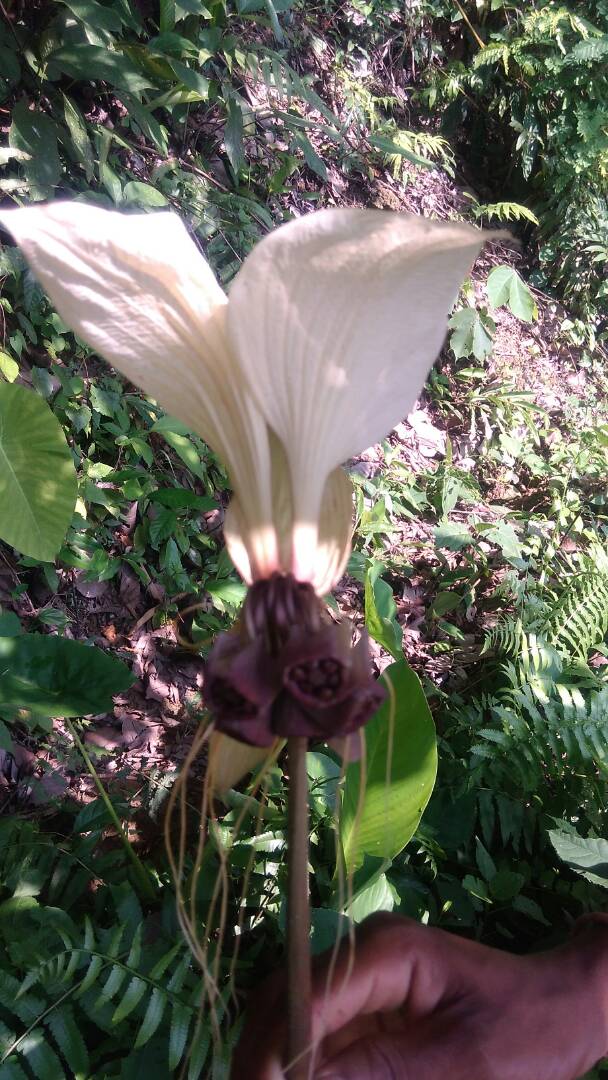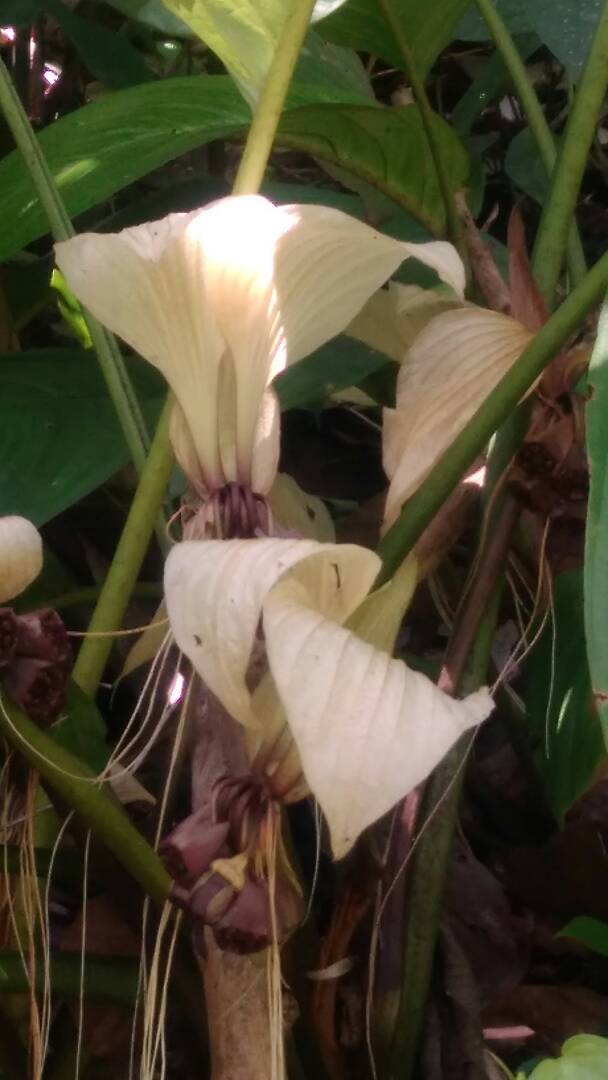 Tacca chanteri or Tacca integrifolia ?
: 6 posts by 2 authors. Attachments
(5
)
Location Rajnagar Kumarghat Unakoti district Tripura
Please identify
Seeds are half moon shaped which indicates it should be Tacca chantrieri but the petals are white, not pinkish
The seeds of Tacca integrifolia are said to be cylindrical.
---
To me appears close to images of Tacca chantrieri as per comparative images at Tacca
---
Thank you … The petals are white, not black
White bat flower is Tacca integrifolia where as Black bat flower is Tacca chantrieri
As petals are white, I am suspecting it to be Tacca integrifolia.
Other than white petals, there is any other point which will confirm.
Please confirm.
---
Thanks, … Pl. check more images at Tacca chantrieri as well as other sites on net.
---
For last two years I have been checking and finally I went to you
I have many pictures of flowers which are CLEARLY WHITE, NOT AT ALL BLACK
---
Thanks, … For me Tacca integrifolia looks quite different. Colour black to white (as stated by you) may be variable or changing with age. But you pl. verify this yourself.
---
These are fresh flowers and they are completely white, no trace of black.
Shall I get photos of leaf and plant.
There is reference of Tacca integrifolia in the flora of Tripura.
Attachments (3)
---
Sorry, I got confused. You are right as per illustration & keys at
---
---
Attaching a collage depicting different stages of blooming of the flower. I saw this plant for the first time in Arunachal Pradesh.
I brought a plant from there and I got few flowers. The plant is still surviving at this place.
---
very nice progression. what does the whole plant look like?
---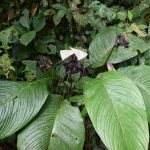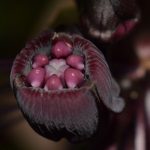 Tacca integrifolia
: 2 high res. images.
Tacca integrifolia
Behali

Reserve Forest,

Biswanath, Assam, India
---