Common name: Himalayan Tree Hydrangea • Nepali: फिरफिरे घांस Phirphire ghans
N-India (Garhwal to Arunachal Pradesh), Nepal, Bangladesh, Bhutan, Sikkim,
SE-Tibet, N-Myanmar [Burma] (Kachin), Vietnam, Taiwan, China (Anhui, Fujian,
Guangdong, Guangxi, Guizhou, Hubei, Hunan, Jiangxi, Sichuan, Yunnan, Zhejiang)
as per
Catalogue of Life;
---
I found this tree to be quite common along the road in Upper Dibang Valley, Arunachal Pradesh. Request identification please?
---
It's Viburnum sp. Will have to check for the species..
---
You have two Hydrangea robusta? and Oxyspora!!
Pl. check
---
Links for Hydrangea robusta:
May somebody confirm the species?
---
Images by 

Debashis Chowdhury

(Identified by 

Umeshkumar Tiwari) (inserted by Bhagyashri Ranade & J.M.Garg)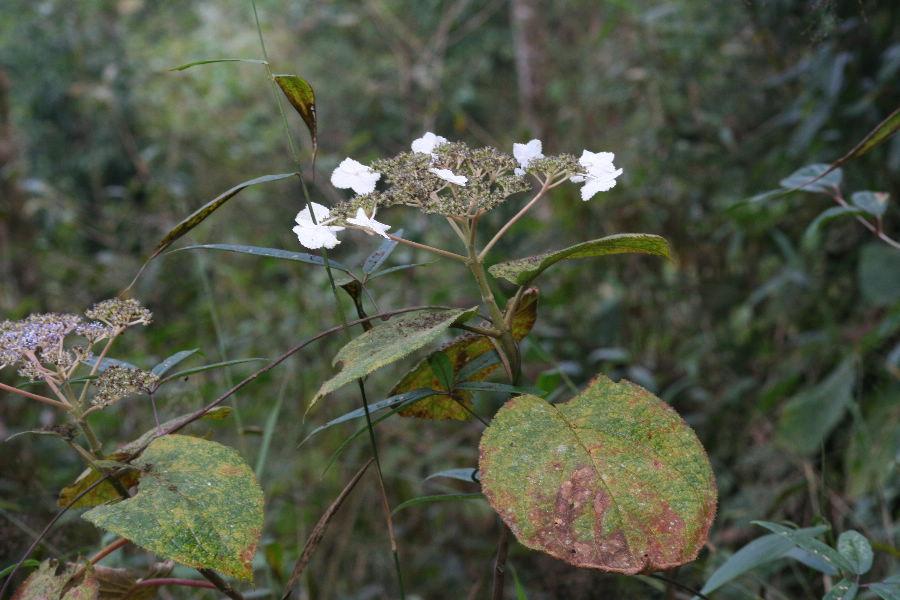 I found this flowering plant
in the jungle
near Sukhia in the district of Darjeeling, W.B. (Altitude 7300 feet approx).
---
Going through some old, unidentified photos in this Lockdown period.
Are these some dried flowers ? Can't make out !!!
Location – Mishmi Hills (Arunachal Pradesh)

---
Hydrangea aspera Buch.-Ham. ex D.Don ??
---
Thank You so much …
So these are the dried yellow petals. I was wondering all the time. I just checked on google. The lavender bunch in the center and white small flowers surrounding it. Can't understand the morphology exactly – Which part is what !!!
---