---
On 18/10/08 in Narshapur

forest

, AP around 80 Km. from Hyderabad
.
Seen in slightly wet water-logged area.
I hope Id is correct.
---
It is obviously not
R. mexicana
because it is an apetalous (petal less)
Rotala
species. By flower construction and habit it is close to
R. densiflora
, but seemingly different also. Please make a critical analysis, probably turn out to be a new species.
---
Yes it's Rotala densiflora
---
---
On further scrutiny, all images may be of Rotala densiflora (Roth) Koehne only, but can not be confirmed with this image
---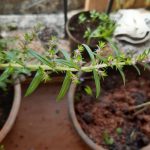 please identify Rotala densiflora? growing aquatic : Attachments (1)- 3 mb.
---
---
I will snap clearer pictures and repost.
---