E. India to W. Malesia:
Bangladesh, Cambodia, India, Jawa, Laos, Lesser Sunda Is., Malaya, Myanmar, Sumatera, Thailand, Vietnam
as per
POWO
;
.
Common name:
 Burma Lancewood, Moulmein lancewood
.
---
Deciduous trees, about 20-40 m tall. Bark pale grayish brown, showing green epidermis beneath, with irregular flakes peeling, buttressed near the trunk base, branchlets and young twigs tomentose. Leaves simple, alternate, obovate-oblong, obovate-elliptic, about 10-25 x 5-13.5 cm across, base cuneate to rounded, margin shallow or distinctly crenate, apex deeply acute to shallow acuminate, lateral veins 8-12 on either side of the midrib, impressed above and prominent on midrib beneath, minutely tomentose to glabrescent above, minutely pubescent to wooly tomentose beneath, end in a gland beneath at each teeth of the margin, veinlets reticulate, petiole thick, about 3-8 mm long, stipules caducous. Inflorescence in shortly pedunculate, pendulous, subterminal and axillary racemes spikes or lax glomerules, ferruginous tomentose, about 10-30 cm long. Flowers greenish white, foetid or disagreeable odour, bisexual, epigynous, hypanthium funnel shaped, wooly tomentose, about 2 mm long in fruits, pedicels articulate in below, bracts ovate, caducous, sepals 5-6, linear oblong, margin ciliate, with densely hairy episepalous nectar gland opposite to every sepal, accrescent after anthesis, tomentose, about 1.25 mm long, petals 5-6, spathulate, almost same size as sepals, inserted in the rim of the calyx tube. Stamens before each petals, alternating with nectar glands, filaments about 2 mm long, anthers 2 loculed, globular, dorsifixed, extrorse, pollen tricolporate. Ovary semi-inferior, globose, unilocular, minutely appressed hairy inside, densely wooly tomentose outside, styles 3. Fruit indehiscent, subglobose-ovoid, about 2 mm long. Seed 1.
Mixed forests at low elevations.
(
Attributions-
Ganeshaiah, K. N., UAS, Bangalore, India.; Kailash, B. R., ATREE, Bangalore, India.; Royal Norwegian Embassy grants. Indian Bioresource Information Network (IBIN), Department of Biotechnology, New Delhi, India as per India Biodiversity Portal)
.
---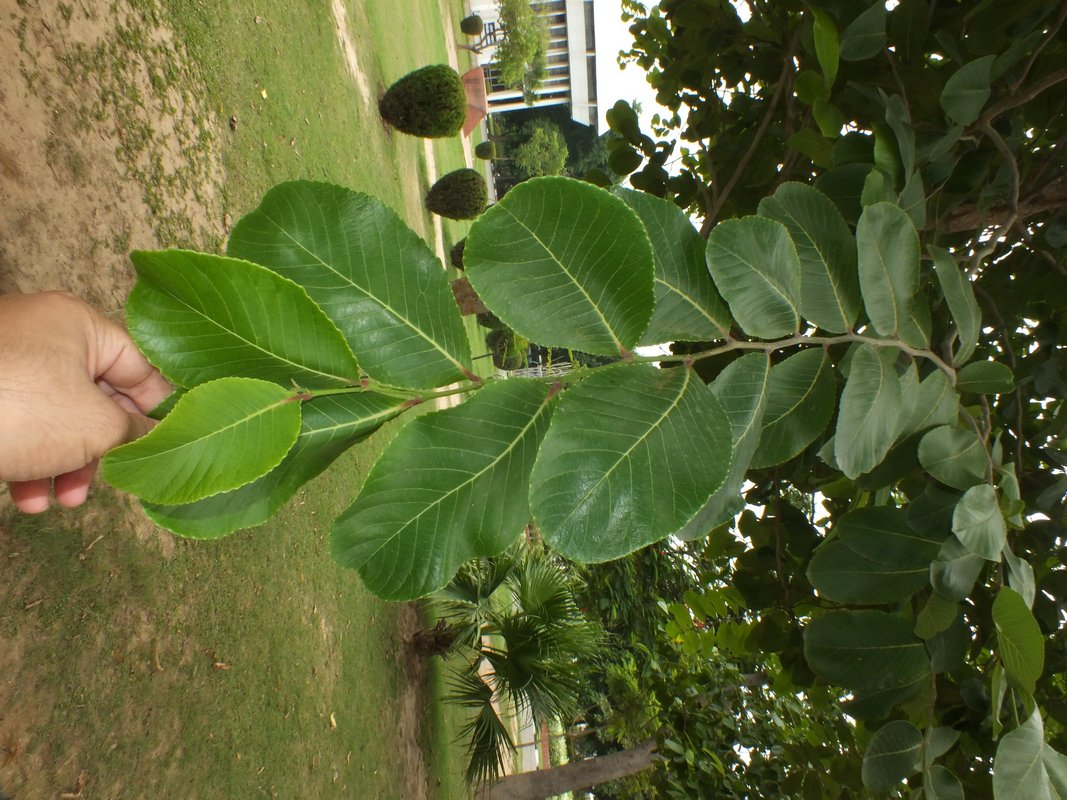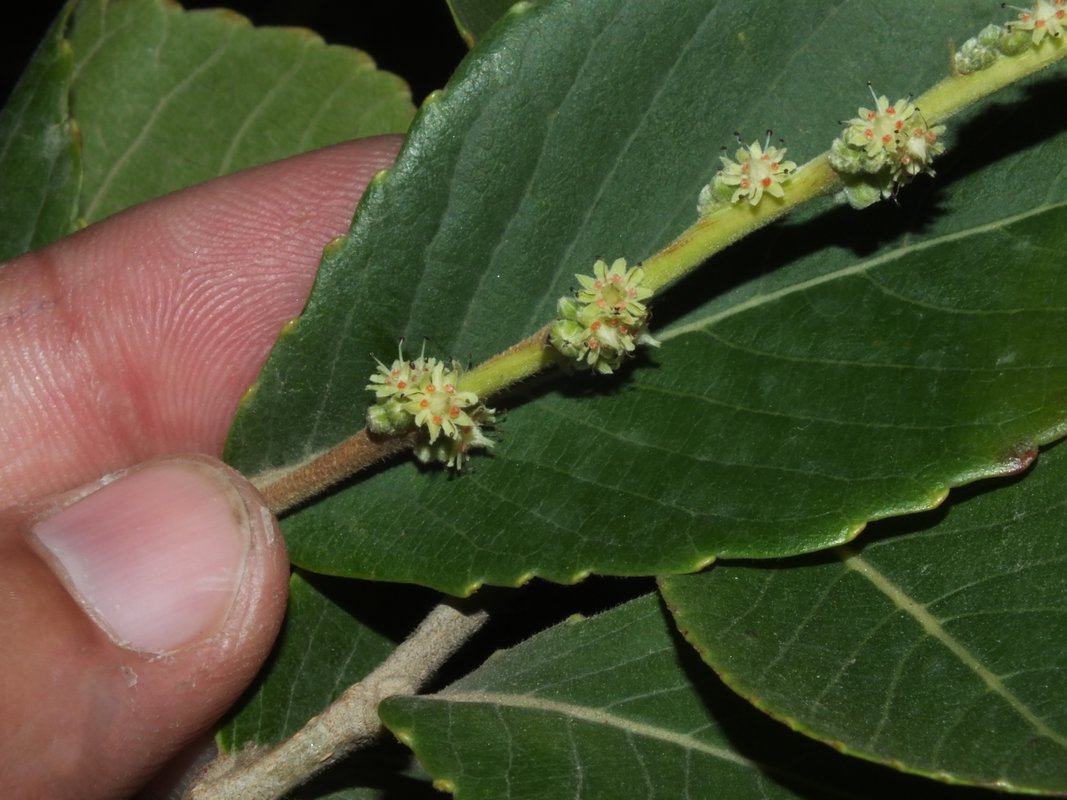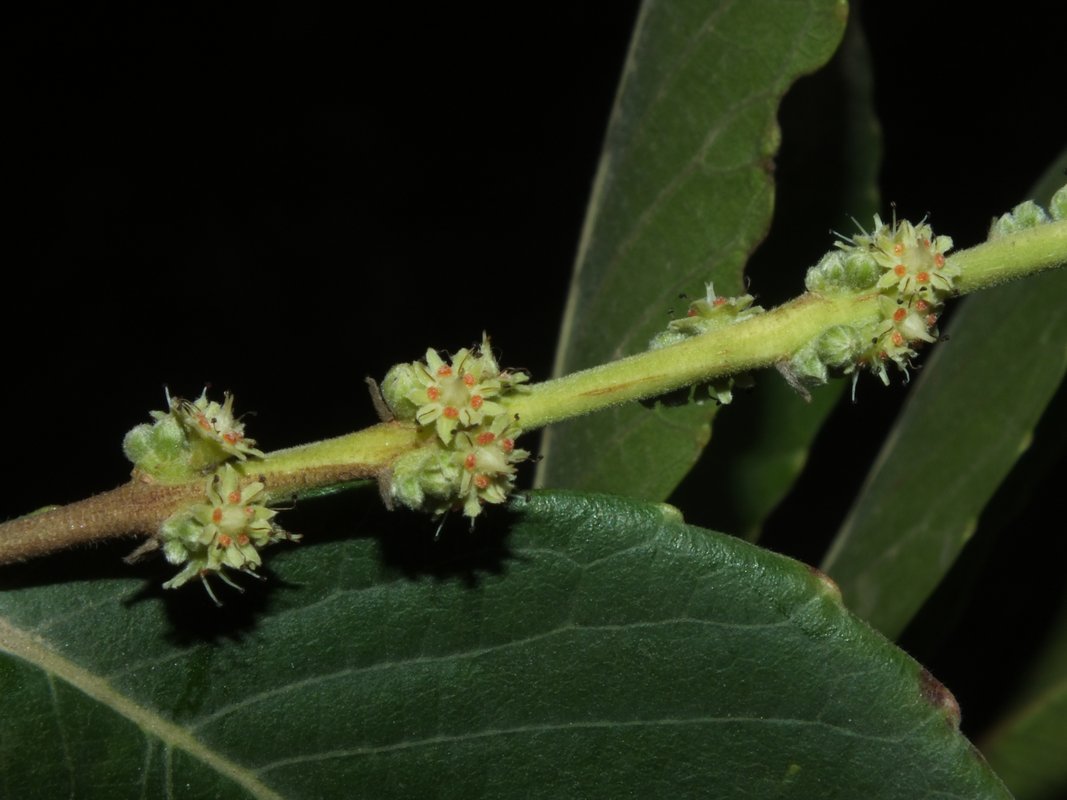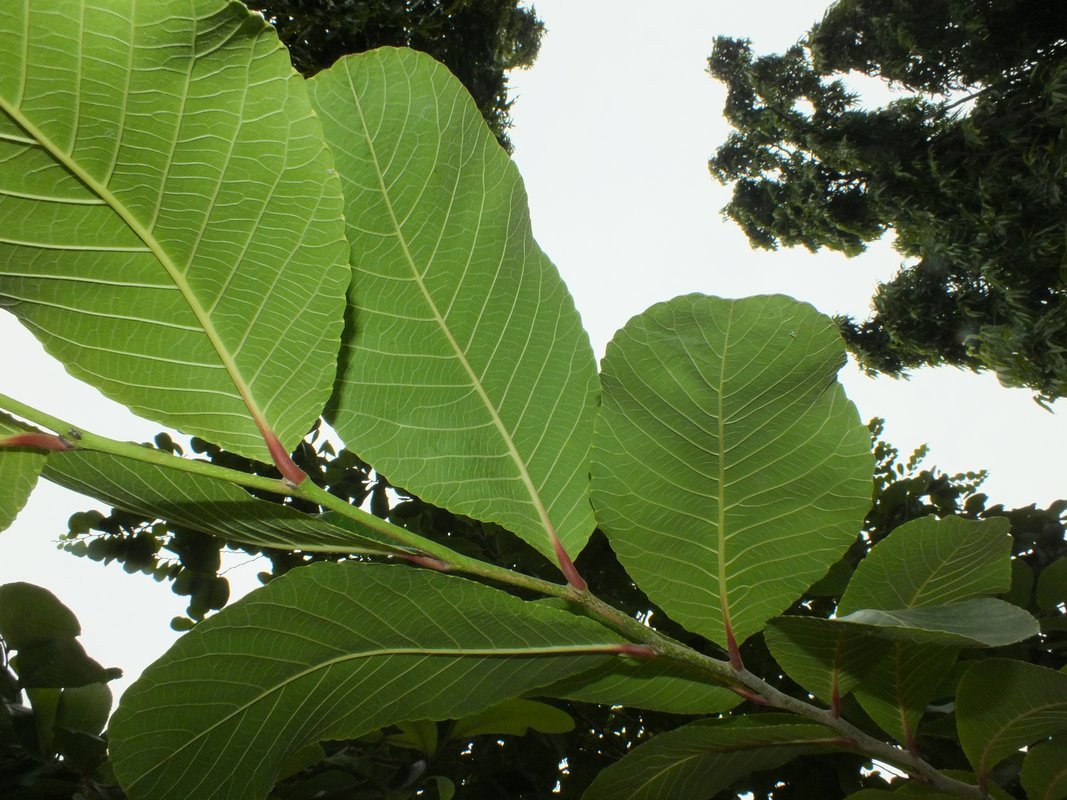 Medium-sized tree for Identification from Patiala, Punjab-December 2017::NS02 : 14 posts by 5 authors. Attachments (6)
This medium-sized tree was recorded from campus of Punjabi University, Patiala, Punjab in September 2017.
To me this looks to belong to Anacardiaceae, please suggest correct id..
---
Looks to me like Casearia graveolens (Salicaceae)
Not sure. The flowers don't quite match C. graveolens as I know it
---
Thanks …, My first impression of the plant was Bridelia, until I closely observed the flowers… and this is not like Casearia too..
Hope to get a lead soon..!!
---
Please check for Bridelia ferruginea. Only a suggestion
---
Thanks a lot …, for your valuable suggestion, yes it superficially resembles to what you suggested, bu flowers seem to differ..
---
Unable to help you with this one.
---
Possibly Celastraceae member.
---
This is Homalium bhamoense (syn. H. tomentosum). Family Flacourtiaceae. See "Vascular
Flora of Punjab and Chandigarh" by M. Sharma. vol. 1:216.2021.In a separate e mail,
sending the brochure of the book.
---