Luisia
birchea
Blume,
Mus. Bot. 1: 64 4: 50 1849
. (syn:
Luisia tenuifolia
sensu Hook. f.;
Luisia pseudotenuifolia
Blatt. & McC.;
Luisia evangelinae
Blatt. & McC.;
Luisia tenuifolia
var.
evangelinae
  (Blatt. & McC.) Sant. & Kap.;
Luisia birchea
var.
evangelinae
  (Blatt. & McC.) Sarkar) as per 
BSI Flora of India checklist
;  
Common name:
Birch Luisia
.
Location- Chinnar

Habitat-   Wild

Plant Habit – Epiphytic herb

Height/Length-

Note : This is a species mentioned in the Plant list as a synonym of Luisia tenuifolia Blume which I strongly feel is not correct. The Habitat and the Habit and the shape of the flower and its appearance are entirely different
---
Your plant is Luisia birchea and the second plant I think is Luisia evangelinae.
---
Thank you very much .. I have no doubt in their id's. I have only on doubt why that "Plant list" has made them the same species ?
Thanks to … for their comments. Still I am not fully placed how to go about replying to each person who had made comments.
---
The Name L.evangelinae is now the synonym of L.tenuifolia.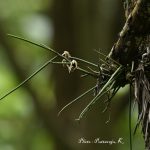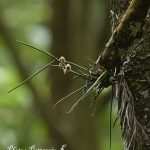 Flora of Chamarajanagar_ID_Please_06092021 PK1- 2
: 2 images.
Segregating clubbed posts due to sam subject
:
Is it
Luisia birchea
?
Flora of Date/Time – 25/08/2021   –    09:30
Location- Place, Altitude -Chamarajanagar, Karnataka,
Habitat- Garden/ Urban/ Wild/ Type-   wild
Habit- Tree/ Shrub/ Climber/ Herb-  Orchid
Length- 22 cm,

size of flower 1.9cm,
---
The pictures are not clear enough, but I think this could be Luisia birchea.
Cant confirm.
---