Hypolepis resistens
(Kze.) Hook.,
Sp. Fil. 2. 64. 1852 1852
. (syn:
Cheilanthes dicksonioides
var.
phyllochaena
Kunze;
Cheilanthes resistens
Kunze;
Hypolepis glandulifera
Brownsey & Chinnock;
Hypolepis longa
A.Biswas);
.
Hainan to Tropical Asia and SW. Pacific: Borneo, Hainan, India, Malaya, Myanmar, New Caledonia, New Guinea, New South Wales, Philippines, Queensland, Sri Lanka, Tasmania, Victoria, Vietnam as per
POWO
;
China (Hainan), Myanmar [Burma],

Bhutan, India (Karnataka, Kerala, Tamil Nadu), Sri Lanka,

Philippines, Vietnam, peninsular Malaysia (Gunung Hijau, Perak, Cameron Highlands, Pahang), New Guinea, Borneo (Mt. Kinabalu, etc.), Australia (Queensland, New South Wales, Victoria, Tasmania), New Caledonia
as per
Catalogue of Life;
---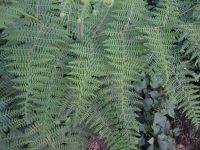 Request for ID 3 : 5 posts by 2 authors. Attachments (1)- 6 MB.
Place: Bombay Shola, Kodaikanal, Tamil Nadu
Date: 20/01/18
This was a small angiosperm found close to the forest floor
---
Sorry. I mentioned it as angiosperms, because that was the description for another picture. This is as you can see, a fern.
---
it's a fern (Pteridophyte) not an Angiosperm. It is Hypolepis resistens, known in India only from the south- in the north it is replaced by the common and less dissect Hypolepis polypodioides – Dennstaedtiaceae.
---
Thank you …,  for the ID. I added the description for another photo. I accidentally added another picture
---
---
Terrestrial Fern SN14420b : 3 posts by 2 authors. Attachments (1)- 4 mb.
Lassea scabrosa, wild terrestrial fern with tripinnate finely lobed fronds from Theni area of Western Ghats Tamilnadu.
---
You really need to get hold of a modern book on Indian ferns, not 19th Century ones! Also check the spellings of names properly. The genus you intended was Lastrea, not Lassea. But Lastrea is a synonym of Thelypteris and does not apply to the Dryopteridaceous fern, Dryopsis scabrosa – different families.
I can't see details of the sori in this photo, but I would suggest it looks more like Hypolepis resistens – in Dennstaedtiaceae – which has a long, thin creeping rhizome and fronds arising separately (unlike Dryopsis scabrosa). But no rhizome has been collected in the specimen.  Does that fit what you remember of it in the field?
---