Schefflera capitata (Wight & Arn.) Harms, Nat. Pflanzenfam. 3(8): 36 1894. (syn: Brassaia capitata (Wight & Arn.) C.B.Clarke; Heptapleurum capitatum (Wight & Arn.) Seem.; Paratropia capitata Wight & Arn.);
.
S. India
as per
POWO
;
.
---
Low much-branched trees. Leaves alternate, palmately compound; leaflets seven, their stalks 2 inches; ca 15 x 5 cm, coriaceous, glossy on the upper side, dull and light green on lower side; midrib very stout, brown; lateral neves slender, prominent on the upper side, the smaller reticulations distinct on the lower sides; leaf-base sheathing with a triangular intra-petiolar stipule, covering the axillary bud; petiole to 15 cm long. Inflorescens a terminal panicle up to 35 cm long, dark purple. Flowers in dense sessile heads of 6 or 7, at the ends of the stout branches of the panicle; heads 1.5-2.5 cm wide, of about ten flowers. Bracts concave, tomentose. Petals 6, valvate. Stamens longer than the petals abruptly bent inwards just below the anther; anther opening inwards. Ovary bluntly conical, continuous with the disc at the base; 6-celled, ovules one in each cell; styles fused in to a column. Fruits drupaceous, sub globose, 6-angled.
Flowering and fruiting: February-May
Evergreen forests
Southern Western Ghats
(Attributions- Dr. N Sasidharan (Dr. B P Pal Fellow), Kerala Forest Research Institute, Peechi as per India Biodiversity Portal)
.
---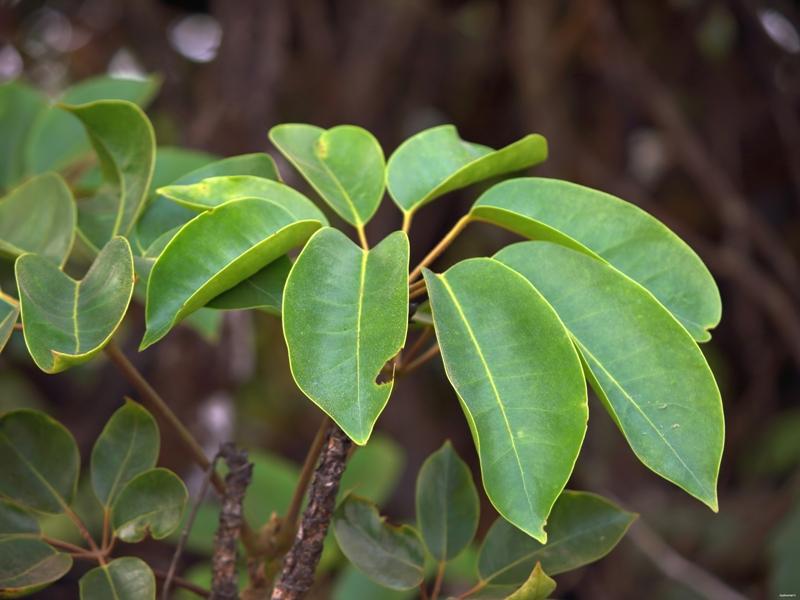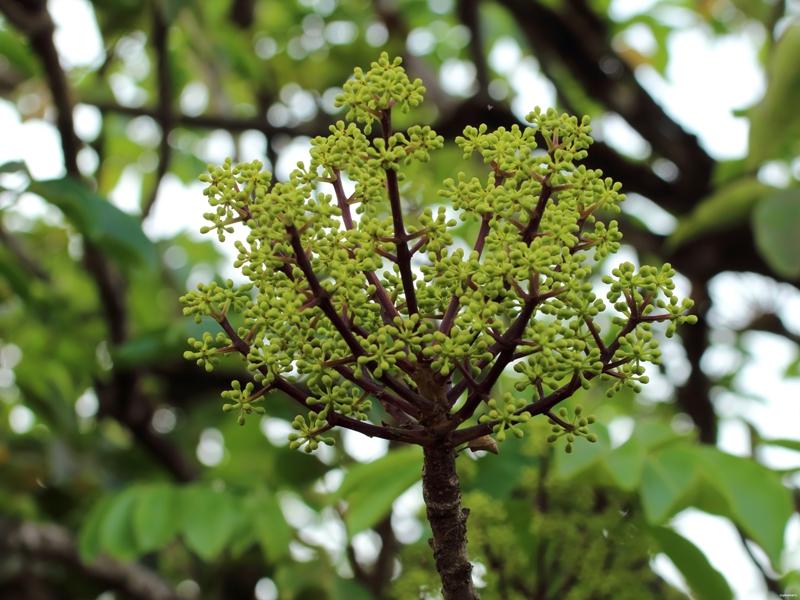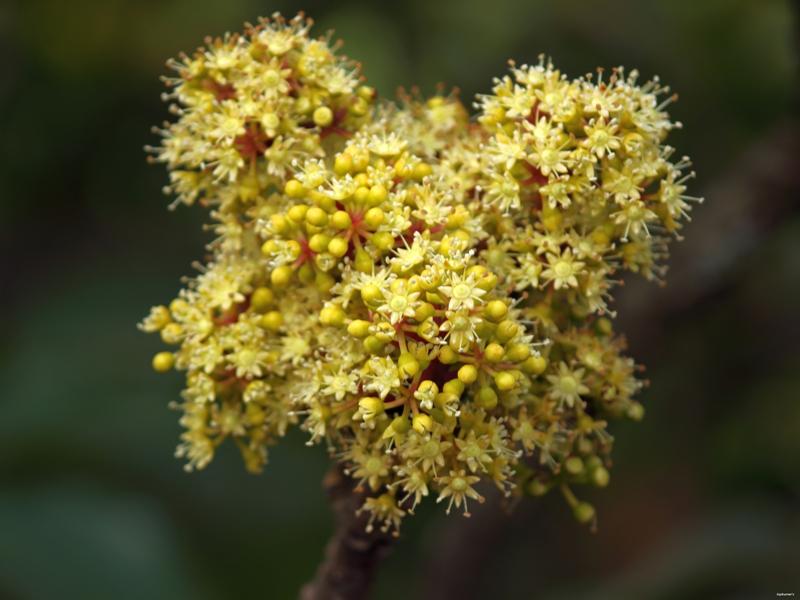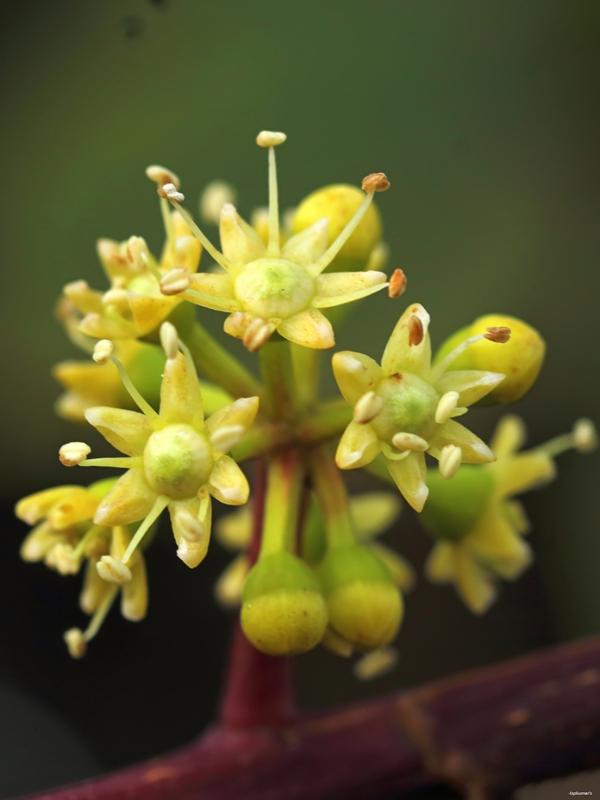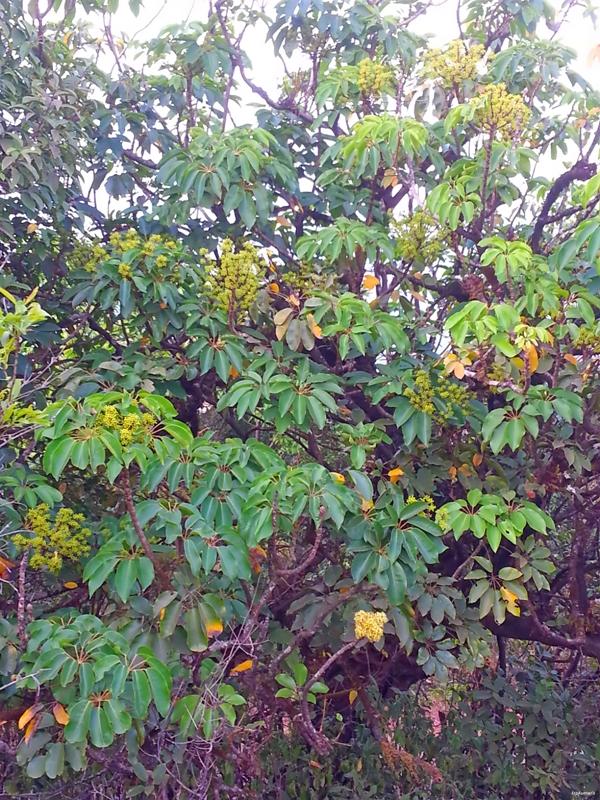 161-TSP-ID-04FEB2018-1: A tree near Chikmagalur for ID assistance.
: 11 posts by 3 authors. Attachments
(5)
Kindly examine and identify this Tree…Could this be a Schefflera sp……? 
Habit: A medium sized tree. 
Habitat: Wild,Evergreen forest 
Sighting: Near Chikmagalur,Karnataka,about 1000 msl 
Date: 24-03-2016  and 25-03-2016
---
It looks like Schefflera roxburghii of Araliaceae; reasons- leaflets 5-7, coriaceous, apex acute, margin entire; flowers pale yellow in umbellate cymes that are on terminal branched panicles
---
I do not know why I am having doubts about
Schefflera roxburghii
after seeing the following images/ specimen:
one
,
two
,
three
, and
four
---
it is definitely Schefflera, species may be different
---
Might be
Schefflera
sp.
---
Schefflera wallichiana (Wight & Arn.) Harms ??
---
Appears close to images at 
S. capitata
 (Wight & Arn.) Harms as per 
Biotik
.
---