Lycopodium clavatum L., Sp. Pl. 2: 1101 1753. (syn: Lepidotis ciliata P. Beauv.; Lepidotis clavata (L.) P. Beauv.; Lycopodium aristatum var. robustius Hook. & Grev.; Lycopodium ciliatum (P. Beauv.) Sw.; Lycopodium clavatum var. asiaticum Ching ………………….; Lycopodium officinale Necker; Lycopodium preslii Hook. & Grev.; Lycopodium serpens C. Presl; Lycopodium tamariscispica Cesati; Lycopodium torridum Gaud.; Lycopodium trichiatum Bory; Lycopodium trichiatum var. borbonicum (Bory) Spring; Lycopodium trichophyes Spreng.; Urostachys plutonis Herter);
Temp. Northern Hemisphere to Tropical Mountains: Alabama, Alaska, Altay, Amur, Austria, Baltic States, Belarus, Belgium, Bolivia, Borneo, Brazil North, Brazil Northeast, Brazil South, Brazil Southeast, Brazil West-Central, British Columbia, Bulgaria, Burundi, Buryatiya, California, Cameroon, Cape Provinces, Central European Rus, Colombia, Comoros, Connecticut, Costa Rica, Czechoslovakia, Delaware, Denmark, District of Columbia, Dominican Republic, East European Russia, Ecuador, Ethiopia, Fiji, Finland, France, Free State, Georgia, Germany, Great Britain, Gulf of Guinea Is., Guyana, Haiti, Hungary, Iceland, Idaho, Illinois, Indiana, Inner Mongolia, Iowa, Ireland, Irkutsk, Italy, Japan, Kamchatka, Kazakhstan, Kentucky, Kenya, Khabarovsk, Korea, Krasnoyarsk, Kuril Is., KwaZulu-Natal, Labrador, Lesotho, Madagascar, Maine, Malawi, Malaya, Maluku, Manchuria, Manitoba, Maryland, Massachusetts, Mauritius, Michigan, Minnesota, Mongolia, Montana, Mozambique, Netherlands, New Brunswick, New Caledonia, New Guinea, New Hampshire, New Jersey, New Mexico, New York, Newfoundland, North Carolina, North Caucasus, North European Russi, Northern Provinces, Northwest European R, Norway, Nova Scotia, Ohio, Ontario, Oregon, Panamá, Pennsylvania, Peru, Philippines, Poland, Portugal, Primorye, Prince Edward I., Québec, Rhode I., Romania, Rwanda, Réunion, Sakhalin, Saskatchewan, Solomon Is., South Carolina, Spain, Sudan, Sulawesi, Swaziland, Sweden, Switzerland, Tanzania, Tennessee, Thailand, Transcaucasus, Turkey, Uganda, Ukraine, Venezuela, Vermont, Vietnam, Virginia, Washington, West Siberia, West Virginia, Wisconsin, Yakutskiya, Yugoslavia, Zambia, Zaïre, Zimbabwe as per POWO;
.
Austria, Belgium, England, Wales, Scotland, Ireland, Bulgaria, Czech Republic, Slovakia, Denmark, Finland, France, Germany (Brandenburg, Berlin, Baden-Wrttemberg, Bayern, Hessen, Hamburg, Mecklenburg-Vorpommern, Niedersachsen, Nordrhein-Westfalen, Rheinland-Pfalz, Schleswig-Holstein, Saarland, Sachsen, Sachsen-Anhalt, Thringen), Switzerland, Netherlands, Spain, Andorra, Hungary, Iceland, Italy, Bosnia & Hercegovina, Montenegro, Croatia, Macedonia, Slovenia, Serbia & Kosovo, Portugal, Norway, Poland, Romania, Sweden, N-, C-, W- & E-European Russia, Estonia, Latvia, Lithuania, Belarus, Ukraine, Kazakhstan, Northern Caucasus, Georgia [Caucasus], Siberia (W-Siberia, C-Siberia), Russian Far East, Mongolia, China (Heilongjiang, Jilin, Liaoning, Nei Mongol), Japan, North Korea, South Korea, Turkey (Anatolia), Guinea, Sierra Leone, Ivory Coast, Nigeria, Cameroon, ?Gabon, Bioko Isl. (Fernando Poo), So Tom, Equatorial Guinea (Rio Muni), D.R. Congo (Zaire), Congo (Brazzaville), Sudan, Ethiopia, Uganda, Rwanda, Burundi, Kenya, Tanzania, Angola, Zambia, Malawi, Mozambique, E-Zimbabwe, South Africa (Limpopo, Mpulamanga, KwaZulu-Natal, E-Cape Prov., W-Cape Prov., E-Free State), Lesotho, Swaziland, Comoros (Grande Comore), Madagascar, Mauritius, La Runion, Fiji (Viti Levu), New Caledonia, peninsular Malaysia (Perak, Pahang), Borneo (Sabah, Mt. Kinabalu), Moluccas (Seram), Philippines, Thailand, Vietnam, Sulawesi, Solomon Isl. (Guadalcanal), New Guinea (Irian Jaya), Alaska, USA (California, Connecticut, District of Columbia, Delaware, Georgia, Iowa, Idaho, Illinois, Indiana, Kentucky, Massachusetts, Maryland, Maine, Michigan, Minnesota, Montana, North Carolina, New Hampshire, New Jersey, New Mexico, New York, Ohio, Oregon, Pennsylvania, Rhode Island, South Carolina, Tennessee, Virginia, Vermont, Washington State, Wisconsin, West Virginia), Canada (British Columbia, Manitoba, New Brunswick, Newfoundland, Nova Scotia, Ontario, Prince Edward Isl., Quebec, Saskatchewan), St. Pierre et Miquelon as per Catalogue of life;
.
Date: 20 June 2018

Habit : Wild
Which Lycopodium ??
---
Please look it up – the strobili on stalks give it away.
P.S. There's a photo of it, if you get stuck, on pg. 400 of Ferns and Fern-allies of Nepal vol. 1 – get your copy free from the National herbaium, Godavary.  That's what it's there for and you could look at all Nepal ferns in the right folders in the herbarium, too.
---
Lycopodium clavatum most likely
---
Thanks, …,
Is Lycopodium clavatum reported from Nepal as I find no distribution as per
---
I guess it is listed since it is included in some books including one printed by the DPR, NEPAL.
---
Attachments
(2)
– 2 mb and 3 mb.
---
These are from which books and when were these published ?
---
Attachments
(3)
– 1 Mb each
---
I think difficult to rely on this general book while there has been so many taxonomic changes in the past.
Can you check the book suggested by …
---
I did not have the access to the book yet.
By the way it would have been comfortable for raw people like us if experts having knowledge point out the correct ID without hassle like all members do.
---
its not just important to have a name for the plant. what is really needed is the scientific basis for the classification ie the key and salient features. its has to be the process+end result. not just the end result
---
Thanks, … We will have to move up in the value chain having accumulated so much of floral wealth and knowledge. If somebody is there to help us, this process is slow. If there is nobody to help us, this process is fast.
---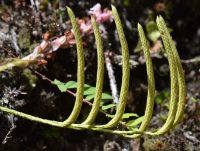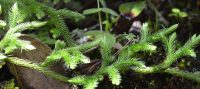 SK 2295 15 November 2019
: 11 posts by 2 authors. Attachments
(1
)- 7 mb.
Location: Chisapani, Kathmandu
Elevation: 2176 m.

Habit : Wild
Lycopodium japonicum Thunb. ??
---
Attachments (1)- 6 mb.
---
It seems to be Lycopodium species. the strobillii on long stalk I never seen. Unable to Identify.
---
I think close to images at Lycopodium clavatum
---